Launched in 2020 by Emerchantpay Ltd, eZeeWallet is a digital wallet solution facilitating simplified and convenient online payments. Being authorized and regulated by the UK's Financial Conduct Authority, the company is a fully licensed provider of payment services. With more than 50 local payment methods available, account holders can easily and promptly replenish their e-wallet accounts.
The native app, available for iOS and Android devices further adds to this product's convenience and ease of use. EZeeWallet's popularity among online casino players has been growing steadily as it supplies them with control over their deposits and withdrawals. Registered users can also join the company's VIP club, delivering them plenty of benefits and loyalty points.
How eZeeWallet Works with Online Casinos?
1

Registering an Account

EZeeWallet offers its prospective customers a choice between two account types – a business and a personal one. For the purposes of online gambling, we will look into the specifics of opening up a personal account. To register an account, users should be at least 18 years of age, reside in one of the supported countries, and have an active residential address, email, and phone number. The sign-up form contains information regarding users' email, password, first and last name, country of residence, date of birth, as well as preferred currency. To lift the limits on the newly-registered account, users should verify it by complying with the requirements for providing Proof of Identity and Proof of Address.
2

Funding the Account

The next step of the process involves replenishing the balance of the e-wallet's account. Under the 'My Account' tab, users can choose a convenient banking method to transfer funds to it. Depending on their country of residence, they can choose between a variety of local banking methods. From cards and online banking systems to other e-wallets and prepaid voucher solutions, the options are plentiful.
3

Using eZeeWallet at an Online Casino

Once your eZeeWallet account is set up and verified, you can start using it to move funds to a selected online casino. To do so, head to the Cashier section of the casino and look for eZeeWallet's logo among the other supported banking solutions. Users will be redirected to their e-wallet account where they should log in and complete the transaction. As eZeeWallet deposits are processed instantly, casino enthusiasts can start playing immediately.
Registering for eZeeWallet
As the name of the method indicates, this is a digital wallet where players can store funds and use them for online gambling transactions without disclosing any sensitive information in the process. This payment solution facilitates seamless casino deposits and withdrawals but requires opening an account in advance. The good news is you can get started with eZeeWallet in a few simple steps – just follow the guidelines outlined below.
eZeeWallet Registration Steps
1

Step 1

Head over to the method's official website (www.ezeewallet.com) and click on the light blue 'get started' button to open the registration form. Your other option is to download the eZeeWallet app for Android or iOS and register from there.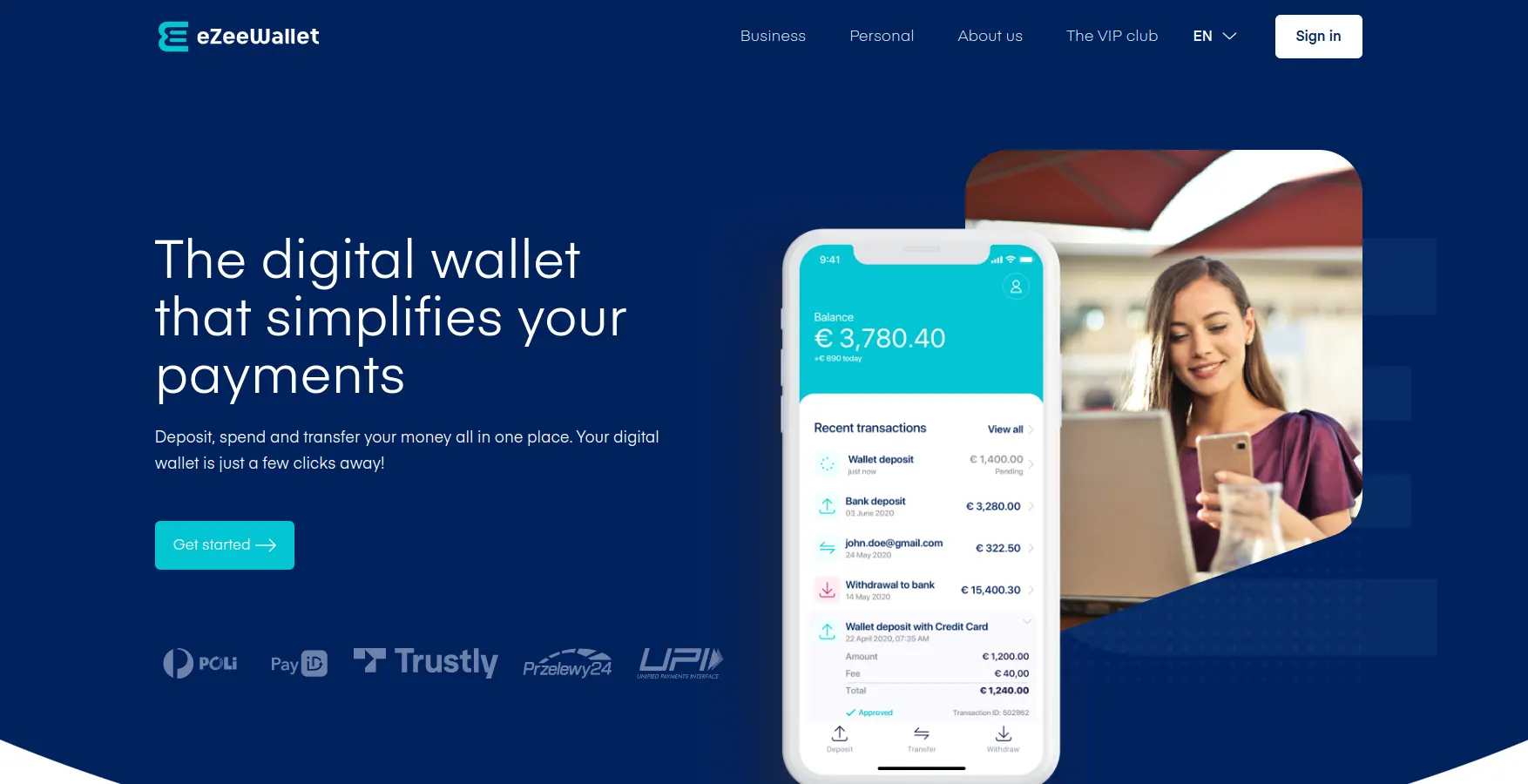 2

Step 2

Fill out your personal details in the registration form, including your first name and surname, email, country of residence, and date of birth. It is worthwhile mentioning that the email address you enter will also serve as your username. Select the preferred base currency of your digital wallet and click the registration button.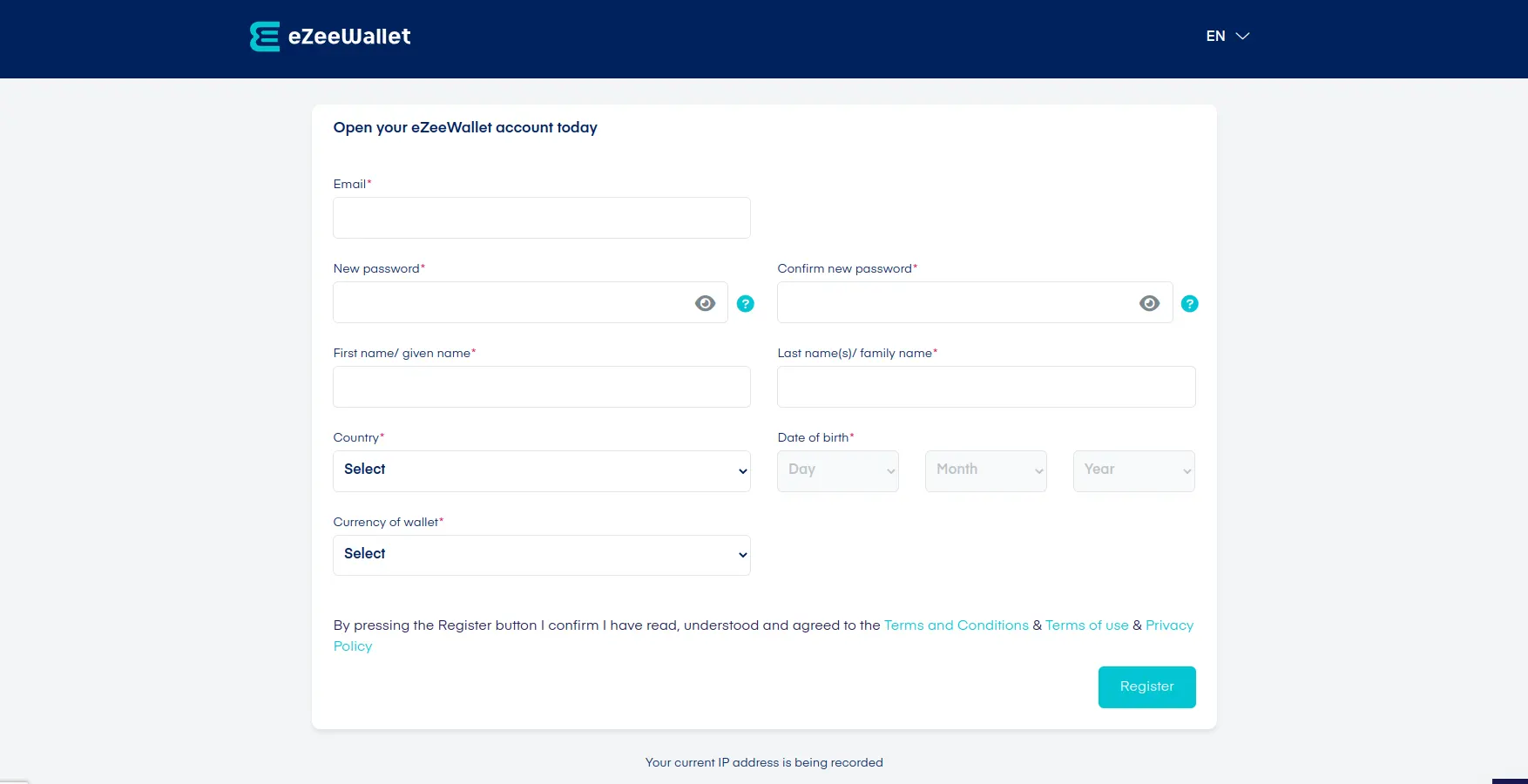 3

Step 3

Fill out your personal details in the registration form, including your first name and surname, email, country of residence, and date of birth. It is worthwhile mentioning that the email address you enter will also serve as your username. Select the preferred base currency of your digital wallet and click the registration button.

4

Step 4

You must top up your balance before you can start transferring funds to and from your favorite online casinos with eZeeWallet. Click on the 'deposit' button in your account's dashboard and select your preferred funding option. At this stage, the system will prompt you to enter your permanent residential address and a valid telephone number. The wallet supports multiple funding methods but their availability depends on your country of residence. Some of the most commonly used options include Trustly, Paysafecard, Neosurf, Klarna, iDeal, POLi, and Giropay.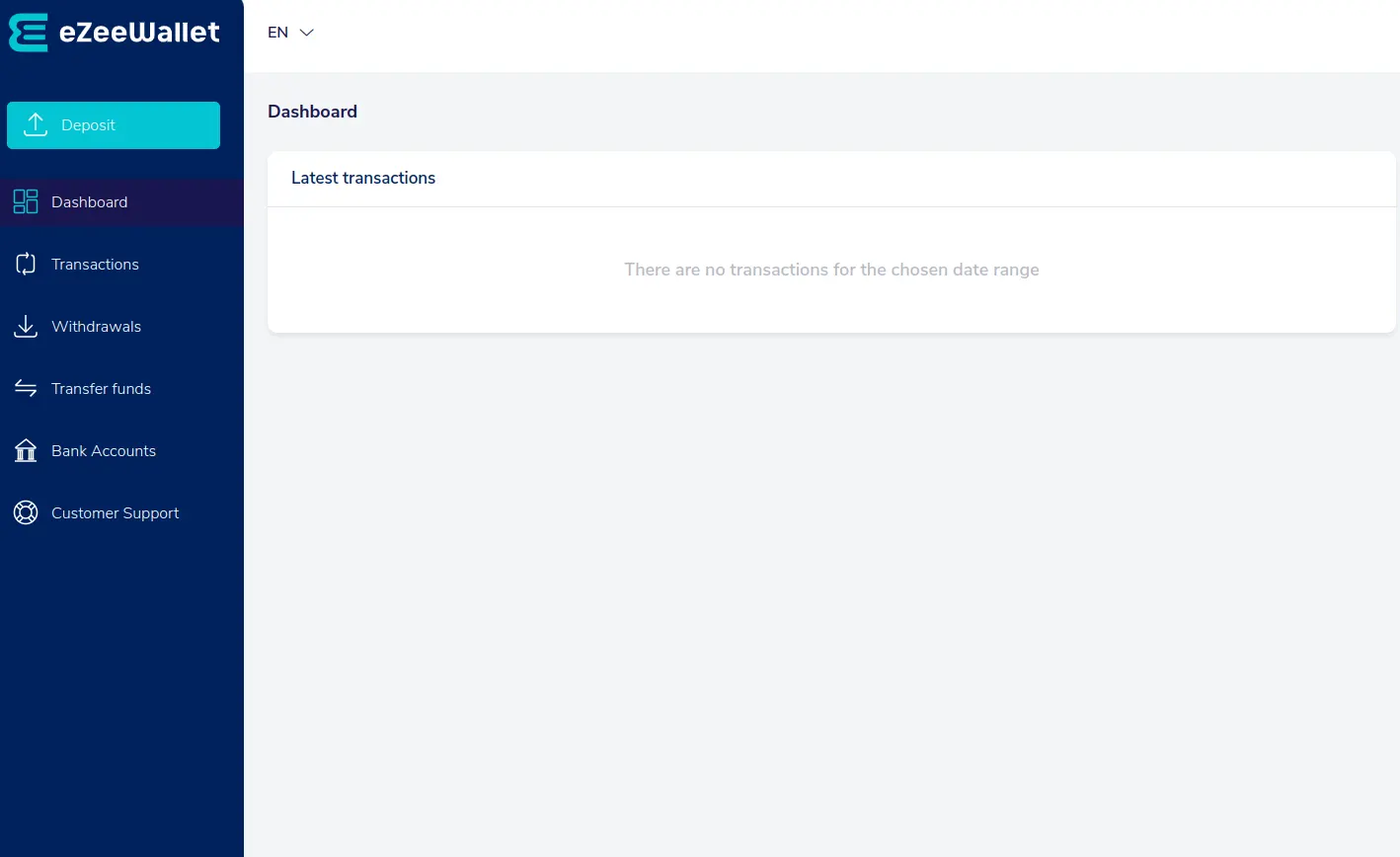 5

Step 5

Identity verification is the final step in the registration process with eZeeWallet if you want to benefit from the full capabilities of your eZeeWallet account, including higher limits for your transactions. For this purpose, you must click on the red 'unverified' button in the dashboard and upload your documents (national ID, passport, etc.) for identity verification. Additionally, you will be prompted to take a selfie of your face with your phone camera or upload one to complete the verification process.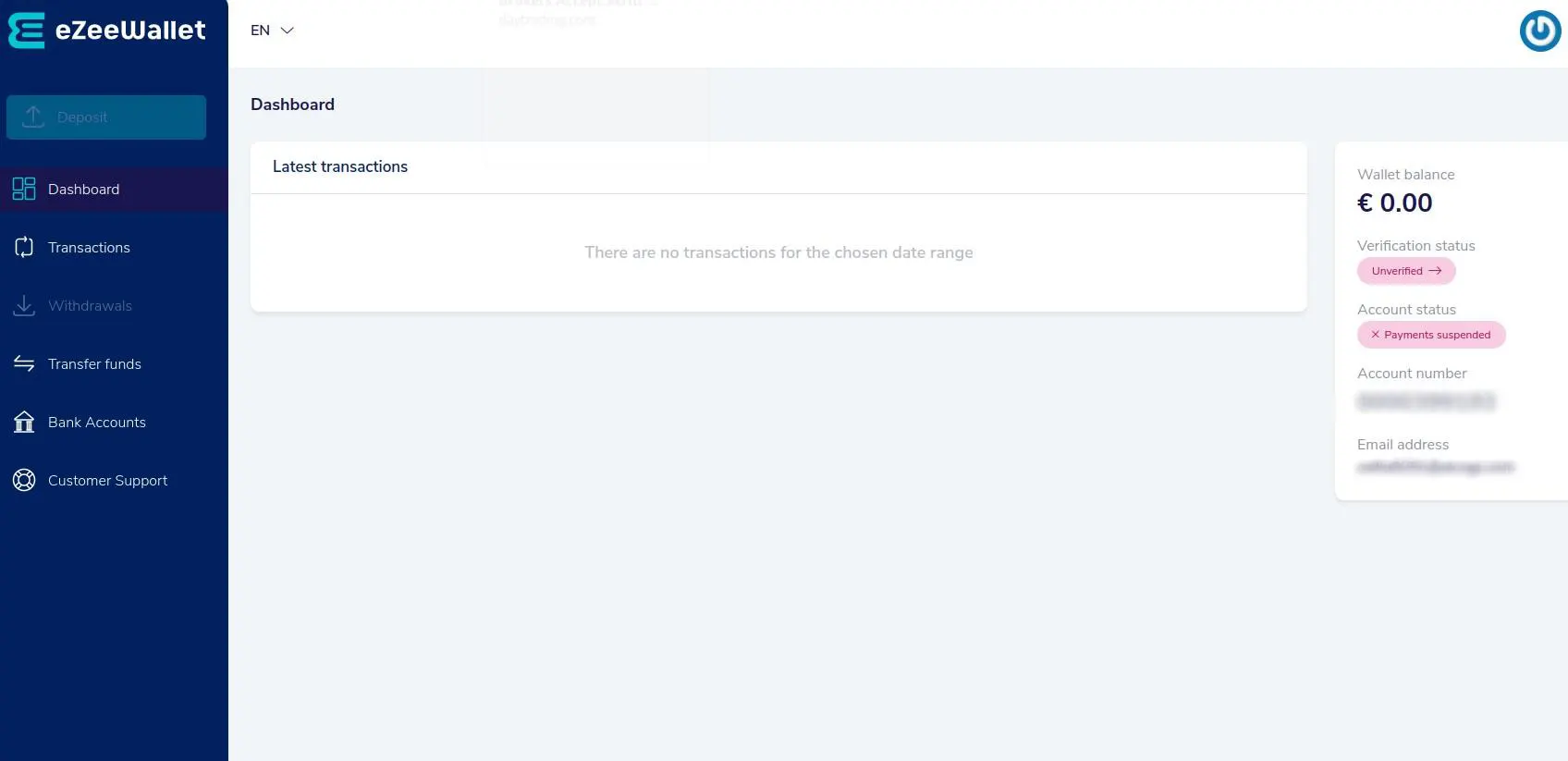 Online Casinos with eZeeWallet
The popularity of eZeeWallet is on the rise, with a growing number of online casinos listing it as a viable payment option in their cashiers. On this page, we feature the leading gambling sites that accept eZeeWallet and run through their advantages and disadvantages to help you make the right pick. All casinos listed below are guaranteed to support the innovative e-wallet and have been personally vetted by our reviewers to ensure you have access to unbiased and transparent information.
How We Evaluate eZeeWallet Casinos?
Considering how crowded the contemporary online gambling industry has become, it is of vital importance to know the important aspects to look for when assessing a particular casino platform. As far as eZeeWallet casinos go, users can check below the vital metrics, which we examine in detail before we can recommend a certain operator.
Security
Fees
Transaction Speed
Accessibility
How Easy It Is to Use eZeeWallet
Can eZeeWallet Be Used for Deposit Bonuses
---
Security
The security of players' personal and banking information is possibly the most important aspect of all. The sensitive data is potentially vulnerable to hacker attacks. Therefore, the online casino should be regulated by a respectable government authority and implement high-level encryption. Otherwise, players' data and funds would not be properly protected.
---
Fees
Although the majority of online casino operators offer cost-free eZeeWallet deposits and withdrawals, players may come across platforms that charge fees. They are generally to be avoided, as they fail to comply with something that has already turned into an industry standard.
---
Transaction Speed
Transaction speed is yet another crucial component of the overall rating of eZeeWallet casinos. Normally, deposits are handled immediately, enabling casino enthusiasts to start wagering on various games using real funds. As far as the speed of withdrawals from online casinos is concerned, it is inextricably associated with the status of the account. Provided it is verified, eZeeWallet withdrawals may take from 12 hours to up to 2 business days.
---
Accessibility
Besides the e-wallet's scope of operation across different countries, we also consider the number of online operators that have implemented it in their list of banking options. EZeeWallet enjoys a constantly increasing popularity not only among users but also among online casino operators. It has turned into a truly global payment solution, offering plenty of benefits, ease of use, and convenience.
---
How Easy It Is to Use eZeeWallet
Speaking of convenience, the user-friendliness of the casino is also an important factor to consider when we choose between several eZeeWallet operators. It is an important part of the overall playing experience, and since gambling should be practiced for fun and entertainment, it is not to be underestimated.
---
Can eZeeWallet Be Used for Deposit Bonuses
Top casino operators pay special attention to the line-up of bonuses they offer. As a powerful marketing tool, they can attract lots of new customers. Usually, eZeeWallet deposits to online casino operators qualify for the relevant promotional offers, so this is yet another benefit to be mindful of.
eZeeWallet Casino Deposit
Virtual casino enthusiasts are normally on the lookout for safe, reliable, and cost-efficient payment methods to manage their transactions. Therefore, we provide a complete picture of the e-wallets' fees, limits, and processing times.
Limits
Fees
Processing Times
---
Limits
Based on the account verification status, eZeeWallet customers are divided into two levels – Verification level 1 and Verification level 2. The limits for the first group are set to €150 annually, whereas for the second group they stand at €15,000 for the same period. As far as the deposit and withdrawal limits to online casinos are concerned, they vary across the different operators and players can check them at the Cashier section of the casino.
By joining eZeeWallet's VIP club, customers can take advantage of higher transaction limits, once they reach the Silver and Gold levels, with the first allowing transactions over €30,000, and the second – over €90,000 in a calendar quarter.
---
Fees
Based on the location and selected deposit method, transactions may involve various fees. Thus, for example, Australia-based customers of the company can choose between Neosurf, POLi, and Paysafecard to replenish their e-wallet accounts. While POLi deposits are free of charge, Neosurf deposits involve a 4% fee, and Paysafecard deposits come with a 6% fee.
As for the minimum and maximum allowable limits, they stand respectively at A$20 and A$2,000 per day for all three methods.
Online casinos normally do not charge fees for depositing via eZeeWallet.
---
Processing Times
EZeeWallet facilitates instant deposits to interactive casinos. Once players confirm the payment, it will automatically appear in their casino account balance, enabling them to enjoy their favorite slot titles and classic casino games instantly.
eZeeWallet Casino Withdrawal
Much like other digital wallets, eZeeWallet supports withdrawals from online casinos. Let us now look into the related withdrawal limits, fees, and processing times both in terms of the e-wallet and the online casino operators.
Limits
Fees
Processing Times
---
Limits
Australia-based customers of the brand can use Bank Wires to withdraw funds from the e-wallet account. The minimum limits related to such transactions are set to A$20, while maximums are capped at A$30,000. UK-based clients of eZeeWallet can make use of the same method to cash out their funds from the e-wallet, with the maximum allowable limit standing at €50,000.
EZeeWallet's fee structure both in terms of deposits and withdrawals is a very well-organized and transparent one, allowing customers to check all applicable fees and limits, based on their location and currency.
When it comes to online casino operators, casino players should check the individual withdrawal limits associated with eZeeWallet, under the Cashier section. Most casino operators set their minimum withdrawal limits via eZeeWallet to €20, while maximums depend on the casino's policy and the eZeeWallet account level of the user.
---
Fees
When it comes to fees for withdrawing funds from the e-wallet account, users are charged different fees, based on their location. Australian account holders pay a 1% fee plus a flat rate of A$7.00 for withdrawals via Bank Wires. The same type of withdrawal involves a 2% fee for Austrian, Danish, French, and German customers of the brand.
Similar to deposits, withdrawals from online casinos do not entail any additional expenses for casino players.
---
Processing Times
As already mentioned above, if casino enthusiasts intend to cash out their winnings via eZeeWallet, their casino accounts should have passed the mandatory account verification process. Across the many interactive casinos, the processing times for withdrawal requests range from 12 hours to up to 2 business days.
Withdrawals from the e-wallet are completed in as little as 2 business days, and account users typically receive their money within seven business days in their bank accounts, depending on the financial institution.
eZeeWallet Pros and Cons
EzeeWallet has plenty of benefits, prompting thousands of online players around the globe to use its services for depositing and withdrawing from online casinos. However, like any other financial solution, it comes with a certain number of drawbacks. Customers should be well-aware of both, so they can make an informed decision before they set up their accounts.
EzeeWallet offers instant deposits to online casinos. Withdrawals are also processed promptly, once casino accounts are verified.
As a relatively new e-wallet solution, eZeeWallet does not boast a wide acceptance at online casinos. On a more positive note, it has been gaining popularity very quickly, and more and more interactive casinos have started to include it in their banking sections.
The wallet is available in more than 180 countries across the globe and supports multiple currencies, making it a truly global payment solution.
Although the e-wallet currently supports 14 different currencies, the USD is not among them.
To top up their e-wallet balance, account holders have at their disposal various banking methods, including bank weirs, online banking systems, other e-wallets, and prepaid cards. The number of available processors varies across different countries, and customers may quickly and easily check the viable options on the e-wallet's website.
Furthermore, once account holders set up their accounts in a particular currency, changing it is not possible. At the time of writing the present article, having multiple currencies under one account is not enabled.
With mobile casino players in mind, it is worth noting that eZeeWallet offers a native app both for iOS and Android mobile devices. The minimum system requirements for Android phones and tablets are version 5.0 or later, and for iOS devices - 12.0 or later.
Although deposits to and withdrawals from online casinos are free of charge, certain fees are applicable for deposits and withdrawals from the e-wallet. Customers can check all the applicable charges under the Fees section of the e-wallet's website.
And last but not least, as a fully regulated entity, eZeeWallet offers protection of the rights of its customers, and guarantees their funds are kept safely in segregated company accounts.
Countries Which Use eZeeWallet in Online Casinos
Although eZeeWallet is available in more than 180 countries around the globe, it is particularly popular in Australia and New Zealand. The e-wallet gains traction at a rapid pace also in Canada, Finland, Sweden, and the United Kingdom, among other destinations.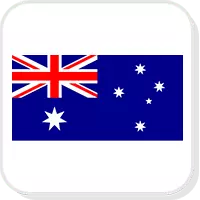 Australia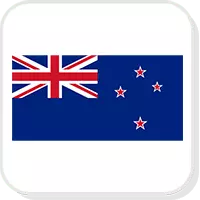 New Zealand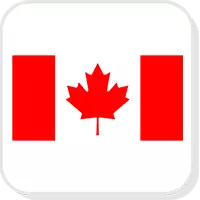 Canada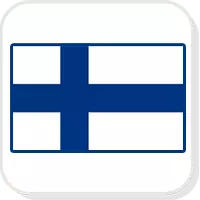 Finland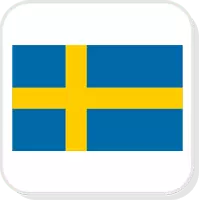 Sweden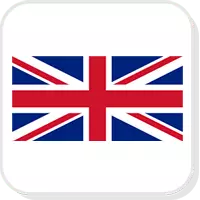 The United Kingdom
---
Australia
Not only are Australian online players keen on the digital wallet solution but so are the Australian online gambling sites, most of which have already incorporated it in their supported banking methods. The AUD currency is supported, as well as three convenient banking methods for topping up the e-wallet's balance. Australian players can choose between Neosurf, POLi, and Paysafecard to load funds into their e-wallet accounts. As far as withdrawals from the e-wallet are concerned, bank transfers are the only viable method for cashouts.
---
New Zealand
Similarly to Australia, New Zealand is yet another destination where eZeeWallet enjoys immense popularity. Lots of casino enthusiasts from New Zealand have turned their attention to eZeeWallet, besides the other favored alternatives such as PayPal, Skrill, and Neteller. Many online casinos operating in the island country allow their customers to deposit and withdraw via this digital wallet. Usually, deposits and withdrawals are handled free of charge.
---
Canada
While participating in online casino games, Canadian players can also opt for eZeeWallet, as the payment solution has been implemented by an ever-growing number of locally operating gambling establishments. What is more, Canadian players may create their accounts in their national currency. To load funds into the e-wallet, they can use Neosurf and Paysafecard. While Neosurf deposits involve a 4% fee, those processed via Paysafecard entail a 6% fee. The minimum and maximum allowable sums to transfer for both methods stand respectively at C$ 15.00 and C$2,500.
---
Finland
EZeeWallet has been rising in popularity among Finnish online casino players as well. The euro is among the 14 currencies supported by the brand. Finland-based customers can choose between Trustly and Paysafecard to deposit to their e-wallet balance, while withdrawals are processed via bank wires only. Deposits made with Paysafecard incur a 6% fee, whereas transfers made with Trustly are free of charge. The minimum allowable sums to deposit stand at €10, and the maximums are quite low – €200.00. Bank wire withdrawals are processed against a 2% fee, with the minimum amounts being €10 and the maximums – €50,000.
---
Sweden
Sweden is yet another country from the Nordic region, where eZeeWallet is in high demand among interactive casino enthusiasts due to its ease of use, robust security, and affordable fees. Swedish fans of gambling can replenish their e-wallet balance through Trustly, which comes at no cost. Deposit minimums and maximums range from €10 to €200.00. As far as withdrawals are concerned, bank wires are the only option here as well, with a 2% fee, deposit minimums as low as €10, and maximums capped at €50,000.
---
The United Kingdom
Last but not least, the number of clients using eZeeWallet from the United Kingdom is also rising quickly. Having its headquarters in London and operating under the regulation of the Financial Conduct Authority, the company is a completely reliable online processor. It is also worth noting that GBP is among the currencies supported by the digital wallet. UK players can use Neosurf, Trustly, and Paysafecard to replenish the balance of their e-wallets, while bank wires are utilized for cashouts. The minimum limits for deposits are set to £10, while maximums reach £2,500.
Using eZeeWallet in Mobile Casinos
1

Overview

Not only is eZeeWallet perfectly suited to provide desktop players with control over their spending, but it is an excellent option for mobile players as well. From downloading the native mobile app of the brand to heading to the Cashier of the online casino of choice and finalizing the payment, we provide detailed information on the steps that mobile players should take. As far as withdrawals from interactive casinos are concerned, they are just as easy as deposits.
2

Download the App

EZeeWallet has a native mobile app that can be downloaded for iOS and Android mobile devices alike. Similar to the desktop counterpart, the mobile app allows a broad range of deposit methods, including more than 50 local payment processors. The secure and easy-to-use app enables stress-free management of finances for players on the go. Mobile users have access to their transaction data thus giving them complete control over their spending.
3

Head to the Cashier of the Online Casino

Once mobile players install the e-wallet app on their hand-held device, they should head to the Cashier section of their selected eZeeWallet-friendly casino and look for the brand's logo among the other available payment options. From there, they will be redirected to eZeeWallet's browser-based or mobile app. Overall, the whole process is identical to that of topping up one's casino balance on a desktop device.
4

Confirm the Payment

The final step involves confirming the payment. Similar to desktop players, mobile casino fans will be able to start playing right away, as eZeeWallet transfers are instantly processed. As a truly innovative and global payment solution, eZeeWallet offers its users a safe, customer-oriented mobile payment service.
eZeeWallet Casino Bonuses
Bonuses are an essential part of the overall casino experience and are likely the strongest marketing tool that online casinos have at their disposal. As such, casino enthusiasts should be aware of all the available options and know how to use them to their advantage.
Deposit Bonuses
No Deposit Bonuses
Free Spins
Loyalty Points
---
Deposit Bonuses
Deposit Bonuses are the most commonly offered type of promotion, delivering casino players bonus funds matching a certain percentage of their deposit. Deposit bonuses have wagering requirements attached to them, denoting how many times the bonus and deposit funds should be played through. Additionally, online casinos set certain periods for meeting the bonus requirements. Best of all, eZeeWallet deposits usually qualify for this type of promotional offer.
---
No Deposit Bonuses
The opposite of Deposit Bonuses, No Deposit promotional offers do not require players to load funds into their casino accounts. However, this type of casino promotion is associated with smaller amounts of money, higher wagering requirements, and tighter restrictions.
---
Free Spins
Given out as a separate promotional offer, or as part of a Deposit Bonus, Free Spins are much favored by reel spinners. This type of promotion enables casino mavens to play a designated slot game a certain number of times at no cost. The winnings from the bonus rounds are also subject to wagering requirements, which should be met before the bonus funds can be withdrawn.
---
Loyalty Points
Plenty of interactive gambling operators have unique Loyalty Programs, awarding their registrants loyalty points. Players accumulate these comp points either by depositing funds to the online casino or by placing wagers. Once they collect a predetermined amount of points, casino enthusiasts can exchange them for real money or exclusive rewards.
Related Banking Methods
eZeeWallet Casinos Safety and Security
Licensing
Encryption
Responsible Gambling
The licensing status of eZeeWallet casinos is critically important for the safety of players' personal and financial data. Two of the most respected regulators within the gambling industry are the UK Gambling Commission and the Malta Gaming Authority. There are many other local authorities overseeing the operators' activity and fair treatment of players. They are advised to create accounts only with regulated gambling operators to ensure the safety of their data and funds.
As far as eZeeWallet licensing is concerned, as a company owned and operated by Emerchantpay Ltd, it falls under the regulation of the UK Financial Conduct Authority.
View more...
eZeeWallet Alternatives for Online Casinos
As fantastic as eZeeWallet as a payment option is, players may be interested in a couple of alternative banking processors. Let us now turn our attention to 6 methods that are widely used in the online gambling sector.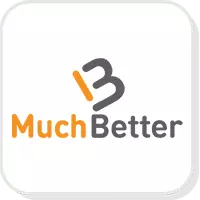 MuchBetter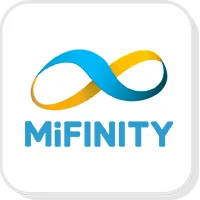 MiFinity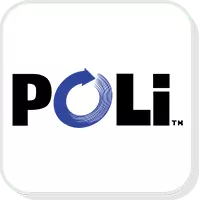 POLi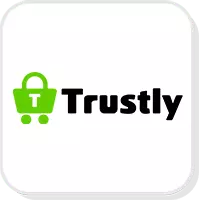 Trustly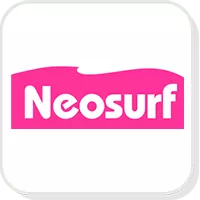 Neosurf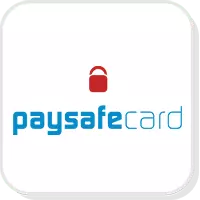 Paysafecard
---
MuchBetter
Available around the globe, MuchBetter is one excellent alternative to eZeeWallet, as long as players are intent on exploring other digital wallet solutions. The app-based e-wallet is owned and operated by MIR Limited UK Ltd, and ever since its launch in 2017, the product has attracted thousands of online players. Users' sensitive information is protected via innovative technologies including touch ID, device pairing, and dynamic security codes. Holder of multiple awards from the fintech sector, MuchBetter has a lot to offer to players on the go.
---
MiFinity
MiFinity is a great e-wallet solution available to customers in more than 170 countries, including Australia, New Zealand, Canada, Brazil, Sweden, and Denmark. Facilitating both payments and withdrawals, the method features an attractive fee structure. The digital wallet utilizes state-of-the-art security measures and anti-fraud tools to keep its registrants' personal and banking information properly protected. As a truly global payment processor, MiFinity is available in 20 languages and 17 currencies.
---
POLi
POLi is a great alternative for online casino players residing in Australia and New Zealand. Established in 2006 and operated by POLi Payments Pty Ltd, the method facilitates easy casino deposits. It is important to point out that withdrawals are not supported. As an online payment system, POLi does not require registration and is supported by multiple banking institutions in Australia and New Zealand.
---
Trustly
Trustly is yet another online banking payment system, enabling its customers to transact on the internet without having to create an account or download an app. The method is widely used in Brazil, Canada, the UK, and the US, among many other destinations. Besides safe, easy, and instantaneous deposits, the method supports fast and simple withdrawals as well. The processor boasts an ever-expanding consumer reach and more than 6,300 connected banking institutions.
---
Neosurf
Online casino players who feel reluctant to share any of their financial information on the internet may be interested in prepaid card solutions. Established in 2004 in France, Neosurf would be a great choice in such circumstances. It is available in more than 135,000 points of sale across the globe. All that the solution requires is entering the 10-digit code from the receipt in the relevant section of a Neosurf-friendly casino, so players may start their gaming session.
---
Paysafecard
Paysafecard is yet another voucher solution, possibly the most popular one in the online gambling sector. The prepaid method is based on vouchers using a 16-digit PIN code. The method is safe and reliable and users do not reveal any of their bank account or credit card information. Registering an account is also among the possible options, enabling customers to order prepaid Mastercards and gift cards, as well as enjoy larger limits and multiple features.