One of the most convenient payment solutions that Australians and New Zealanders resort to is POLi. It is a great way to make safe and fast payments without exposing any sensitive information. The service was established in 2006 by Centricom Pty Ltd Trading and it helps numerous Australian and New Zealand residents to enjoy smooth, fast and secure virtual payments.
POLi can also be seen at quite a few gaming websites as a supported deposit option. This is great news for a large number of Aussie and Kiwi players as they can have a difficult time managing their gaming funds.
How POLi Works with Online Casinos?
1

Check Whether Your Bank Supports POLi

If you have decided to use POLi for your online casino deposits, you will be able to top up your account in a few simple steps. The payment process via this service is extremely easy to follow and allows fast deposits.

The first thing you need to do before you can use POLi for your deposits at gaming websites is to check whether you can actually use the service. While POLi is supported by a large number of Australian and New Zealand banking institutions, you still need to check whether your bank is one of them. You can do so by heading to the official website of POLi where you can see a list of all supported banking institutions.
2

Obtaining a POLi Account

The very convenient thing about deposits about POLi is that you will not need to open an account with the service in order to use it. You will, however, need to log in to your online banking account. For this purpose, make sure that you have first activated this feature and you have a username and password which will allow you to use your online banking service.
3

Make Hassle-Free Deposits via POLi

Once you are sure you can use POLi, you can proceed to the deposit section of the online casino and select POLi from the available payment options. After you have entered the sum you would like to deposit, you will have to choose your bank. The next step is to log in to your online banking account and confirm the transaction. After that, the transaction will be completed.
How to Use POLi for Online Casino Payments
Players residing Down Under do not need to register to process online casino payments with POLi. Having a subscription to the online banking services of a participating Australian bank is pretty much the only prerequisite to using this method for remote gambling transactions. POLi users must go through several simple steps when transferring money to their online casino accounts. We walk you through the entire process of depositing with POLi in the guide below.
Steps of Using POLi for Online Casino Payments
1

Step 1

Assuming you have already set up your online banking account, the first step in the depositing process is to find a trusted online casino that supports transactions with POLi. You must then create a real-money account by providing your personal details in the registration form and verify it by sending the necessary documents.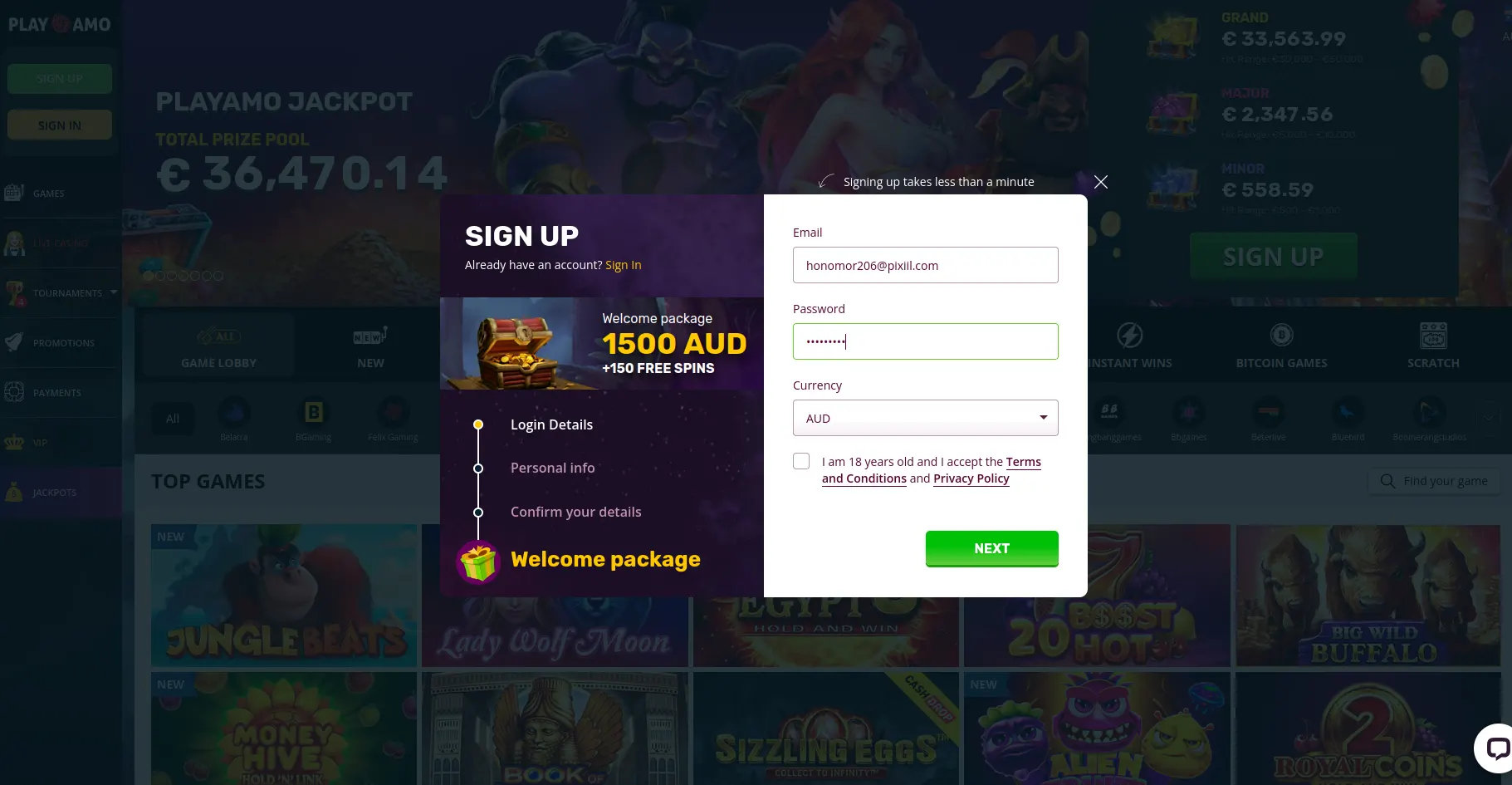 2

Step 2

Open the cashier of the online casino and click on the POLi logo to select it as your desired banking solution. Specify the amount you want to transfer as shown below and add a promotional code if you intend to claim a bonus with your deposit. If not, you must tick the corresponding box to opt out of bonus redemption. Select 'Deposit' to proceed to the next step.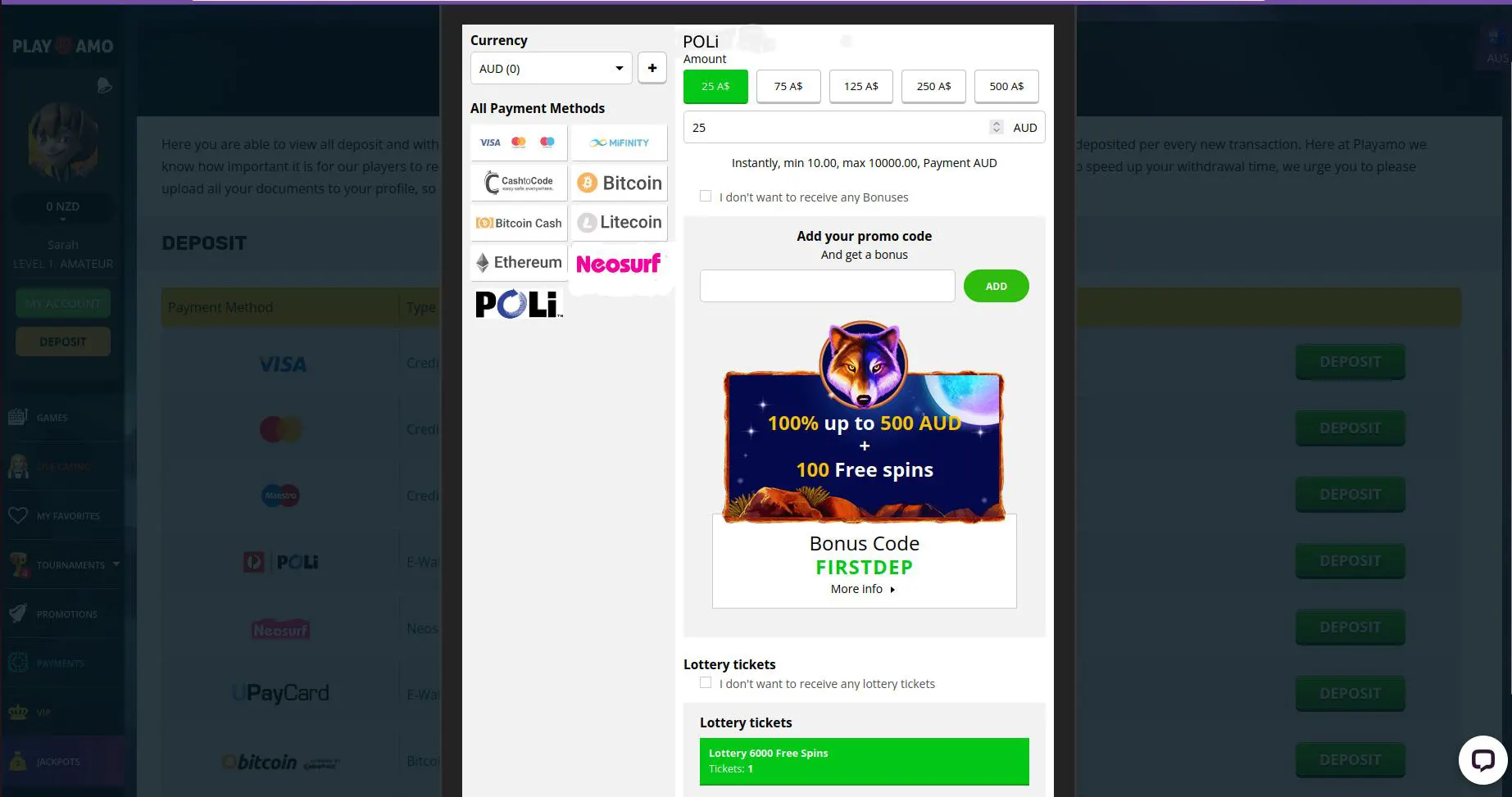 3

Step 3

The casino's payment system will now ask you to pick a bank from the drop-down menu. POLi works with various financial institutions across Australia and New Zealand, including Westpac, Kiwibank, ASB, ANZ, IMB Building Society, and Commonwealth Bank. We are confident you will be able to find your financial institution on the list.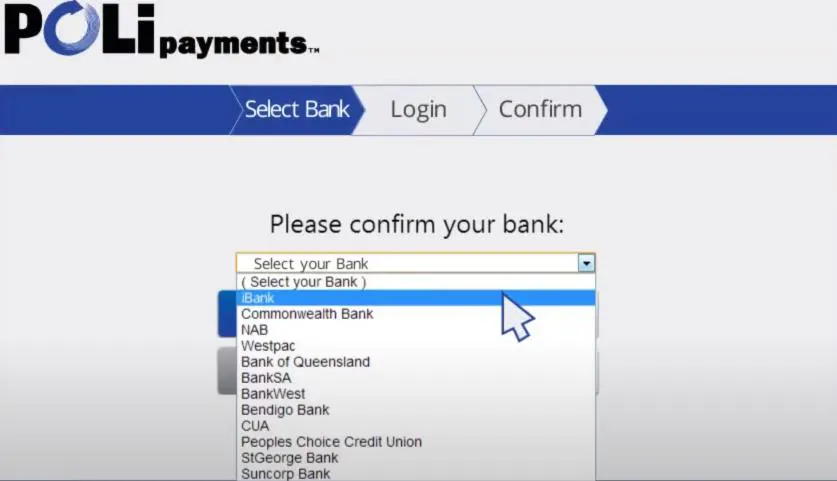 4

Step 4

The POLi platform will redirect you to the familiar online banking environment of your selected bank. Log in to your account with your existing username and password to authenticate the money transfer. Security should be no concern since the POLi platform does not store your online banking credentials.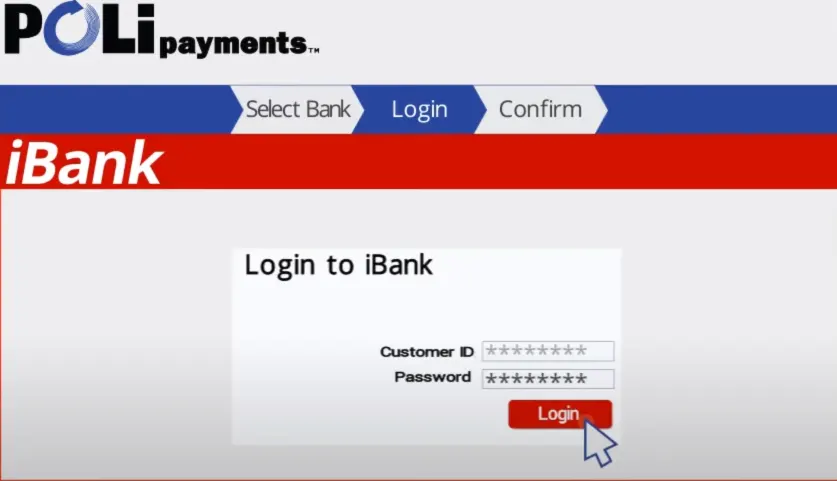 5

Step 5

Finally, you must specify which account you want to transfer the money from and confirm the payment. POLi supports real-time deposits so your casino account balance will be instantly updated.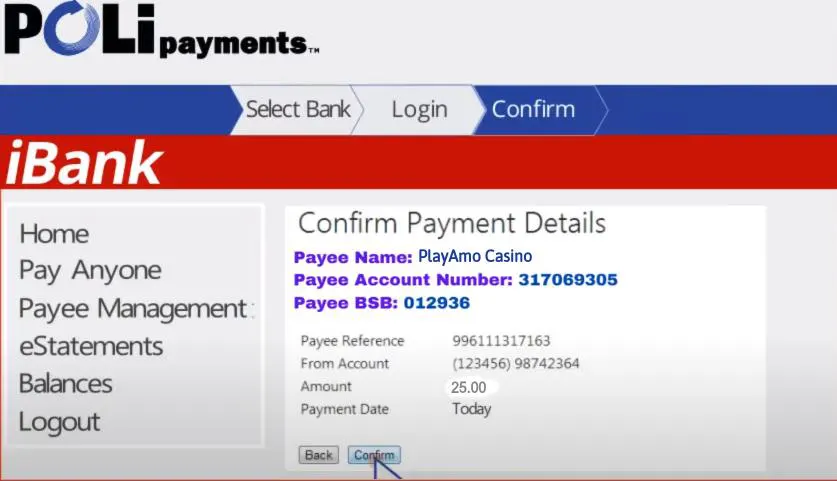 Online Casinos with POLi
Not sure where you can deposit with POLi? If so, take a look at the five online casinos we have singled out for you. All five recommendations have been subjected to a painstaking vetting process to ensure they meet our stringent requirements for reputability, fairness, and quality. Aussie players will benefit from instant deposits, equally time-efficient withdrawals, and a choice from thousands of provenly fair games.
How We Evaluate POLi Casinos?
It is easy to find a proper POLi virtual casino, however, you have to make sure that it meets a few important requirements. This will ensure that you will have a fun, fair and rewarding time at the website where you play.
Security
Fees Involved
Transactions Speed
Accessibility
How Easy Is to Use POLi
Can POLi Be Used for Deposit Bonuses
---
Security
One of the most important things a POLi casino should provide is safety for its members. This is why good online casinos utilize different security measures which protect players and their money. In addition to that the gaming sites you can trust usually obtain at least one valid license issued by a well-known authority.
---
Fees Involved
Since POLi usually does not impose any additional charges, a good virtual casino will stick to this condition. If you see that there are any fees to be charged for using POLi as a deposit method, you should keep in mind that most casinos do not impose any charges for this method.
---
Transactions Speed
One of the advantages of using POLi is its speed. Most interactive casinos will allow you to top up your gaming account via the service instantly. If you are looking for the best place to bet your real money, make sure that you can enjoy fast POLi deposits.
---
Accessibility
Since Aussie and Kiwi players might have a difficult time finding a reliable payment solution, they will have it easy at websites that accept POLi deposits. As some methods are strictly available to players who reside in certain countries, it is always good to find casinos that will also allow Australian and New Zealand players to enjoy smooth deposits.
---
How Easy Is to Use POLi
It is always important to know that you can easily make a deposit whenever you wish to. This is why the majority of casinos will allow you to complete any POLi transaction within a few simple steps. What is more, you will not be asked to provide any card or bank account details which makes the payments even easier.
---
Can POLi Be Used for Deposit Bonuses
There are online casinos that offer exclusive bonuses for using a specific payment solution. This being said, rarely will POLi users experience difficulty claiming deposit bonuses. Even if there are some methods excluded from promotions, POLi is often among the services which will help you use a bonus.
POLi Casino Deposit
Aussie and Kiwi players will enjoy very secure, fast and budget-friendly deposits if they decide to entrust POLi with their payments. The service is definitely a good deposit option and there are several points to prove that.
Deposit Limits
Fees
Processing Time
---
Deposit Limits
We cannot determine a set minimum and maximum for deposits if you decide to use POLi at online casinos. This is because each gaming website decides on its own deposits limits. This being said, rarely will the least amount you can upload be less than $10.
---
Fees
POLi is a great deposit option as it allows players to top up their gaming balance without paying any additional fees. Majority of virtual casinos will not impose surcharges for using this service and often your banking institution will also not charge any fees for using POLi. You should, however, check the fees policy of your bank.
---
Processing Time
If you decide to deposit to your casino account with POLi, you will be able to see your money in your gaming balance in no time. As the service allows fast transactions, you can bet real money on your favorite game right after you have completed the deposit process. The fact that you do not need to register in order to deposit via POLi makes the payments even faster. And since you are not sharing any banking details but rather simply log in to your online banking account, the process is very rapid.
POLi Casino Withdrawal
Unfortunately, POLi is a payment service which players will be able to use only for deposits at online casinos. This is why they will have to find another service which will help them cash out their winnings.
Withdrawal Limits
Fees
Processing Time
---
Withdrawal Limits
No matter which cashout option you will resort to, the withdrawal minimum in each casino will be the same for every method. Usually, it is at least the amount of the minimum deposit but it can often be higher than $10. Depending on the policy of the virtual casino, the maximum you can withdraw in a day, a week or a month will be different on every website.
---
Fees
Whether you will be charged a fee for your casino withdrawals will depend on the method you have chosen. The size of the potential surcharge is also determined by the cashout option you have used.
---
Processing Time
While POLi ensures fast deposits, you will have to look for another way to cash out your winnings. If you still want to enjoy your casino funds in the fastest way possible a great alternative is to resort to e-wallets. They are known to process withdrawals in the fastest manner. If you, however, can only use methods like credit/debit cards or bank transfers for your cashouts, you might have to wait longer to receive your money.
POLi Pros and Cons
A good way to decide whether POLi is the best payment option for you is to compare its positive and negative sides. This will help you to settle on using the service for your casino deposits or choose another option.
POLi is a great deposit option that Aussie and Kiwi players can use at virtual casinos. They often have a limited number of options when they wish to top up their gaming accounts and this service will have them covered.
Not many players will be able to use POLi as a payment solution as it is available only for Aussie and Kiwi players. If you reside outside Australia or New Zealand, you will not have access to the service of POLi.
Transactions carried through POLi are extremely safe as it acts as a mediator between your bank and the virtual casino where you play. You will not be exposing any bank account details and your personal information and money will be safe.
POLi can be used by players only for their virtual casino deposits. When it comes to their withdrawals, they will have to look for another method and this can be quite inconvenient.
You can instantly boost your gaming balance via POLi which will allow you to enjoy your favorite games right away.
While POLi is supported by many major Australian and New Zealand banks, there are also some banking institutions which will not offer the service and you will not be able to use it at gaming websites.
You do not need to create a POLi account in order to use the service for your deposits at interactive casinos.
Deposits via POLi incur no fees which is a very budget-friendly way to manage your gaming balance.
Countries Which Use POLi in Online Casinos
POLi is a service available only in Australia and New Zealand and it is partnering with some of the biggest and most trustworthy banking institutions within those countries. This way, Aussie and Kiwi residents will be able to enjoy fast and secure virtual payments, including at some gaming websites.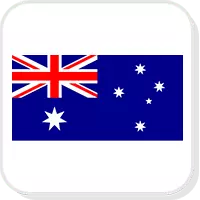 Australia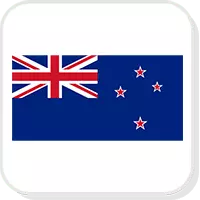 New Zealand
---
Australia
One of the countries that can enjoy the service of POLi is Australia. It is one of the most popular payment methods in the country and it allows its users to enjoy fast and secure payments. Many major banking institutions within the country are offering their customers an easy way to handle payments via POLi. The service is extremely secure as you do not need to expose your banking details when initiating a payment via POLi. This is why many virtual players also enjoy the fact that they can use the method at gaming websites. POLi will allow Australians to make fast and secure deposits to their casino accounts and enjoy a great gaming experience.
---
New Zealand
For those who are on the lookout for a safe and convenient payment method for Kiwi players, POLi is the right solution. In addition to working with a handful of Australian banks, POLi is also working with some of the biggest New Zealand banking institutions. This will allow Kiwi casino fans to make fast and secure deposits to their gaming accounts. While the method is available only for deposits, it is very easy to use and can make your gaming experience much more enjoyable. Whenever Kiwi players wish to claim some promotional offers, they can be sure that their POLi deposits will qualify them for such deals.
Using POLi in Mobile Casinos
1

Pick You Mobile Casino

As mobile casinos are extremely popular among many virtual players, mobile payments have also become an important part of one's gaming on the move. Thankfully, POLi is a service which can run smoothly on different devices, including mobile ones.

You do not have to choose between a browser-based mobile casino or casino app when you wish to deposit via POLi. You can resort to this service, no matter which type of mobile casino you have joined. On either of the platforms, you will enjoy smooth deposit experience, as the process is similar to the desktop one.
2

Head to the Cashier Page

You will have to open the Cashier section of the mobile casino and pick the deposit option. The next step will be to select POLi from the available options and enter the amount you would like to deposit. The next step is very similar to the one you follow on a desktop device.
3

Use Mobile Banking for Your Transaction

Once you have selected POLi as your preferred method for a deposit, the mobile casino will ask you to log in to your mobile banking account. Even if you are not using a special app for your mobile banking, as long as you enter your username and password, you will be able to carry on with the process. When you log in to your account, you will be asked to confirm the transaction and your deposit will be complete.
POLi Casino Bonuses
If you have joined a virtual casino, chances are, you will have at least a few promotions you can use. These are often related to the deposits that players are making and sometimes some methods will exclude you from a promotion. This, however, is rarely the case for POLi users.
Deposit Bonuses
No Deposit Bonuses
Free Spins
Loyalty Program
---
Deposit Bonuses
Whether it is a Welcome Bonus for new players or a regular promotion, often the incentives of casinos require a certain deposit. Except for the cases when the virtual casino has a special offer for players who use a certain payment method, POLi can be used for claiming deposit bonuses. Of course, it is always good to check the specific terms and conditions of a bonus before you can claim it.
---
No Deposit Bonuses
While the deposit option is not important for claiming No Deposit Bonuses, it is essential for those who wish to enjoy their winnings. Since many virtual casinos will allow you to cash out the earnings accumulated by a No Deposit Bonus only after you have made a deposit, you can rely on POLi for the transaction.
---
Free Spins
Another type of incentives that you can enjoy at numerous virtual casinos includes Free Spins. These are similar to Deposit Bonuses in the sense of often receiving them after you have made a deposit. If the interactive casino has not stated any special conditions for the promotion, POLi users should have no issue claiming Free Spins offers.
---
Loyalty Program
Many online casinos will allow their members to earn loyalty points the more they play on the website. If you decide to boost your gaming account via POLi, you should have no issue enjoying the perks of the Loyalty Programs that interactive casinos are offering.
Related Banking Methods
POLi Casinos Safety and Security
Additional Layer of Security
POLi Works with Trustworthy Banking Institutions
Latest Encryption Technology
It is important to know that you will have a safe experience when you play for real money at a virtual casino. One of the biggest advantages of POLi is that it ensures very safe payments which are very important for virtual players.
The main reason why POLi facilitates safe payments is the fact that it is a mediator company. It simply helps players to deposit money from their bank accounts but eliminates the need for exposing banking details. This adds another layer of security to one's casino payments and helps players to protect any piece of sensitive information.
View more...
POLi Alternatives for Online Casinos
Due to some online gambling restrictions, Aussie and Kiwi players might have a hard time finding a virtual casino that accepts POLi deposits. This is why it is worth trying some of the following alternatives. They will allow you to handle your funds just as easy and some of them are even available for both deposits and withdrawals.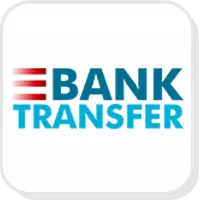 Bank Transfers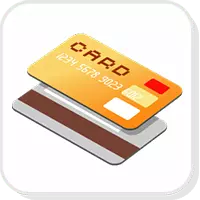 Credit/Debit Cards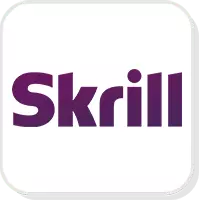 Skrill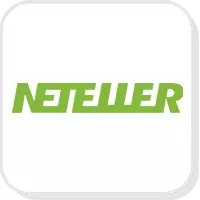 Neteller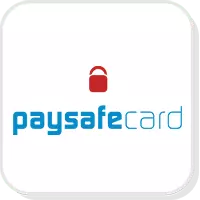 Paysafecard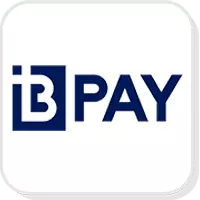 BPAY
---
Bank Transfers
If you still think that you can only trust your banking institution when making payments at virtual casinos, you can use direct bank transfers. This way you will be able to top up your account and withdraw your winnings in a very trustworthy manner. This being said, you will have to provide your bank account details to complete the transactions and the payment processes will take longer.
---
Credit/Debit Cards
Another convenient payment solution that you can use at almost every virtual casino is debit or credit cards. They allow you to boost your gaming balance instantly and also cash out your winnings in a hassle-free way. The only downside to this method is that you will need to provide your card details when making deposits and withdrawals.
---
Skrill
If you do not feel like sharing sensitive information such as card or bank account details with online casinos, you can resort to using e-wallets. One of the popular digital wallets widely accepted at interactive casinos is Skrill. It allows instant deposits and withdrawals are also processed extremely fast. You will not be asked to provide personal information and your money will be properly protected.
---
Neteller
Another easy-to-use e-wallet that you can utilize at many virtual casinos is Neteller. Like Skrill, it allows players to make deposits and withdrawals without providing card or bank account details. This adds another layer of protection to your transactions and helps you manage your gaming balance with ease. You can instantly top up your casino account via Neteller and the withdrawals are usually processed within 24 hours.
---
Paysafecard
While the aforementioned services are convenient to use, there is also an alternative payment method that will allow you to remain anonymous while depositing at online casinos. If you resort to using prepaid cards by paysafecard, you can instantly deposit funds to your gaming balance. In addition to that, you will expose no banking details, nor will you be asked to log in to any accounts. This is why paysafecard is considered one of the safest ways to make casino deposits.
---
BPAY
BPAY is an alternative to POLi which offers similar service. It is available only in Australia and it also helps players to make deposits from their bank accounts, without providing sensitive information. This company acts as a mediator between the online casino and your bank account and makes sure that your money is always properly protected. The processing of the BPAY deposit may be a bit longer but it is still a great payment solution.