SNAI is a gaming platform where there is no chance to end up jaded as it offers everything to live up to the wants and preferences of each and every gambling enthusiast. There is plenty to enjoy while away time as users of the gaming website are allowed to switch between casino games, bingo, poker, and sports betting.
While playing at SNAI, punters are unlikely to flinch from redeeming the available bonuses as they are not only profuse but exceptionally fruitful as well. Although the special deals that are up for grabs are by the truckload, the 15% High Loyalty Bonus is in a different class.
Full Bonus Terms and Conditions
The 15% High Loyalty Bonus is an intriguing special deal as it awards lovers of horse racing a maximum of €500 to play with. If wagering on horse racing brings you thrill and excitement, this offer might be up to your alley as it will bring you a refund in case that you were down on your luck during the past month.
This refund will be offered to sports bettors, provided that they have made single bets on horse races where fixed odds are offered. Thus, if you have been doing so for a month, and if your balance is negative at the end of that period, you will be awarded a specific amount that will be based on your losses.
Sports bettors will be allowed to claim the bonus if the amount played is bigger than the amount won. Thus, gambling enthusiasts can benefit from a 3% refund, provided that their losses range between €0 and €300. A 5% bonus awaits gambling aficionados who have losses that range between €300.1 and €500.
Sports bettors whose losses are somewhere between €500.1 and €1,000, will be awarded a 10% refund. Users of SNAI who prefer playing bigger but have run out of luck and have losses that exceed €1,000 can make the most out of a 15% bonus.
Please keep in mind that you will not be permitted to redeem the refund in the event that your losses are below the €50 mark. Additionally, there is a ceiling of €500 on the amount of the bonus money punters can receive.
Thus, if we assume that your overall losses for the month are 1,200, ultimately you will get €180.
Other Bonus Rules
So as to qualify for the High Loyalty Bonus, sports bettors should have created an account and uploaded the documents needed for the approval of their account. The promotional offer is awarded on a monthly bases, and gambling enthusiasts will receive the corresponding bonus amount no later than five days after the end of each month. Keep in mind that the amount you will receive can not be greater than €500 even if your losses far exceed the above-mentioned limits.
What punters should have in mind is that multiple bets, together with bets that are refunded are excluded from the promotional offer. The High Loyalty Bonus goes tied with 20x turnover requirements, the completion of which should take you no more than ten days.
Keep in mind that the gaming operator takes a dim view of any fraudulent activities or attempts for such. That is the reason why the representatives of the gaming platform will carry out regular checks of punters' activity and the payments they execute.
If one or more players have taken part in any kind of fraudulent activity that is detected by SNAI, their accounts will be suspended and they might not be given the opportunity to create an account again.
Related Bonuses
SNAI 80% Multiple Bet Bonus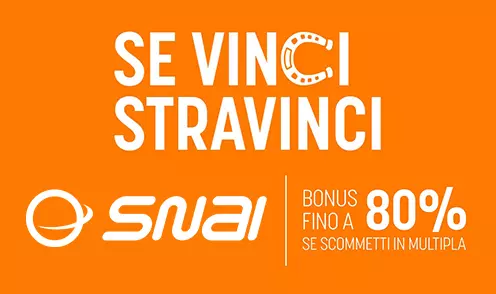 SNAI is a gaming website that hits the spot because of the extensive range of services it offers. The gaming operator ha...
Read more