Italian gaming enthusiasts can enjoy a superb casino experience at StarCasino. With a plethora of fun and rewarding games, this virtual casino is offering plenty of options that will suit the taste of different players. It is BML Group Ltd. that operates the online casino and as it is a well-known and trustworthy company, you can feel safe when playing at StarCasino.
One of the newest forms of entertainment that the website is offering is sports betting. With great odds on various popular sporting events, Italian punters can revel in a thrilling betting experience at StarCasino.
To allow all of its members to enjoy a fun and fruitful experience, StarCasino is offering generous sportsbook bonuses along with the different casino promotions. One of the bonuses that you will enjoy as a member of StarCasino will enable you to get a boost of up to 100% on your winnings.
Full Bonus Terms and Conditions
If you enjoy betting on your favorite sporting events, you will have the chance to further increase the payouts on your successful bets. When you make parlay bets, you will be able to enjoy a boost on your winnings and receive up to 100% as a bonus on your winnings.
You can make bets in whichever sporting events you prefer and the least number of events that you need to bet on is 3. The more legs your parlay bet consists of, the bigger the percentage of the boos will be.
Other Bonus Rules
You can make use of this bonus by betting on any pre-match and live sporting event. This bonus is available every weekend starting from 9 am on Fridays until 23:59 on Sundays. The minimum events that you have to bet on are 3 and each of them must have odds of 1.50 or higher. For a multiple bet of 3 events, you will enjoy a 25% boost on your winnings. When you make your bet on 4 events, the bonus will increase to 30%, while 5 events will trigger a 40% bonus.
The more events you bet on, the higher the bonus you will receive will be. You can bet on up to 10 events and enjoy a boost of 100% on your winnings. This is the biggest bonus you can enjoy, provided you have met all of the bonus conditions and you have won your multiple bet.
When one of the events that comprise your multiple bet is nulled, your bonus will be calculated on the remaining events. When one of the events has a date/time that is greater than one month, counting from the day you have placed your qualifying multiple bet, your bonus will be reset.
You can make use of this offer every week, between Friday and Sunday. The maximum winnings you can enjoy thanks to this bonus is capped at €10,000.
Related Bonuses
StarCasino 10 Free Spins Sportman's Spin Bonus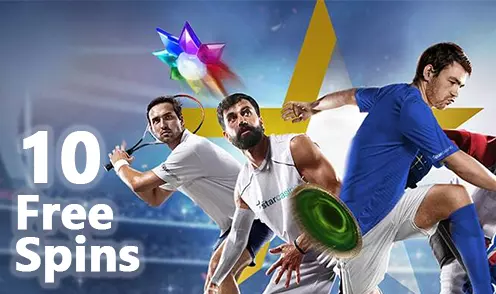 StarCasino is one of the best places for Italian players who wish to enjoy their favorite casino games and enjoy plenty ...
Read more