StarCasino is a gaming website that offers Italian players a diverse, fun and rewarding casino experience in the comfort of their homes. Being operated by Betsson – BML Group Ltd., this is an interactive casino that you can be sure will provide a fair and safe experience for its members.
In addition to an extensive casino library, StarCasino is also offering sports betting to its patrons. If you are a fan of various sports, you can find some of the best odds on popular events and enjoy a fun and exciting betting experience at StarCasino.
Not only does StarCasino offer generous promotions to casino fans but it has also prepared several offers for those who enjoy sports betting. Thanks to one of the promotions, punters who make multiple bets can enjoy up to 300% boost on their winnings.
Full Bonus Terms and Conditions
If you are excited about your betting time at StarCasino, you have the chance to increase your winnings when you make parlay bets. The good thing is that you can combine up to 30 events and enjoy a very generous increase in your winnings. Of course, if you are not willing to take such risk, you can opt for combining fewer events and still enjoy a boost in the payout.
You are free to place your bets on all sporting events except for Ante-post bets. You will have to make a multiple bet consisting of at least 5 events and you will be eligible to make use of this promotion. The maximum reward you can enjoy thanks to this promotion is a 300% increase in your winnings.
Other Bonus Rules
As it was mentioned above, the offer applies to parlay bets placed on all sporting events except Ante-post bets. Each event must have odds of 1.25 or higher in order for your wagers to count towards this promotion.
The least number of events that you must bet on to be eligible to enjoy this offer is 5. If you opt for the minimum of 5 events, you will enjoy a 5% boost on your winnings. The more events you bet on, however, the higher the increase of your winnings will be. A multiple bet on 6 events will bring you a 6% boost on your winnings and 7 events will guarantee a 7% boost and the more events you add to your parlay bet, the percentage of the increase in winnings will become significantly higher.
The maximum events you can bet on at once are 30 which will result in this multiple bet bringing you a 300% boost on your winnings. Keep in mind, however, that whenever one of the events is null, your reward will be calculated on the events you have bet on, minus the one that has been nulled.
When you make system bets, they will not count towards this promotion. If you do not stick to the odds minimum of 1.25 for each event of the parlay bet, you will also not be eligible for this offer.
If one or more of the events you have bet on has a time/date that is greater than one month, counting from the day you have placed your bet, the bonus will be reset. In that case, the total number of events you have bet on and the total odds do not matter.
Since this bonus is considered a part of your winnings, you cannot win an amount greater than €10,000 since this is StarCasino's maximum on possible winnings.
Related Bonuses
StarCasino 100% Multiple Bet Explosive Bonus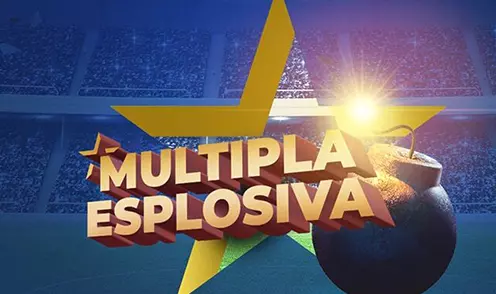 Italian gaming enthusiasts can enjoy a superb casino experience at StarCasino. With a plethora of fun and rewarding game...
Read more