SNAI is a gaming platform that has been on the rolling mainly because of the broad-ranging services it provides. It has everything needed to ensure fun-filled and thrilling gambling adventures for fans of casino games, bingo, poker, and sports bettors. Punters will have a choice from a raft of sports to bet on, thus promising that they will leave the gaming website thumbs up.
Gambling enthusiasts are unlikely to drop the ball while picking a promotional offer to take part in. Redeeming The More Games The More You Win Bonus is a great opportunity for all punters who want to get some extra funds to play with.
Full Bonus Terms and Conditions
This is an exclusive offer that targets lovers of horse racing in particular as it gives them a match bonus of up to 10%. The gaming operator has given punters the freedom to take part in it, no matter how long their patronage has been. This offer is obtainable every week, and the percentage of the bonus they will receive will hinge upon the total amount of the wagers punters have laid on horse races.
Thus, if gambling enthusiasts have wagered a sum that ranges between €150.01 and €500, they will be offered a 2% bonus. If you are a more dedicated lover of horse racing and you have wagered an amount that is somewhere between €500.01 and €2,000, you can make full use of a 4% bonus. An 8% bonus will be extended to gambling aficionados who have made bets the total amount of which is somewhere between €2,000 and €4,000. The maximum bonus of 10% will be awarded to all gambling aficionados who have wagered an amount that is greater than €4,000.
Something vital to remember about this incentive is that the maximum amount that can be extended when you kick off your participation in it is €500.
Another term that is worthy of attention is that stakes that are made at odds equal to 1.00 are ineligible for the promotional deal and will not be included in the calculation of the bonus.
Other Bonus Rules
In spite of the fact that punters might run around with making the wagers that are required in order to get the bonus running, there are a few more terms they should not overlook. To begin with, gambling enthusiasts should be informed that their wagers will count towards the calculation of the bonus, on condition that they are made on the National Horse Racing and the National Totalizator. Another peculiarity of this bonus is that it is run between Mondays and Sundays.
Before you wade through the redemption of the bonus, you should be mindful of the fact that refunded wagers are not included the promotion.
Please keep in mind that the bonus money will be extended exclusively to punters whose documentation has been approved during the verification procedure. If you measure up to all these requirements, your bonus will be attached to your bankroll in the course of five days after the end of the week.
Another vital thing gambling enthusiasts should take note of is that the bonus amount they have earned will be divided into two amounts that depend on the betting volume. In other words, one part of the bonus money that will be awarded will be expandable for making wagers on the National Horse Racing, while the other portion can be extended for Totalizator bets.
Related Bonuses
StarCasino 300% Multiple Bet Bonus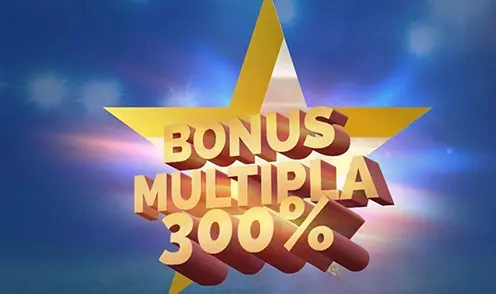 StarCasino is a gaming website that offers Italian players a diverse, fun and rewarding casino experience in the comfort...
Read more