SNAI is a gaming website that hits the spot because of the extensive range of services it offers. The gaming operator has an unshakable reputation among the Italian audience because of the fair and transparent gambling environment it maintains at all times.
The gaming website is awash in bonuses and special incentives that are extended to players when they first land at SNAI and down the line. One offer gambling enthusiasts might find particularly appealing is the 80% Multiple Bet Bonus.
Full Bonus Terms and Conditions
Punters who get a real kick out of wagering on horse racing might be looking forward to redeeming this promotional offer as thanks to it, they will be able to get an even more enjoyable betting session. In order to launch their participation in this special deal, punters are required to lay a minimum of three stakes on horse races. What they should keep in mind is that their bets will be considered towards the promotion, on condition that they are made at fixed odds.
Thus, gambling enthusiasts will be offered a match bonus on the winnings they have scored. Punters will receive a 25% match bonus if they have made their wagers of three events. Wagering on 4, 5 or 6 events at the same time will bring you a 30% match bonus. To get the maximum bonus amount of 80%, punters will be required to make their bets on 6 or more events together.
No matter what of the above-mentioned options you have picked, you can get up to €40 per stake.
Other Bonus Rules
This exclusive deal is up for grabs for all gambling enthusiasts who have signed up for an account and have uploaded the documents required to verify their identity. So as to take part in the promotion, you should make sure that at least one of their selections are placed at odds of 1.40 or greater.
Lovers of sports betting should be aware that total refund bets will not be considered towards the exclusive offer. Another important thing to take note of is that so as to determine the amount of the bonus punters will receive, an event will count towards the promotion only if it is valid. What does this mean is that all events that take the 1.00 share will not qualify for participation in this incentive.
The amount of the bonus punters will receive will be determined by the actual winnings gambling aficionados have snatched. Remember that if one or more of the races are canceled or a horse is withdrawn from the competition, the amount you will be provided with will be less than what was initially offered to you. Gambling aficionados will have their bonus money extended no later than 5 days after their last wager is settled.
A key term of this special offer is that the bonus funds that are extended through it are only available for fixed betting on horse racing.
What should be noted is that punters' transactions and their activity at SNAI might be reviewed to make sure that the bonus policy of the gaming website is not violated. If you have failed to observe any of the terms of the interactive sportsbook, your account might be closed. In the event that you have any bonus money or winnings in your gaming balance, they will be confiscated as well.
Related Bonuses
SNAI €500 The More Games The More You Win Bonus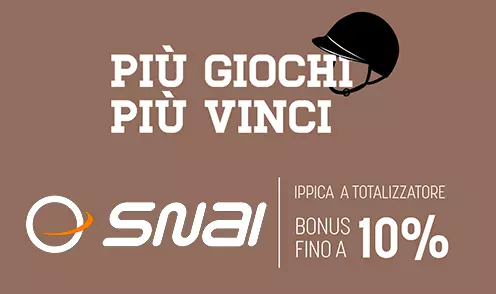 SNAI is a gaming platform that has been on the rolling mainly because of the broad-ranging services it provides. It has ...
Read more