The prestigious brand that is 32Red has gained a good amount of traction among casino players and sports betting fiends alike thanks to its immaculate reputation for reliability, fairness, and safety. Founded back in 2002 as part of the Kindred Group,
32Red has exhaustive enough experience in the online betting industry
to know what punters demand. The operator's secure website is home to a comprehensive product offering of the highest possible quality, comprising a world-class virtual casino, live dealer games, a bingo room, a poker platform and last but not least, a premium virtual sportsbook with an array of great markets to bet on.
There are plenty of betting opportunities for those looking to make a few stakes in support of their preferred teams, sportsmen, horses or greyhounds. But it gets better as you can back your favourites wherever you are since the operator's website runs smoothly on a variety of desktop and mobile devices, including those based on Android and iOS.
The 32Red sportsbook ensures a dynamic and fuss-free experience to all punters thanks to its functional and easy-to-navigate interface. You will benefit from a section with live results, the latest odds, scoreboards on desktop and mobile devices, competitive spreads, price boosts, enhanced accumulators on football games, early odds on horse racing, and hundreds of other great markets. Some of the biggest attractions at 32Red are the markets involving bets on football, horse racing, tennis, snooker, golf, and cricket.
Punters who join the virtual sportsbook of 32Red can rest assured they are placing their bets in a regulated environment – not having to fear about security and fairness greatly improves the quality of one's experience. The website offers a superb range of safe and commonly used banking solutions and boasts some of the quickest cash outs on customers' winnings. Everything is encrypted for your peace of mind.
The credibility of the popular brand is further improved by the fact it bears the license of the respected Gibraltar Gambling Commission for customers from around the world. Another license has been issued by the UK Gambling Commission so that punters from Great Britain can legally use the services available at the website. Claiming a sports betting bonus is a great way to start your experience at 32Red so make sure you read on for more extensive information on the promotional incentives hosted by the reputable sportsbook.
Promotions and Bonus Terms
It makes sense that first-timers at 32Red would like to try what the operator offers in a risk-free manner before they proceed to stake their own money. Thankfully, this is an experienced online bookmaker that knows what customers need and demand, which is why you can expect a nice range of bonuses from the very moment you sign up with a real-money account at the sportsbook.
Of course, each of these offers has specific conditions you need to comply with if you wish to fully benefit from your free bets. You can find more comprehensive information about the best bonuses at 32Red's sportsbook. Note that some of the promotions may be available for a limited time. Do not forget to frequent the website's promotions page so that you never miss out on the hottest offers.
100% Profit Boost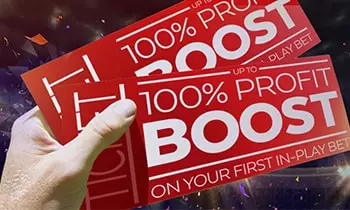 Profit Boost of £10 to £100
Minimum qualifying odds of 1/1
Available to customers from the United Kingdom and Ireland
Offered upon making an in-play bet for the first time
Skrill and Neteller deposits do not qualify
The 100% Profit Boost is a major drawcard when it comes to attracting interest on behalf of new punters. This is also a wonderful way to welcome newcomers to the thriving international community at 32Red. This welcome bonus gives you a nice head-start at the sportsbook as it consists of different boost percentages ranging from 10% to 100%, depending on punters' preferred stake size.
This is how the bonus works. The amount you receive in bonuses is calculated on the basis of the gross profit you have accrued with the first in-play bet you have made at 32Red, not counting the initial stake you have made. Therefore, if we assume that you have wagered £50 in-play and have won at odds of 2/1, you will collect £100 in profits and this amount will be used for the calculation of your boost bonus. Another example would be a winning in-play bet of £5 (each way) which will be equal to £10 in boost bonuses.
There are several conditions to meet, starting with the term stating that the 100% Profit Boost is granted for minimum odds of 1/1. If you intend to claim this welcome bonus, we suggest you look up the available payment solutions in 32Red's Banking section and choose the one you find the most convenient. Skip on Neteller and Skrill altogether as deposits with these methods are completely excluded from the promotion.
When you opt in for the boost, the original odds for your selection will be scratched off and replaced by more favourable ones. Then you enter the amount of your stake, confirm it and keep your fingers crossed for your favourite.
Daily Horse Racing Price Boosts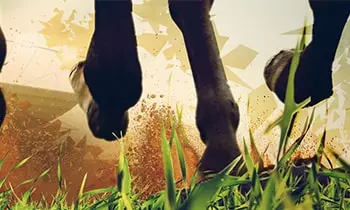 Available to existing members of the sportsbook on a daily basis
Enhanced odds on select horses partaking in the UK and Ireland
The red * symbol next to the horses' names indicates they qualify for a boost
It is normal for existing members of the sportsbook to look for ways to receive greater value for the bets they contribute with. Being generous to all its patrons, this reputable online bookmaker rewards those who already hold accounts with a Daily Horse Racing Boost, offering them better prices on select horses participating in the events, held at some of the oldest racetracks across the UK and Ireland.
You can easily recognise the "price-boosted" animals by the small, red * icon that is placed next to their names. This is to indicate the horse in question offers you the best possible odds you can find online. Other than that, the wagers on your bet slip will look like they normally do, so make sure you watch out for the price-boosted horses when making your selections so that you can receive the enhanced odds giving you the best value on your winning horse racing bets.
The Cash-In Feature on Sports Bets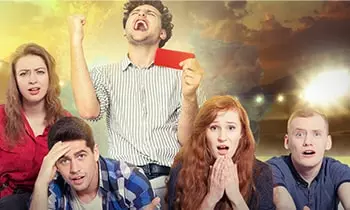 Allows you to settle bets before the outcome of an event is known
Offered on the in-play markets
Disabled when a Profit Boost is currently active
Every once in a while it happens so that a punter makes a specific bet but when the game starts, things take a turn for the worse and the punter experiences a sudden change of heart, wishing they had never placed the bet on this tennis player or horse, to begin with. This is surely a very unpleasant and unnerving situation one naturally strives to prevent from happening.
You can spare yourself the troubles and the fusses with 32Red's Cash-In feature, which enables you to settle your stakes before the final outcomes of the events become clear. To take advantage of this promotion, you are required to make a bet on any live event in play, check the drop-down menu below your market of choice, and settle your bet by right-clicking on the Cash-In option. If you have activated a Profit Boost bonus, the option to cash in early on your bets will be automatically disabled. This has to do with the sportsbook's policies on the bonuses which aim at preventing some punters from abusing the promotional incentives. You can read more about this in the next section.
General Bonus Terms
While punters at 32Red may be able to opt in for more than one bonus offer at the same time, we would advise against such practices as multiple-bonus participation may result in voiding the free bets and forfeiture of the winnings accumulated with them. Whenever you qualify for a Profit Boost promotion, you are required to opt in to receive it and make an eligible stake on a qualifying event. The Profit Boost facility can be accessed only when making in-play bets.
After you have opted in for the bets from the Profit Boost promotion, you need to head to the in-play section of the sportsbook and select one of the bets either with even odds or higher to add to your betting slip. Note that your bet is expected to result in a win, after which the profits will be increased by a specific percentage depending on the amount you have initially put on stake. Those who partake in these offers will have their early Cash-In option disabled for the profit-boosted bets.
Another condition has to do with the expiry dates of the bonuses. This varies depending on the market and the bet placed. You can check the expiration date, listed directly below the size of your boosted bet. This is important because some events and markets may be available after the expiry date. The said date refers to the amount of time you are given to use up the boost.
Note that the net winnings generated with successful bets are limited to a specific amount which may differ from one type of sport to another. The event's league and the type of bet offer also play a role when it comes to limitations on net payouts. As a general rule, the punters are allowed to withdraw up to £250,000 in net profits on most bets or combinations of bets.
Banking
Those looking to back their favourites with bets on 32Red are provided with a wild variety of trusted banking methods to pick from. Funding your account and withdrawing your winnings at a sportsbook has never been easier thanks to the user-friendly interface of the website's cashier.
The majority of the available banking options can be used internationally but some of the methods are based in specific countries and therefore, can be used only by punters from certain jurisdictions. We have provided more comprehensive information on the most popular 32Red banking options in the sections to follow.
Debit and Credit Cards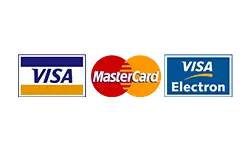 Debit and credits cards are largely considered some of the most convenient payment methods at 32Red's sportsbook. The acclaimed bookmaker accepts most commonly spread brands of cards, including MasterCard, Visa Electron, international Maestro cards, and Visa Debit. One of the biggest benefits of using a card is, of course, convenience as most people would normally convey payments over the internet with this particular method. What is more important, 32Red supports a range of widely used currencies for credit/debit card transactions, with some of the most noteworthy examples being USD, GBP, EUR, and CAD, among others.
If you have deposited with the above-listed card brands, your withdrawals will be automatically returned to the same card but it should be noted that some might face issues with cashing out with Visa and Mastercard due to their policies, in which case they will have to look for alternative options.
You can make bets without any delays as the card deposits are credited to your balance immediately, with the option to register and link up to 3 different cards to your account. No fees apply for the card transaction on behalf of 32Red but make sure you check with the issuer to spare yourself the unpleasant surprises in the form of extra charges.
Neteller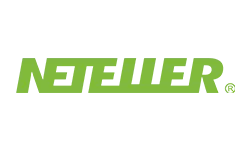 Some punters may be reluctant to link their cards to an online betting account, regardless of how reliable the sportsbook is, usually because they wish to maintain their anonymity when gambling on the web. The acclaimed sports betting operator provides them with the option to choose the popular digital wallet Neteller, instead.
Deposits (or withdrawals for that matter) carried out with Neteller are processed without any delays and do not entail extra charges. You can use a variety of currencies with Neteller, such as AUD, CAD, USD, NOK, and GBP but there are more options for international players.
To use this method, you first need to sign up with an account with the digital wallet. The sign-up process is simplified, confidential and fuss-free. To use it at the sportsbook, you should deposit some money into your new Neteller account following the successful completion of your registration. You can add several of your debit or credit cards to the Neteller account and transfer some funds from them. Another merit this method can offer is that the winnings will be instantly available in their Neteller balance once 32Red has processed the transaction.
PayPal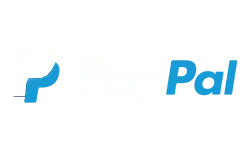 PayPal is yet another e-wallet, accepted for both deposits and withdrawals to and from the 32Red sportsbook. The method is mostly suitable for sports fans with permanent residence in the UK, Sweden, Portugal, and Austria, among several others. Those who use it at 32Red are not charged with fees by the operator. Since PayPal is also a digital wallet, it requires registration similarly to its rival Neteller.
One important thing PayPal account holders should bear in mind is that extra charges may apply whenever currency conversion is at hand. Thus, if you have opened a 32Red account in a currency which differs from that of your PayPal account, your payments will be converted in accordance with the exchange rates, imposed by the digital wallet. You should check the method's official website for more information on those.
Entropay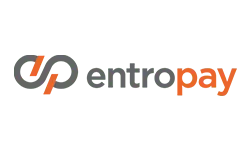 If you wish to skip on e-wallets for one reason or another, feel free to choose Entropay as your preferred banking solution. This method is interesting in that it is actually a card but a virtual one, by Visa. Therefore, it is accepted by all online retailers, casinos and sportsbooks working with the Visa brand, 32Red included. The banking solution allows you to create virtual cards by Visa on the fly by going through a registration process that takes less than a minute.
Once you are done, you can top up your disposable virtual card either by linking it to your regular physical card or by using a standard bank transfer. When you are ready, you can head to the 32Red's cashier, click on the Entropay option, and input your virtual card's details. The Entropay digital cards work roughly in the same manner as standard cards so you are unlikely to experience any difficulties there.
The method supports three currencies (EUR, GBP and USD). The Entropay deposits at 32Red's sportsbook are processed at no extra charges and take place right off, allowing you to immediately start betting on your favorite in-play markets. This does not apply to withdrawals of your wins as these are processed within 5 business days.
Direct Wire Transfers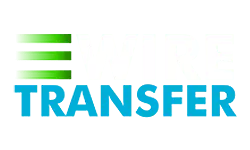 This is probably one of the oldest methods to pay for long-distance purchases which remains popular to this day. It is also listed among the payment options at 32Red's sportsbook since the operator is committed to complying with the preferences of all its registered punters, including those who wish to use more old-school banking solutions.
You can either visit your bank to initiate the deposit in person or use your online banking account to make a transfer. Note that your local banking institution may enforce some fees on your wire transfers. The 32Red withdrawals with this method largely do not entail fees, except for the occasions when your balance drops below the allowed minimum. Five currencies are supported for wire transfers – USD, GBP, EUR, CAD and JPY.
Additional Banking Solutions
The banking options at 32Red are so varied that it is impossible to dedicate separate sections for all that are available. Other trustworthy options you can boost your sportsbook balance with include EcoPayz, cheques, Paysafecard, and Skrill.
Note that the minimum and maximum limits imposed on withdrawals and deposits with some of the methods may be different in accordance with the currency you use. For instance, the minimum deposit with Neteller stands at JPY1,000 while the limit for most other currencies is much lower which has to do with the discrepancies in currency values.
For the most part, no fees are involved where payments at 32Red are concerned. The minimum on deposits is £10 per transaction. Punters are expected to set whatever maximum deposit limits suit them on their own as 32Red likes to promote responsible gambling. Please check the table appended below for further information on limits, availability, and accepted currencies.
Banking Methods Options

| Banking Method | Minimum Deposit | Minimum/Maximum Withdrawal | Deposit Timeframe | Withdrawal Timeframe | Countries Where Available | Currencies |
| --- | --- | --- | --- | --- | --- | --- |
| Maestro | £10.00 | £10.00 – £120,000 per day | Instant | Instant | Austria, Canada, the UK, Finland, Germany, Ireland, the Netherlands, Japan,Norway, Portugal, Switzerland, Sweden | GBP, USD, EUR, CAD, NOK, RUB, CHF, SEK, JPY, AUD |
| MasterCard | £10.00 | £10.00 – £120,000 per day | Instant | Instant | Austria, Canada, the UK, Finland, Germany, Ireland, the Netherlands, Japan,Norway, Portugal, Switzerland, Sweden | GBP, USD, EUR, CAD, NOK, RUB, CHF, SEK, JPY, AUD |
| Visa | £10.00 | £10.00 – £120,000 per day | Instant | Instant | Austria, Canada, the UK, Finland, Germany, Ireland, the Netherlands, Japan,Norway, Portugal, Switzerland, Sweden | GBP, USD, EUR, CAD, NOK, RUB, CHF, SEK, JPY, AUD |
| PayPal | £10.00 | £10.00 – £120,000 per day | Instant | Instant | Austria, Finland, the UK, Ireland, Portugal, Sweden, | GBP, SEK, EUR, USD |
| Neteller | £10.00 | £10.00 – £120,000 per day | Instant | Instant | Austria, Finland, the UK, Germany, the Netherlands, Ireland, Norway, Portugal, Sweden, Switzerland | GBP, USD, CAD, EUR, AUD, RUB, NOK, SEK, JPY, CHF |
| Skrill | £10.00 | £10.00 – £120,000 per day | Instant | Instant | Austria, Finland, the UK, Germany, the Netherlands, Ireland, Norway, Portugal, Sweden, Switzerland | GBP, EUR, USD, AUD, CAD, CHF, SEK, NOK |
| Paysafecard | £10.00 | N/A. Use cheques instead | Instant | – | Austria, Canada, the UK, Finland, Germany, the Netherlands, Ireland, Norway, Portugal, Sweden, Switzerland | GBP, EUR, USD, AUD, CAD, NOK, SEK, CHF |
| Entropay | £10.00 | £10.00 – £120,000 per day | Instant | 3 to 5 business days | Austria, Canada, the UK, Germany, Finland, the Netherlands, Ireland, Japan, Portugal, Norway, Sweden, Switzerland | GBP, CAD, EUR, USD, AUD, RUB, NOK, CHF, JPY, SEK |
| EcoPayz | £10.00 | £10.00 – £120,000 per day | Instant | Instant | Austria, Canada, the UK, Finland, the Netherlands, Germany, Ireland, Japan, Norway, Sweden, Portugal, Switzerland | GBP, CAD, EUR, USD, AUD, NOK, RUB, SEK, CHF |
| Direct Wire Transfer | £10.00, $ / €20.00 | £100.00, $/€100.00 | Instant once deposit is cleared from punters' accounts | 3 to 5 business days | Austria, Canada, the UK, Finland, Germany,Ireland, the Netherlands, Japan, Norway, Portugal, Sweden, Switzerland | GBP, EUR, USD, AUD, CAD, CHF, SEK, NOK |
Sportsbook Features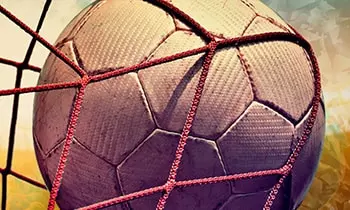 If you are looking for a premium sportsbook, 32Red should be your first stop. The operator's website is a safe haven for millions of punters from different jurisdictions and this certainly is no coincidence. Those who register with real-money accounts will benefit from a comprehensive racebook and sportsbook offerings which feature hundreds of markets, including some on prestigious events from the Premier and the Champions Leagues.
Popular sports you can stake your money on include football, baseball, basketball, cricket, golf, snooker, greyhound racings, horse racing, tennis, and rugby. Even darts and martial arts are available. The interface of the sportsbook is built in such a way so as to accommodate all punters, regardless of whether they have previous experience with online betting or not.
The website features live results on a variety of events, with the option to make in-play bets. Statistics are also available for those interested in the teams' performance in previous matches. There is a countdown to the events that are about to start soon. Other possible options for registered members include accumulators with multiple selections at enhanced odds, early spreads, season-long bets, and teasers. Speaking of the latest odds, these are presented in several formats (decimals, fractions, and American), so feel free to use the one you are most comfortable with.
The racebook contains events that are to commence for the day at some of the oldest and most prestigious racetracks across the United Kingdom and Ireland, including establishments like Kempton, Hereford, Wetherby, and Wolverhampton. When you click on one of the participating horses in a given event, you reveal useful information that helps you make the wisest choice with your bets.
For example, you get to see the animal's age, its weight, its previous odds, and when was the last time it took part in a race. The track conditions are readily available for you to check prior to making a decision. You can back several horses with an accumulator if you wish.
When logged in, you can check your previous history where you get to filter the information in several ways – you can view all your bets, see the ones which have already been settled, or check the ones that are yet to be resolved. The odds, the stakes, and their corresponding payouts are also available. Pin your betting slip on the screen so you can see it at all times.
Punters may decide to support a team or a horse at the very last moment. If you happen to be away from home in such instances, you can easily make your bets as you go since 32Red's sportsbook is fully mobile-compatible and can be accessed from a range of widespread hand-held devices, including smartphones and tablets, running on iOS, Windows OS, and Android OS. You can easily load the website right in your browser – its mobile version is just as easy to manage and navigate as is the desktop one.
Licensing Info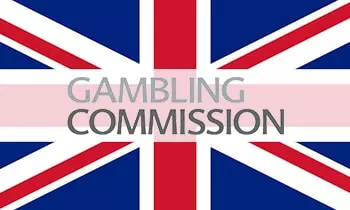 If you want to be treated fairly, enjoy fast payouts of your winnings, and be spared from worrying over security, you need to place your bets at a licensed and regulated sportsbook like the one offered by 32Red. This is a highly acclaimed brand which has years of experience operating under the ownership and management of the well-known Kindred Group. The sportsbook is part of a website that offers multiple other products under licenses provided by the UK Gambling Commission and the Government of Gibraltar. These licenses vouch for the reliability of the sports betting operator, that is expected to comply with the guidelines set forth by the two regulators.
Some of the conditions outlined by the licensing authorities subject 32Red's website to frequent and rigorous audits to ensure the software and the banking system in use can be depended upon. All payments to and from the website are protected by special 128-bit SSL digital encryptions – the same piece of technology the largest banking institutions in the world utilize. This allows you to deposit and withdraw from your 32Red account with the full confidence your banking credentials are in good hands.
Another condition the licensees of the above-mentioned regulators need to meet has to do with the safety of the punters' personal details. Indeed, 32Red collects some personal information from its customers (emails, addresses, mobile numbers, and so on) but utilizes it only to allow punters to manage their casino and sports betting accounts more efficiently. The gathered details are never sold or shared with third parties.
The operator is also committed to the promotion of responsible gambling and has received a certificate from GamCare, an organisation dedicated to providing assistance and counselling to punters and casino players who suffer from pathological gambling. Each member of the sportsbook is required to undergo extensive verification when opening an account at the website to eliminate the dangers of underage gambling.
Due to licensing and legal restriction, the operator is unable to accept sports bets from punters from any of the following jurisdictions – Israel, Turkey, the United States, Canada, Afghanistan, Australia, Cuba, France, Polynesia, Ethiopia, Hong Kong, Indonesia, Iran, Iraq, Jordan, Kuwait, Libya, Philippines, Puerto Rico, Sudan, Syria, Thailand, Venezuela, and Yemen.
Customer Support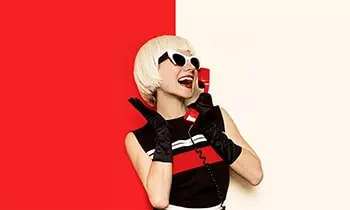 Not everyone is proficient in online sports betting, with rookies usually experiencing issues with finding their way around or making their bets in a time-efficient manner. Veteran bettors, on the other hand, may require assistance with participating in the available promotional incentives or with processing a deposit to their account. If you find yourself in one such situation, fret not – at 32Red, you are in good hands.
The website offers a very useful live chat facility which makes it possible for punters to reach a support agent at any time of day or night. The same applies to bank holidays and weekends. What is more, the chat can be accessed even by those who hold no accounts at the website, which is great news for punters looking to have their questions answered before they proceed with registration.
The agents are very polite and always respond quickly. Once in a while, you may be required to wait in queue until your turn to be serviced comes but generally, a response will be available within a few moments. We recommend you input the subject of your query in the respective field before the conversation starts to speed things up a little bit. Of course, you can always decide to send the friendly members of the team an email, call them on the phone or even send a letter to the headquarters of the Gibraltar-based company, i.e. if you are not in a hurry to receive a response.
There is also a Help Centre on the website which spans hundreds of questions and offers adequate and well-formulated answers everyone can comprehend. There is a separate section for the sportsbook and its applicable bonuses, too. If you are not fluent in English, you can load up the website in your local language, if available. Presently, 32Red runs in several languages, including Japanese, French, German, Chinese, Italian, and Spanish.