You can have a great time playing at Ignition Casino as this is a virtual casino that has provided a fair, fun and safe environment for its members. No matter the type of games you enjoy playing, you will be able to find plenty of titles to suit your taste.
At Ignition, you can bet on slots, table games, video poker, live-dealer options and plenty of other interesting games. In addition to that, those who truly enjoy poker and wish to prove their skills and hopefully stack up generous wins can head to the Ignition Poker Room.
One of the benefits you can enjoy as both new and regular players at Ignition is redeeming bountiful promotions. One of the offers that are available to Ignition members will allow poker players to enjoy a bonus even when their hands lose. This gives you a chance to enjoy a great time even when you are not on a winning streak.
Full Bonus Terms and Conditions
You will be able to make the most out of your poker time at Ignition Casino as there is even a bonus for losing hands. Thanks to this offer, players can enjoy a bonus of 100x the big blind of the poker game they have lost. This bonus can award up to $1,000 and make your betting at Ignition Casino a lot more fruitful than you were hoping to be.
Whenever a four of a kind or better has beaten your hand, you will have the chance to redeem the Bad Beat Bonus of Ignition Casino and enjoy a very lucrative outcome of your unfortunate poker event.
You will be able to redeem this bonus only if you play Texas Hold'em cash games. If you bet on other poker variations or you participate in a poker tournament, you will not be eligible to redeem the Bad Beat Bonus.
Keep in mind that both of the pocket cards must be used by both the losing and the winning hand. In addition to that, there must be 3 or more other players that are dealt into the hand. Another condition that must be met is that both the losing and winning hand have to go to showdown.
It should be noted that all hands must be played independently and if you reveal your hand or force other players to take certain actions, you will not be eligible to redeem the bonus.
Other Bonus Rules
If you have met the aforementioned conditions. Then you will have 48 hours to claim your Bad Beat Bonus. To do so, you will need to contact the support team of Ignition Casino via an email. To redeem the bonus, you will need to send your hand number and table number at poker@ignitioncasino.eu. This will qualify you for the bonus that will award 100x the big blind of the game you have lost.
Related Bonuses
Ignition $200 Royal Flush Poker Bonus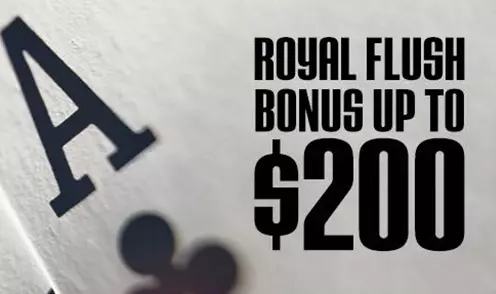 Ignition Casino has been operating for several years and it has been striving to offer virtual players the best online c...
Read more