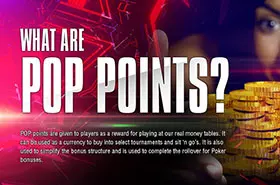 BetOnline is a respected online gambling operator focused mainly on providing the players across the Atlantic with top-notch sports betting, casino, poker and skill games. Due to legislative issues, the site changed its domain to .ag, which stands for Antigua, but players can rest assured it offers the same outstanding variety of games as well as fantastic bonuses. New players are welcome to take advantage of the existing promotions, but BetOnline values its regular players as well. Poker players in particular, are enabled to accumulate Pop points and redeem them for various goods.
POP Points Accumulation
Everone who plays at the real money tables at BetOnline is given a certain number of Pop points. They can be used for securing a seat at different poker tournaments. The more Ppo points you have, the higher your chances of unlocking the poker bonuses are. For every 10 cents you contribute to the rake, you are awarded 1 Pop Point. It is important to note that when you calculate the points you have managed to accumulate, you have to take into account the fact that the maximum rake on any table cannot exceed $3 regardless of how big the pot was.
Let's presume you play at a table together with 4 other players and each of you contributes $10 to the pot, which makes a total of $50. The rake is calculated at 5.5%, which therefore means each of the players have contributed 55 cents to the rake. Since every 10 cents in the rake grant you 1 Pop point, it means you have earned a total of 5.5 Pop Points.
Speaking of the tournaments, in particular, every $1 you pay for fees, grants you 10 Pop points. However, you need to participate in tournaments where the fee is equal or higher than $1. The other thing worthy of mentioning is that tournament Pop is calculated in $1 increments.
Every player is enabled to keep track of the accumulated points by logging into their BetOnline poker account and finding out the total number of Pop points at the right side of the lobby. It is essential to note that during the first 24 hours of playing, the points you accumulate will not be displayed, but that should not a bother after the first 24 hours as the points will be immediately displayed once you leave the poker table.
You have to use your Pop Points within the agreed period, otherwise they expire. Each Pop year starts on April 1st and ends on March 31st the next year. You have it until June 30th to redeem your points. Pop points accumulated during a promotion are not included in the final Pop Total.
Related Bonuses
Bet365 £4,000 VIP Programme Bonus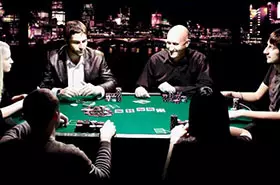 Bet365 is highly-praised by both casino enthusiasts and sports fans as it offers plenty of benefits to those, who decide...
Read more