Ignition Casino has been operating for several years and it has been striving to offer virtual players the best online casino and poker experience. You can definitely have a wonderful time at this gaming website thanks to the incredible software solutions of several companies.
In addition to diverse casino games, members of Ignition can also indulge in a classy, fun and hopefully rewarding poker experience. You will have the chance to join the Ignition Poker Room and play some of the most popular poker variations and show your skills.
As a way to ensure a fruitful and fun experience for its patrons, Ignition offers a variety of promotions. One of them specifically caters to fans of poker who have the chance to enjoy up to $200 as a reward.
Full Bonus Terms and Conditions
If you have a great time playing poker and you succeed in landing royal flush, you can also add a generous bonus to your grand win. Thanks to the Royal Flush Bonus of Ignition, you have the chance to enjoy a very fruitful poker game and hit an even bigger reward than you have anticipated winning.
Whenever you manage to get the highest-paying hand, you will have the chance to enjoy a bonus that rewards 50x the big blind of the current game. As long as you play Texas Hold'em cash games, you will have the chance to make use of the Royal Flush Bonus and enjoy up to $200.
As it was already mentioned, this bonus applies only to players who bet in Texas Hold'em cash games. Other poker games or participation in poker tournaments will not count towards this promotion and you will not be able to redeem this bonus.
As the name of the offer suggests, the Royal Flush Bonus can be claimed by players who have landed this winning hand. In order to qualify for the bonus, they will have to use both of their pocket cards to form a royal flush.
Another condition for the game is for 3 or more other players to be also dealt in the hand. As long as you win the pot, you will be able to redeem the Royal Flush Bonus. The good news is that even though you will need to win the pot, your hand does not have to go to showdown.
Other Bonus Rules
Once you have met the conditions of the bonus, you can contact Ignition Casino's support team to redeem your bonus. You will have to send an email with your hand number as well as the table number at poker@ignitioncasino.eu and this will guarantee you a bonus of 50x the big blind of the game. You will have 48 hours after you have won the game to contact the support team and redeem your bonus.
The best part about this offer is that the Royal Flush Bonus comes with no wagering requirements and you can withdraw it right away.
Related Bonuses
BetOnline POP Points Bonus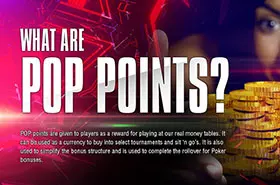 BetOnline is a respected online gambling operator focused mainly on providing the players across the Atlantic with top-n...
Read more