Naughty Bingo is part of ElectraWorks Limited's bingo websites network and as any member of it, it is a trusted and reliable site. Fully licensed and fair beyond a shadow of a doubt, are the qualities that make these websites great. All the promotions they offer do not put them at a disadvantage either, though, and the Midweek Treat promotional offer is certainly an attention-grabber.
Full Bonus Terms and Conditions
The Midweek Treat game is held at the Hump Day room every Wednesday from 21:00 GMT. This game is accessible only to players who have completed at least one successful deposit of £10 or more. You can buy tickets for this bingo game beforehand at the cost of £0.05 each. The minimum number of tickets you may buy is 2 while the maximum is 144. The prize is split between winning tickets and not players, so if you purchase more, you have a bigger chance to win a more substantial prize.
This is a 90-ball game with 4 winning combinations. A Full House guarantees you a win of £100 unless another player calls it at the same time. Two Lines give you a win of £75, One Line pays £50, and finally, One to Go pays £25. Every single player is eligible to receive all of these prizes simultaneously, which means that you can get the prizes for One Line, Two Lines, Full House, and One to Go. That makes a total of £250 which is the most you can win out of this game.
Now that prize may be in real money or in bonus funds. This depends solely on what you bought your cards with. If you bought your cards with bonus funds, then bonus funds you shall receive. And if you purchased cards with cash, then that is what you will get. Keep in mind that you will not be able to withdraw bonus funds until you have met the wagering requirements.
The wagering requirements here are 4x your bonus. You need to meet those within 14 days of receiving your bonus, otherwise, your bonus funds simply expire. Additionally, bonus funds from bingo and other games are separate, so you can only complete the wagering requirements for bingo bonus funds by playing bingo games. Not all bingo games on Naughty Bingo allow the use of bonus funds.
If you have bought your Midweek Treat game cards with real money and you win, you will not have to meet any wagering requirements and will be able to withdraw your winnings immediately. Of course, in order to withdraw, you will need to undergo an identity check by the team of Naughty Bingo. They may require you to send a copy of your ID, driving license, proof of address, and so on. They will almost certainly require you to send a picture of your credit or debit card with the middle 6 numbers blocked if you decide to withdraw through this method.
Another thing to keep in mind is Naughty Bingo's order of consumption of currencies. According to this website's policy, when buying a ticket, you will first use your cash, then your winnings, then your bingo bonus, then your free tickets, so remember to check which one you are using at the moment.
Of course, like any other reputable gambling website, Naughty Bingo does not tolerate any fraudulent activity. This includes and is not limited to duplicate accounts, intentional disconnection, IP masking, and anything else that is in breach of the terms and conditions of the website. Underage gambling is strictly forbidden on this website as well.
Related Bonuses
Gone Bingo £3K Payday Jackpot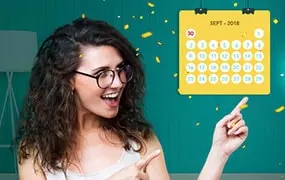 Gone Bingo is a bingo website by ElectraWorks Limited which is regulated by the UK Gambling Commission. It is a part of ...
Read more