Gone Bingo is a bingo website by ElectraWorks Limited which is regulated by the UK Gambling Commission. It is a part of the bingo websites network by the same company and so, is a part of the prize pool. Additionally, all games on the website are tried and tested by iTech Labs and certified by eCOGRA. This website offers a ton of bonuses for bingo players and it features a monthly promotional game.
Full Bonus Terms and Conditions
Currently, the game is £3K Payday Jackpot, however, it changes each month depending on how many players it attracted and pleased. The room is open every first day of the month at midnight, while the actual game starts at 21:00 GMT on the last day of the month. It is available only to players who have completed at least one successful deposit and are over 18.
As the name suggests, the jackpot of this game is £3,000 which is split into smaller prizes. Naturally, a Full House will result in the win of the largest prize which is £750. For Two Lines a player is awarded £500, while One Line pays £250. This game also includes a prize for One to Go cards which is £500. Additionally, non-winning cards share a prize of £1,000. This prize is evenly split between non-winning cards of players that have not won any of the aforementioned prizes. In the event that more than one player wins any of the jackpots at the same time, the prize is also split evenly.
If you use your real-money funds to buy a card for this game, then your winnings will be in cash as well. If you use bonus funds to purchase a card, then your winnings will also be in bonus funds, which means that you will need to meet the wagering requirements. The wagering requirements at Gone Bingo are 4x your winnings. For bingo bonus funds, you can meet them by playing bingo games. Keep in mind that bingo bonus funds expire after 14 days, unless explicitly otherwise stated.
In both cases, if you wish to withdraw your winnings after there are no wagering requirements applicable, you will need to authenticate your account. Gone Bingo will require a picture of a document that proves your identity, such as a valid passport, driving license, and so on. You will also need to send proof of your address and a front copy of the credit or debit card you have chosen for your withdrawal, though of course, while only showing the first 6 and last 4 digits of the card number.
This is a 90-ball game and players can purchase a minimum of 2 cards and a maximum of 96 each of which costs £0.25. You can buy them immediately after the promotion becomes active and right up until the game begins. As we already explained, if you use your bonus funds to purchase cards, then your winnings will be in bonus funds as well, so keep that in mind.
Another thing to take into consideration is the order of consumption of funds, or currencies as they are referred to on the website of Gone Bingo. First up is cash, then your winnings, then bingo bonus and lastly free tickets. This means that you should always pay attention to which funds you are currently using.
Of course, if there is a game malfunction, all purchased tickets will be refunded. However, if a player attempts to disrupt the game on purpose that will be considered fraudulent and the account of such a player may be deleted and their funds forfeited. The same shall occur in the case of duplicate accounts use, or any other form of fraud.
Related Bonuses
123Bingo $10 Ball of the Month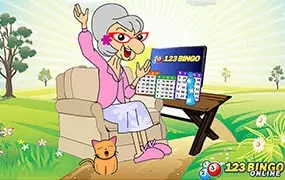 Looking for a good and trustworthy bingo website? Well, you are in luck! The online bingo scene has never been more dive...
Read more