Looking for a good and trustworthy bingo website? Well, you are in luck! The online bingo scene has never been more diverse and you will have plenty of options when it comes to picking the right bingo website for you. One website that stands out from the bunch is 123bingo. This brand has been active for more than 10 years, being established back in December 2004. It has experienced just about every major swing in the online gambling industry and has come out on top.
Since its inception, 123bingo has consistently offered quality service and worthwhile promotions and bonuses. In fact, it runs multiple promotions on a regular basis and you can always find at least several of them at any given time. This decision serves to attract customers and it has so far, worked out well for all parties involved, with users receiving great value for their money. One promotion that we would like to bring to your attention is the Ball of the Month offer, allowing players to earn money whenever their number of choice appears in a bingo game. For the full terms and conditions look below, where we give detailed explanations about this promotions.
Full Bonus Terms and Conditions
Have a lucky number? Be sure to make use of that at 123bingo. The Ball of the Month offer allows you to benefit from scoring a particular number once a day while playing your favourite games. If you believe that luck is on your side, then contact the support staff and let them know which number between 1 and 75 you would like to bank on. Whenever that number pops up during your bingo sessions you will earn $10 in bonus bucks.
There are certain conditions that you have to follow, however, and you can read up on that below. The first rule is that you need to have deposited at least $50 in the previous 10 days to be eligible for the Ball of the Month offer. Additionally, you can benefit from Ball of the Month once per day. In order to claim your bonus bucks, you have to mark the Game ID and submit it to the support staff, who will later add the bonus bucks to your balance.
Bonus bucks are described as a non-cashable bonus awarded to you under certain conditions. While the initial sum of bonus bucks cannot be withdrawn, the winnings resulting from it can be. Once you initiate a cash in, the bonus bucks will be removed from your balance and the net winnings will be added to the withdrawal transaction.
The Ball of the Month promotion is one of the simplest, yet one of the most effective out there. It allows players to benefit from one particular number and the likelihood of it popping during play is high. Even if it does not appear during the first game, odds are it will after playing a few rooms.
The only prerequisite is that you have deposited to your balance at least $50 in the last 10 days, for which you can earn up to $100 in bonus bucks. That is by no means a bad deal and you can use those bonus funds to enjoy your favourite games. For this reason, we recommend that you make use of that promotion the next time that you are at 123bingo. It is one of the most low-profile offers, yet it is capable of giving you a wonderful boost to your balance, should you choose to take part.
Related Bonuses
123Bingo $15 Back to School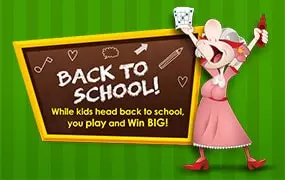 Bingo is one of the most popular forms of gambling currently available on the Internet and it is only getting better fro...
Read more