Bingo is one of the most popular forms of gambling currently available on the Internet and it is only getting better from the consumer's point of view. There are more bingo websites than ever before and that number is expanding with every single day. Furthermore, users also have at their disposal ever better promotional offers as the different websites compete for their business. One such website is 123Bingo, one of the older bingo rooms in the industry, going back as far as 2004.
Established with the goals of becoming one of the primary online bingo venues, 123Bingo has been quite aggressively pursuing this goal over the last decade and a half. It offers users regular promotional offers and provides everyone with a great bingo experience. Their latest offerings including the 'Back to School' promotion, which will run throughout September.
Full Bonus Terms and Conditions
The Back to School offer is available to everyone currently playing at 123Bingo and it is very rewarding to those who take their bingo seriously. Taking part in this promotion does not require one to sign up for the offer or deposit to their bingo balance. Rather, all that is needed is to play bingo and fill out certain patterns for the opportunity to win a small boost to your bankroll. More specifically, the Back to School offer rewards those who manage to fill out the Letter A, Letter B, Letter C, Number 1, Number 2, Number 3 and Question Mark patterns during the course of their bingo sessions. Filling out three of those patterns per day will give users the opportunity to claim $15 in bonus bucks just like that.
Granted, there are certain rules that you have to abide by to claim your reward. For one, whenever you hit those patterns you have to save the ID of the bingo session and email them to 123Bingo support staff, who will then add the bonus bucks to your balance. Bonus bucks refer to non-cashable bonus funds, which are removed from the balance once a withdrawal is requested. While the initial sum of bonus bucks is removed, the winnings resulting from it are yours to keep and to do with as you please.
If the player does not manage to fill out three patterns during the course of one day and fills out only two instead, then they can claim a $3 consolation prize paid out in bonus bucks. This reward is paid out automatically and there is no need to contact the support team. The game where the patterns may be filled out is the Quarters (Green) Room, where tickets cost $0.25 a piece. Events take place every hour so users can join at just about any time they please. This promotion will for the entirety of September 2018 and you can take part every day of that month. The only requirement is that you need to have deposited to your balance for that week to participate.
Overall, the Back to School offer is quite interesting and it can be very rewarding if you can fill out the necessary patterns. It does not require anything special from you, only that you have made a deposit in the previous 7 days to take part. You can strive to fill out the patterns simply by playing your favourite game and you do not have to go out of your way to take part. It is one of the better offers on the Internet and we highly suggest that you take advantage of it while it is still available.
Related Bonuses
123Bingo VIP Programme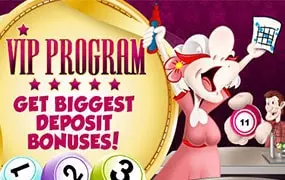 If you are struggling to find a gaming website that offers some of the most exciting and intriguing bingo games, you sho...
Read more