The online bingo scene is stronger than ever and there are hundreds, if not thousands, of top-quality websites readily available to the general public. With Internet access in every home and online gambling becoming a thing of everyday life, online bingo has never been more popular. Out of the many bingo websites out there few have been in the business as long as 123Bingo.
Founded in late 2004, 123Bingo has remained in the industry for more than a decade and has contributed much to its development. Always looking to bring in new players, 123Bingo offers a wide range of bonuses and promotions to those who make the fateful choice of playing here. Existing users, on the other hand, can help the website by introducing their friends to the wonderful games available at 123Bingo and earn themselves a nice reward doing it. Right now, we will discuss the Referral Bonus that users can claim at 123Bingo!
Full Bonus Terms and Conditions
The Referral Bonus is available to all registered players who want to share their joy and good times with their friends. Those who have established themselves as verified players can benefit from the Referral Bonus by bringing in their friends to 123Bingo. The Referral Bonus will give you a nice boost to your bankroll whenever another player registers using the original user's referral link. More specifically, users will receive $10 in bonus bucks and 25% bonus funds of the deposits over 90 days of the player for every player that they bring in. This offer is not found in the general 'Promotions' page, rather users may find it in the 'Account' page and it is only accessible once logged in. There, users will find three different options when it comes to receiving their referral links – one for Facebook, one for email, and a unique referral link. Either is valid and those who click those links and register will contribute to the user's Bonus.
Of course, there are certain rules that have to be followed by all involved in order for the Bonus to be credited to the user. For one, users may not create duplicate accounts for the purposes of this promotion. Granted, this is forbidden in general, but it is worth reminding people of this rule. Moreover, the referral bonus is paid out once every month, regardless of the number of players brought in. Finally, in order for a user to gain their bonus, the registering player has to deposit to their balance and play with that money. On the user's side of things, bonus bucks refer to bonus money that is non-cashable and only winnings resulting from the bonus bucks can be withdrawn. Moreover, the 25% bonus earned from the other player's deposits is under the same terms as any other bonus on the website. There is a 3x wagering requirement on bingo games or 30x on slots and keno. The maximum withdrawal is 10x the value of the bonus.
Overall, the promotion is quite simple and anyone can take advantage of it. There are almost no strings attached and the wagering requirement is quite small when compared with similar offers from other websites. Furthermore, it also allows users to enjoy their favourite bingo games with their friends and family. 123Bingo does not mention that there is a limit on the number of players that can be referred, making it possible for referring users to earn quite a bit of money this way. It requires no effort on your part and it is only logical to tell friends about the positive experience you had at 123Bingo. Therefore, do not hesitate and head over to 123Bingo to check it out and to get your referral links.
Related Bonuses
123Bingo $59,500 Weekly Coverall Madness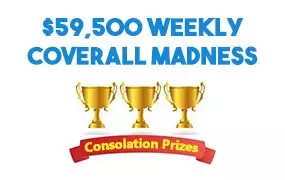 There is no doubt that bingo fans will have the time of their lives at 123Bingo. The website has made its top priority t...
Read more