Launched in 1997, Fancy Bingo is one of the oldest bingo gaming websites and features one of the most comprehensive collections of such games. The company is a subsidiary of 888 Holdings and along with the bingo games it also offers a long list of slot titles.
One of the best things about Fancy Bingo is that it runs an abundance of promotional offers that are available exclusively to bingo lovers. The Tea Party Daily Prizes is one of the best options you are presented with as you can win numerous prizes as long as you play daily for six days and deposit at least £5 each time.
Full Bonus Terms and Conditions
If you are planning to participate in The Tea Party Daily Prizes, you need to know that you will have to be over the age of 18 in order to do this. What is more, Fancy Bingo's patrons who have not made a deposit to their accounts yet are permitted to make use of the promotional offer only once, whereas players who have transferred funds to their accounts throughout the previous 6 days are allowed to take part in it once per day.
The best thing about the promotional offer is that it gives gambling enthusiasts the chance to win every day as long as they top up their account. Then, you simply need to pick a teapot and you can get real cash, diamonds, fancy points, free spins, free bingo tickets or a deposit bonus.
Bingo lovers who are intent on joining the promotional offer need to know that they cannot combine it with any of the other promotions that are on offer as otherwise, they will lose all their bonus funds.
If you have not topped up your account yet and you wish to take advantage of The Tea Party Daily Prizes, you should be informed that you will be able to get free bingo tickets only if you deposit £10 using the revealed prize code. The ceiling on the free bingo tickets you can get is 180, whereas the minimum number of tickets you can receive is 160. It should be noted that these tickets can only be used in bingo rooms that include the Ride Room, Just the Ticket Room, Golden Ticket, and the Choo Choo Ticket Room. The total amount of the jackpot you can get in each of the rooms is £10, and if the winners are more than one, the prize will be allocated to all the lucky players. These games start at 10:00 pm and go on until midnight every day, and if you have joined a bingo game that is canceled, you will get your bingo tickets back as long as they have not expired.
Once you have made the required deposit, your bingo tickets will appear in the balance of your account and you will have 7 days to use them up. If you do not manage to use all of them, the remaining tickets will be deleted from your account thereafter.
It is important to note that this offer is limited solely to the first deposit which means that you can make use of it only once. In the event that you have managed to accrue any real-money winnings, you need to know that they will be credited to the balance of your real-money account.
When it comes to the Deposit Bonus Prize, it should be noted that the minimum deposit you need to make is £5, whereas the maximum deposit you are allowed to make is £20. The minimum bonus amount you are entitled to receive is £1 and the maximum is £4 bonus cash.
As you probably know, such deposit bonuses come with their specific wagering requirements. Interactive players who are participating in the promotional offer are required to wager the total amount of the bonus funds and the deposit amount 4 times before they could cash them out. Still, you should keep in mind that if you initiate a cashout prior to the fulfillment of the turnover requirements, you will forfeit all your bonus funds. In this relation, we should mention the fact that only bingo games will count towards the specified playthrough requirements.
What is more, when you wish to retrieve your winnings, you should not forget that you cannot withdraw less than £5. If you initiate a withdrawal of less than £5, your funds will be returned to your balance automatically.
It is important to note that your bingo bonus funds will be added to the balance of your bonus bankroll and that you cannot convert them into cash. The only thing such funds can be used is for buying more bingo tickets.
As it was already mentioned, Loyalty Points are one of the prizes you can win as long as you take part in the promotion. These points will appear in your balance within 5 minutes and you can then redeem them for bonus funds directly via your account.
If you have managed to win a Diamond Prize, you need to know that it will also be credited automatically. If you have managed to win Free Spins, however, you should know that you can use them up solely on Fish and Chips. The minimum number of free spins you can be granted is 5, whereas the maximum number of free spins you can receive is 20. The winnings you can accrue during your free-spins session are capped at £0.10 per a free spin. Thus, if you have won 5 free spins, for example, the maximum prize you can get is £0.50. It is important to note that you have 24 hours to use up all your free spins, as otherwise, you will lose them.
And last but not least, we should mention the fact that Real Cash Prizes do not have turnover requirements, meaning that you can decide whether to cash them out or to use them on some of the other games that are on offer.
Related Bonuses
Costa Bingo £500 Thursday Big Shop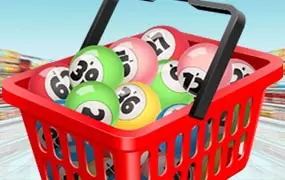 Costa Bingo is a relatively popular online bingo website, frequented by hundreds of players every month. It is owned and...
Read more