If you are searching for a reliable bingo website, then you can always rely on Costa Bingo. Whether you are on the lookout for a wide range of bingo games or you want to win wonderful jackpots at any time of the day, you can do that at Costa Bingo. To ensure that interactive players are having the time of their lives, the website also provides some of the hottest slots which can make your experience even more exciting. The plethora of games that Costa Bingo is offering is not the only advantage that you will enjoy while playing on the website. The list of promotions that the bingo site has prepared can make any player's gaming experience more rewarding and fun.
Full Bonus Terms and Conditions
At Costa Bingo, virtual players are offered the opportunity to combine their bingo and slot adventures and enjoy equally fun and lucrative experience. If you are a member of Costa Bingo, you can take advantage of the Free Spins Frenzy. You will have access to this promotion if you have previously uploaded funds to their gaming account.
Only players who are at least 18 years old will be able to play at Costa Bingo and use this promotion. What is more, it is their responsibility to check whether the country they reside in allows online gaming. If their jurisdiction has strict laws against it, players will not be able to open an account at the bingo website or take advantage of this deal.
Every Tuesday at 09:00, players have the chance to play bingo and win up to 500 free spins. The price for a single ticket on the Free Spins Frenzy game is only 5p and players have the chance to get paid on either 1, 2, 3, 4 or 5 lines. The 500 Free Spins are divided into 100 for 1L, 100 for 2L, 100 for 3L, 100 for 4L and 100 for FH. You can buy up to 96 tickets for the game.
The game on which you can win the free spins is 75 ball bingo with 5 lines. If there is more than one winner, the free spins are divided equally between the players who have won. If you are among the lucky Costa Bingo members who have earned free spins, you will be able to use them on the Fish & Chips slot. One of the most beneficial things about these Free Spins is that they can be used both on desktop and mobile devices.
Once the Free Spins have been accredited to your account, you will have 7 days to use them. If you do not succeed to do so, any unused free spins will be declared void. You will be able to receive your Free Spins in the 48 hours which follow the end of the Free Spins Frenzy game.
This promotional bingo game can award only Free Spins and there is no possibility for receiving any cash prizes if you mark off a winning combination. There is a winning maximum of 10p for a single Free Spin. As it was mentioned earlier, only bingo players who have previously topped up their Costa Bingo account will have the chance to play Free Spins Frenzy every Tuesday at 09:00. The minimum deposit that members of the bingo website must make is £5.
Related Bonuses
Costa Bingo £500 Beach Club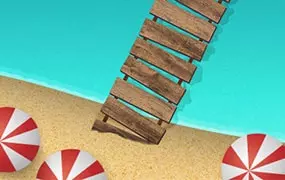 Costa Bingo was launched in 2009 as part of the 888 Group which comprises a variety of online bingo brands like Ted Bing...
Read more