Fancy Bingo is certainly an enticing gambling website. Focusing exclusively on bingo, Fancy Bing strives to provide ones of the best experiences that you can have playing your favourite game on the Internet. Fancy Bingo is owned and operated by Cassava Enterprises, alongside a whole host of other gambling websites. This company has been in the online gambling industry for more than 20 years and has perfected the craft of running a good and reliable gambling operation. It draws players in not only with a selection of great bingo games but also by offering them a slew of worthwhile promotions and bonuses that anyone can take advantage of.
Fancy Bingo runs a number of offers at any given time and while there are several of them that we can discuss, we would like to focus our attention on the Freaky Friday promotion that has proven to be quite popular in recent times.
Full Bonus Terms and Conditions
Freaky Friday, as its name implies, takes place on a Friday night at 22:00 UK time. Players who choose to participate can purchase multiple tickets to the bingo room, where they can compete for a prize of £50, granted to the Full House winner. It is quite simple, yet effective way to reward players who choose to take part and many of the Fancy Bingo regulars report actively looking to participate.
The game that Freaky Friday features is the 75 ball bingo room and users can join for as little as £0.02 per ticket. Granted, purchasing a single ticket will likely not result in you winning the prize pool, though you can purchase up to 96 tickets per event. The cost of purchasing the maximum amount of tickets amounts to £1.92, which is nothing when compared to the amount that you stand to win. Moreover, the prize is paid out in cash money, rather than in bonus funds. This means that if you are the Full House winner, then you can use that money as you see fit, rather than needing to fulfil a wagering requirement prior to withdrawing it.
Should a player win the Freaky Friday prize pool, they will be contacted via email by Fancy Bingo staff within 5 days of the event taking place. In that email, there will be instructions on how to claim the reward from the room. If a player does not claim their prize for 3 weeks after receiving the email, they will forfeit the money. This is why it is very important to keep an eye on your email inbox should you score a win.
One of the best aspects of this promotion is that it runs week to week, perpetually until further notice. Therefore, you can take part every single time or on the following Friday if you are unfortunate enough to miss a week. Moreover, it always takes place at the same time every time so you can easily set your schedule to match that.
Overall, the Freaky Friday offer is quite good and we recommend that you make use of it the next time you visit Fancy Bingo. It is quite rare to see a website offer such potential winnings without them being tied to a wagering requirement. Additionally, the price of entry is quite low, with the maximum that you can spend going as high as £1.92. Winning the prize pool is great in terms of value for money and you should certainly strive for it. Visit Fancy Bingo using the links above to read about the offer from the website first hand.
Related Bonuses
Fancy Bingo £500 The Rich Dwarf Bonus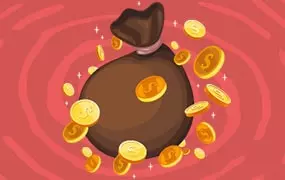 Fancy Bingo is not only one of the oldest bingo websites but it is also one of the most frequented gambling destinations...
Read more