When you are not sure where you can find fun and rewarding bingo games online, you can always rely on Costa Bingo. The website has a plethora of bingo variations to offer and can please fans of both 90 ball bingo and 75 ball bingo. On top of that, players have the chance to win jackpot prizes which will instantly make their adventures more lucrative.
For those who are fans of slots, there are also plenty of games that can provide spinning excitement and bring players impressive payouts. What makes Costa Bingo a wonderful destination for fans of bingo is the fact that the website offers a long list of promotions which can help players enjoy a more rewarding experience.
Full Bonus Terms and Conditions
Once you have funded your gaming account at Costa Bingo, you can enjoy wonderful deals that will help you along your virtual bingo journey. If you want to rack up impressive winnings for just a very small price, you should try the 1p Sunny Goldmine promotion. This way you will have the opportunity to play bingo games with great value for the insignificant price of 1p for a ticket.
This promotion is available to new members of the bingo website who have topped up their gaming account. What is more, only players who are at least 18 years old will be able to open an account at Costa Bingo. In addition to that, they have to make sure that they do not reside in a restricted country which forbids interactive gaming.
Players will have the chance to play at the 1p Sunny Goldmine room every hour, starting from 14:00 until midnight (UK time). The game can be played every day and the price of a single ticket is just 1p. The jackpot offered on the 1p Sunny Goldmine is £20 and is divided in £4 for 2TG, £6 for 1TG and £10 for FH. You have the chance to play this 75 ball bingo game and win amazing prizes daily. If you do the simple math, you will see that the website awards its patrons with more than £1,500 every week which proves that Costa Bingo always provides rewarding adventures to its members.
The minimum number of tickets you can purchase per one game at the 1p Sunny Goldmine room is 1, while the maximum tickets you can buy is 96 per single game. If there happens to be more than one winner, the prize is shared between those who have won. Winnings from the 1p Sunny Goldmine game are immediately transferred to players' accounts, once the game has ended.
According to the Bonus policy of Costa Bingo, winnings generated from bingo games can be cashed out by players, if they have previously funded their accounts and have used their funds for purchasing tickets. The minimum cashout amount that patrons of the bingo website can request is £5.
Make sure to take advantage of this promotion, if you have already made a deposit to your bingo account. The minimum deposit that Costa Bingo players should make is £5. The 1p Sunny Goldmine is played every day between 14:00 and 00:00 and gives players the chance to win a wonderful £20 jackpot.
Related Bonuses
Costa Bingo Sunshine Lucky Dip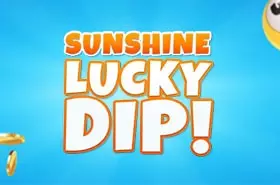 Cassava Enterprises Limited offers roomies yet another amazing bingo site – Costa Bingo. A strong focus on fair gaming...
Read more