Cassava Enterprises Limited offers roomies yet another amazing bingo site – Costa Bingo. A strong focus on fair gaming is what makes this one of the most reliable bingo sites. Fun, safety and lots of promotions are what makes this website truly great. It offers some unbelievable opportunities for both funded and non-funded players. The Sunshine Lucky Dip promotional game is one of them.
Full Bonus Terms and Conditions
The Sunshine Lucky Dip is a 75-ball game just like any other, with the exception that the prize is a mystery. It can be cash, bonus cash, or Costa loyalty points but all else remains unknown until one game finishes. Then, you can see what the prize for the next game will be and how much the tickets will cost.
This room holds games every 2 hours from 10:15 AM until 6:15 PM, then every hour from 6:15 PM until 11:15 PM. The cards can cost anything between £0.05 and nothing. If the cards cost £0.01, £0.02, or £0.05, then players can purchase up to 96 of them. If the cards are free, then players can claim up to 6.
Once a game has finished, the prizes are automatically credited to the winners. In cases of multiple winners, the prize will be evenly split. Of course, if the prize is bonus cash, then the winners must first meet the wagering requirements – 4x the bingo bonus.
The room has a wonderful chat feature and is overall standard-looking. Players who have not completed a deposit are welcome, so that is a nice bonus feature. Not many bingo sites offer their non-funded players so much – there are promotional offers available, and games, some of which even offer real cash prizes for free tickets.
The only way to win is by getting a Full House. If you have two numbers to go or one number to go it does not qualify you for a prize. However, the good news is that it is not a sliding jackpot, so even if you get a Full House on one of the last calls and no one else has won yet, you will still win the whole prize.
The maximum prize that Sunshine Lucky Dip could give is a mystery, however, it would seem that the more expensive the cards get – the better the prize. Usually, free cards will get you loyalty points prizes, the lower value cards usually mean that the prize will be in bonus funds, and if the cards are £0.05, you will most likely be playing for real cash. But, since it is always a surprise, we cannot really say for sure.
Of course, the usual terms and conditions apply – players under the age of 18 cannot participate, nor can players who are from the United States of America, Israel, Turkey, Spain, France, Italy, Denmark, Belgium, Gibraltar, and Antigua. Additionally, the use of duplicate accounts will result in their termination and the permanent loss of all funds, both bonus, and cash. IP masking is not permitted either.
Withdrawal limits apply too but you will be happy to know that there is no roof to cash-outs. You can withdraw as much as you want, even empty your entire account. Well, maybe not at once, but you can still do it. The only withdrawal limit is the minimum which sits at £5. You must also keep in mind that whenever you decide to cash-out, all of your bonus funds will be removed.
Related Bonuses
Costa Bingo 5,000 Loyalty Points Patterns for Prizes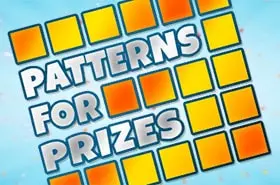 Costa Bingo is a long-standing gambling brand that operates an online bingo platform where players can indulge in variou...
Read more