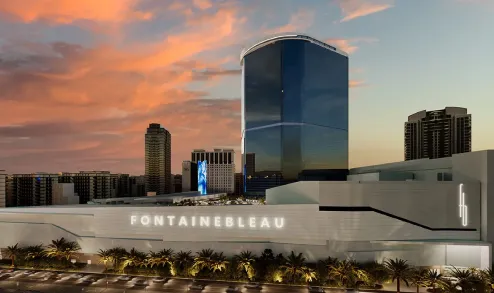 The legendary Las Vegas Strip will see the much-awaited grand opening of Fontainebleau Las Vegas in December this year following regulatory approvals. The 737-foot-high, 67-story resort will be a valuable complement to Sin City's skyline and the second-tallest building in Nevada after Strat Observation Tower.
The 25-acre site was the former location of the El Rancho Hotel and Casino and the Algiers Hotel. Set on the north end of the Las Vegas Strip, the property is in the vicinity of the Las Vegas Convention Center and the Las Vegas Global Business District.
While Fontainebleau Development has yet to confirm the official opening day, sources acquainted with the project have identified December 13, 2023, as the exact date when the grand resort will welcome its first customers.
Initially announced in May 2005, the project had to face a great deal of hurdles to reach the critical last phase that is scheduled for the fourth quarter of 2023. According to plans, construction works had to commence by March 2006 and the resort had to launch operations by 2008. However, construction began in 2007 and was put on hold in 2009.
Over the years, the project changed several owners, with Fontainebleau Development and partner Koch Real Estate Investments taking possession of it in February 2021 and resuming construction in November 2021.
Fontainebleau Las Vegas Facilities and Projected Job Positions
Fontainebleau Las Vegas will feature more than 3,700 hotel rooms, each with a bespoke design to offer a world-class experience to its guests. Furthermore, the premium venue will offer more than 550,000 square feet of convention center. Its ensemble of facilities will be further complemented by an assortment of world-renowned brand stores (that is yet to become known) and an exquisite range of luxurious restaurants. Nightlife entertainment opportunities will be exuberant as well. Guests will be able to enjoy top-class spa, wellness, and rooftop pool offerings.
As far as the gambling facilities of the complex are concerned, customers will not remain disappointed either. The ground floor will house all types of casino and sports betting products. Gambling enthusiasts may revel in a one-of-a-kind Las Vegas experience, spanning more than 1,300 slot machines. The casino offering also includes various blackjack, keno, and video poker options, among others. Sports betting devotees will be also excellently catered for.
Fontainebleau's long-awaited opening will be beneficial to the local job market, as resort officials confirmed that more than 6,500 employees would be hired. President Mark Tricano said that a job fair will take place between September 25 and September 30 at Vū Las Vegas' production campus. The hiring event will begin by appointing more than 1,500 individuals for the resort's food, bar, and nightlife facilities.
As Fontainebleau Development President Brett Mufson stated, the complex exemplifies "not only an investment in real estate but also an investment in the community", keeping hopes high that it will positively impact Las Vegas "for generations to come".