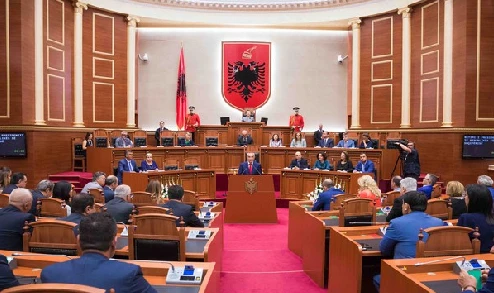 Albania's Debuty Finance Minister Vasilika Vjero presented a remote gambling draft on September 14. According to Vjero, regulated sports betting would provide funding for the country's sports sector. However, members of the Socialist Party and the opposition heavily criticized the proposed draft.
Member of Parliament Alban Xhelili, for example, expressed concerns over the accuracy of the revenue calculations outlined within the draft. He was also skeptical of whether gamblers in Albania would be willing to switch to regulated gambling operators, citing complications such as non-cash payments and personal identification as reasoning.
The draft's failure to address individuals suffering from problem gambling was criticized by Erion Brace, the MP of Albania's Socialist Party. Brace also pointed out that a list of currently operating retail casinos has not been compiled, and requested that such a list be provided for transparency.
Another point of contention was money laundering, as highlighted by Democratic Party MP Jorida Tabaku. She said that online gambling could enable money laundering, as previous attempts to curb such illegal activities had been unsuccessful.
Details Concerning The Draft
If online gambling becomes legal in Albania, the licensing process sports betting and iGaming operators will need to go through will involve a L400 million (around €3.7 million) licensing fee. A license will be valid for 10 years.
Only joint-stock companies, specifically ones based in Albania, will be eligible for a license. They will also be required to register with Albania's National Business Center. Player data will be retained and secured by operators for at least three years.
Any entity that has a permit to operate in Albania will be able to accept payments strictly via digital means, specifically through regulated financial agents. This includes second-level banks, financial institutions with a license issued by the Bank of Albania, and the Albanian Post. Cash payments will be prohibited.
Current Legal Landscape of the Albanian Gambling Sphere
Albanian residents do not have many available options in terms of gambling legally within the country at the time of writing. Casino gaming can only be done in land-based establishments located in 5-star hotels, and the only other permitted forms of gambling are bingo and the country's national lottery.
Neither licensed nor unauthorized operators are permitted to launch advertisement campaigns related to gambling, at least when it comes to television and other mass media. The only promotions supported by current regulations are ones sent via newsletter or email.
Online gambling cannot be offered legally under current legislation. It has been forbidden since 2019, and this encompasses both casino gaming and sports betting. According to Albanian law, wagering on sports offline is also prohibited. As a result, some Albanian sports bettors have taken to placing bets on sporting events via illegal means.
If the online gambling draft is passed and legal remote gambling operations commence in Albania, the country's residents will be able to wager on websites and applications run by Albania-licensed operators.