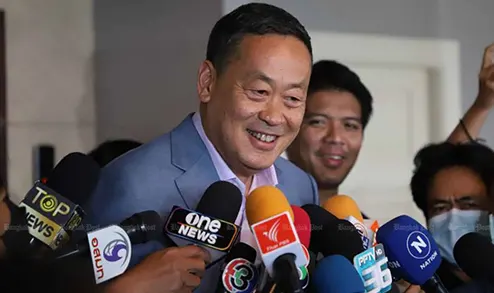 As Thailand's fight against illegal gambling continues, the Deputy Prime Minister of Thailand, Somsak Thapsutin, made a statement on Tuesday expressing his support for the potential expansion of legal gambling within the country.
The DPM noted how betting on cockfighting and bullfighting events is a regulated form of gambling within Thailand, yet football betting and other types of gambling are not legal under Thai law. He continued, addressing taxation in particular and how the country and its residents could stand to benefit from the expansion of the country's regulated gambling sector.
According to the politician, online gambling is especially lucrative. He also said that the profits that could be generated from remote gaming would aid Thai authorities in helping the elderly, Thai individuals with disabilities, and children.
Mr Somsak's statement was made in the wake of an investigation concerning illegal gambling, which involved the raid of the home of Thailand's Deputy National Police Chief, Surachate Hakparn. His Bangkok-based home was not the only building to be swept, as the premises of 30 locations in total were subject to the Thai law enforcement's operation.
The operation resulted in over 20 arrests, but this did not include the deputy national police chief. In a statement following the raid, Mr Surachate claimed that he did not have any grounds to worry about the investigation and that he was certain of his innocence. He would later state that the sweep of his residence was "political" in nature, as the search warrant had been issued without the court being informed that the home belonged to him. He also called for the investigation of the police officers who were involved in the raid, namely regarding their potential involvement in illegal online gambling.
Legal Gambling is Strongly Limited in Thailand
Thailand's current gambling landscape does not have much to offer when it comes to what gambling operators can provide to individuals who wish to play games of chance or partake in sports betting. Most forms of gambling are prohibited under Thai law, with the national lottery, horse race betting, and wagering on other animal sports being the only types of gambling available to Thai residents. Online gambling of any kind is currently considered to be against the law, and Thai law enforcement has implemented numerous measures in order to bust illegal gambling operators.
The latest investigation is the one that involved Surachate Hakparn, and it was conducted in order to uncover the officer's alleged ties to "Betflix", an illegal gambling ring that is believed to be tied to online gambling. Apart from the September raid, another operation was undertaken in December, and over 30 individuals were found to have operated online gambling websites. May saw another raid, this time of an illegal casino, which led to the arrests of over 80 residents of foreign countries.