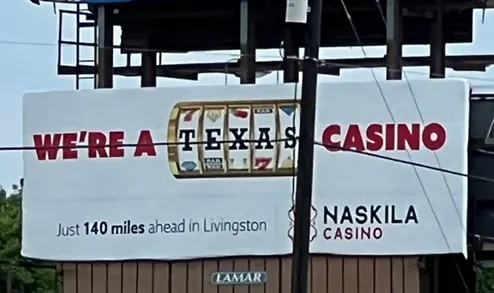 Naskila Casino, located in East Texas, has upped the ante in the fight for new customers. The gambling venue has started advertising its products on billboards, hoping to attract the attention of potential players. The company has come up with the billboard advertising idea after Texas failed to approve a bill seeking to legalize casino gambling and online sports betting in the Lone Star State.
Whitney Williams, the Social Media Specialist at Naskila Casino, has announced that the billboard advertising campaign seeks to grow the casino's customer network. She added that the idea of the advertisement is to provoke people's interest and make them visit the casino. Williams did not hide her optimism that the marketing campaign would succeed.
But not everyone welcomed the casino's billboard advertising campaign. Texas Values, an organization committed to helping Texans to preserve family values, spoke against Naskila Casino's aggressive marketing strategy. Jonathan Covey, the Policy Director for Texas Values, said that all gambling advertisements are dangerous because they feed gambling disorders. Besides, gambling problems often lead to the separation of families. Covey also noted that the number of children participating in online gambling activities is rising at a fast pace, which is disturbing.
The Alabama Coushatta Tribe of Texas, which operates Naskila Casino, said that they offer amenities for non-gamblers, too. Williams urged people to go to the lake with cabins and recreational vehicle (RV) parking.
Texas is Unlikely to Expand Gambling Anytime Soon
Texas is one of the states with the strictest anti-gambling laws. The legal forms of gambling are lottery, bingo, horse, and greyhound racing. Only three gambling venues are allowed to operate in the state, and all of them are owned by Native American tribes.
Although many Texans regularly cross the border to gamble, the Lone Star State does not consider easing its stringent gambling laws and allowing commercial casinos. This has become clear after the legislation that would legalize casinos and online sports betting fell short in the Texas House earlier this year.
The proposal was backed by Las Vegas Sands, which urged lawmakers to allow Texans to vote on whether or not they want a commercial casino. Under the proposed measure, one Las Vegas-style resort would be established in each of the state's metropolitan markets. In May this year, Texas Lieutenant Governor Dan Patrick, who oversees the Senate, said the casino expansion bill does not stand a chance to pass the chamber.
According to a poll conducted by the University of Houston this January, 75% of adult Texans support the casino expansion bill and want a commercial casino in the state. By easing its draconian anti-gambling rules, Texas would not only boost its economy but also ensure player protection. Unfortunately, the perspective of the state to expand gambling remains dim.