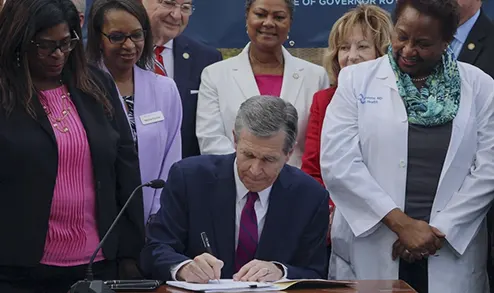 North Carolina's Governor Roy Cooper is expected to sign a sports betting bill into law today at Spectrum Center in Charlotte. Mobile sports betting could go live as of January 8 – the day when the College Football Playoff National Championship Game will take place in Houston. If regulators fail to turn the bill into practice by that date, mobile sports betting must launch within 12 months of the bill becoming law.
North Carolina will become the 28th state to legalize mobile sports betting if Governor Cooper signs House Bill 347. Earlier this year, the governor made it clear that he would sign any sports betting bill approved by the Legislature. The legislative measure appeared on Cooper's desk last Friday, and he has 10 days to act on it.
In March this year, the House approved the sports betting bill by a 64-45 vote. The bill was stuck in the Senate for two months. After introducing some amendments to the legislation, the Senate passed the sports betting bill with a 37-11 vote.
The second House vote, which took place on June 7, finalized the changes made by the Senate. On June 8, the North Carolina General Assembly voted in favor of the legislative measure and sent it to Governor Cooper's desk, who is expected to sign it into law today.
How Mobile Sports Betting Will Be Regulated?
Currently, punters residing in North Carolina can place in-person wagers at any of the three tribal casinos. Industry experts forecast that mobile sports betting could generate more than $20 million per year for the state if legalized. As mentioned earlier, the sports betting bill was amended by the Senate.
Under the revised version of the legislation, licensed sports betting operators must pay a tax rate of 18% instead of 14%. Besides, provisions to legalize in-person sports betting at or close to professional sports venues and pari-mutuel wagering on horse racing were added to the legislative measure.
Eight venues will be allowed to open a retail sports betting lounge, with PNC Arena in Raleigh, WakeMed Soccer Park in Cary, Bank of America Stadium, and Spectrum Center in Charlotte being among them. Another amendment eliminates deductions of free bets and promotional offers from taxable revenue.
The sports betting bill allows up to 12 sports betting operators to obtain a license. Punters will be able to wager on professional, college, Olympic, and other sports via their smartphones and other electronic devices. Mobile sports betting licenses will cost $1 million and be valid for five years.
The bill also includes provisions regarding the institutions that will benefit from the money generated from license fees. Аfter the Department of Revenue and Lottery Commission receives its share, $2 million annually will be allocated to the Department of Health and Human Services for gambling addiction education and treatment programs.
North Carolina Amateur Sports will receive $1 million annually to increase opportunities for youth sports participation. Another $1 million will go to the North Carolina Heritage Advisory Council, while $300k will go to support the athletic departments of several state colleges and universities.