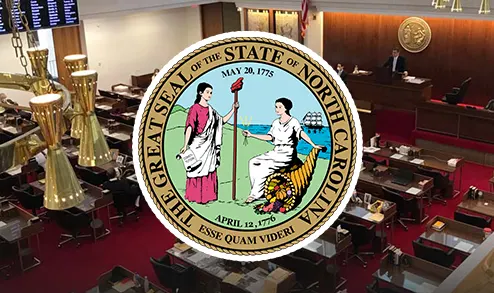 On Wednesday, the Senate Commerce and Insurance Committee approved a bill that would legalize sports betting in North Carolina after making some major changes. The reforms introduced by state senators aim to legalize parimutuel horse racing betting, allow sports fans to place cash bets in person at sports venues, and raise the tax rate on online sports betting revenue from 14% to 18%.
According to experts, the changes introduced by the Senate could cause conflict between House and Senate members, which raises the question of whether lawmakers would pass the bill before the early summer when the year's primary General Assembly work is expected to end.
What Changes to North Carolina's Sports Betting Bill Senators Propose?
As BonusInsider reported at the end of March this year, North Carolina's House of Representatives passed House Bill 347, which aims to allow online betting on professional, amateur, and collegiate sports events. The bill now heads to the Senate Finance Committee for consideration after the Senate Committee on Commerce and Insurance approved the measure this Wednesday.
But state senators introduced significant changes to the legislation, authored by Rep. Jason Saine (R-Lincoln). The new changes seek to add parimutuel betting on horse racing to the list of allowed betting options. The amended version of the bill stipulates that operators can acquire an advance-deposit wagering (ADW) license in exchange for 1% of their annual parimutuel wagering handle.
Besides, betting operators will have to pay a tax of 18% instead of the previously proposed 14% on their revenue. Under the new version of the bill, operators will not be allowed to benefit from promotional deductions. Lawmakers, however, did not change the number of sports betting licenses up for grabs. If approved, the bill would allow 12 betting companies to enter the market.
Furthermore, the revised version of the bill seeks to allow anyone of legal gambling age to place a cash bet at a betting window at a sports venue without opening an account.
How Revenue from Sports Betting Operations Would Be Distributed among Institutions?
Under the amended version of the bill, East Carolina University, Appalachian State University, and the University of North Carolina at Charlotte would receive $300k annually from sports betting. As much as $2 million from revenue from mobile sports betting would go to fund problem gambling treatment resources.
Other institutions that would receive revenue from sports betting include the North Carolina Division of Parks and Recreation and the North Carolina Outdoor Heritage Advisory Council. The remaining revenue would be directed to the General Fund and the North Carolina Major Events, Games, and Attractions Fund.
Rep. Jason Saine of Lincoln refused to comment on the proposed changes. Supporters of Saine's bill explained that the government must license and tax operators in order to combat illegal sports betting activities. Senator Tim Moffitt, a Henderson County Republican, said that many people in North Carolina wager on sports online although it is illegal under current state laws.
Before the bill appears on Governor Roy Cooper's desk, it should be approved by all Senate committees and the House. North Carolina's sports betting market is expected to be up and running as of January 8, 2024.