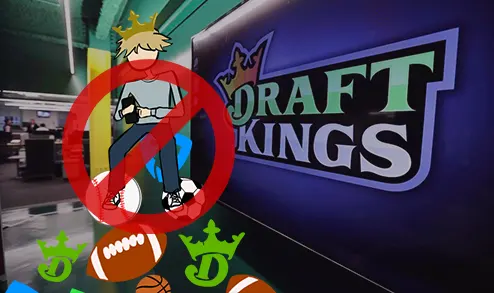 On Monday, the Massachusetts Gaming Commission (MGC) expressed discontent with one of its licensees – DraftKings – for taking bets on a sporting event on which gambling is not permitted. The betting company self-reported the violations to the gambling regulator. Although the watchdog has not issued a fine yet, it plans to hold a hearing, allowing the sports betting operator to explain the reason for the incident.
DraftKings Becomes the First Sportsbook in Massachusetts to Undergo an Adjudicatory Hearing
DraftKings, a major US sportsbook, admitted that it accepted bets on UTR Pro Tennis events from March 10 to March 22, even though the event is not included in the sports wagering catalog approved by the Massachusetts Gaming Commission. The operator explained that miscommunication between the trading and compliance teams was the reason that caused the violation.
DraftKings officials elaborated that the betting menu geared toward a different market was copied without being verified and presented to Massachusetts bettors. Investigations and Enforcement Bureau (IEB) Attorney Zachary Mercer announced that DraftKings accepted 864 wagers on the tennis event for a total handle of $7,867. He added that winning wagers were voided from punters' accounts while losing bets were refunded.
At a meeting held on Monday, MGC Chair Cathy Judd-Stein said operators should be aware that the regulator takes such violations seriously. Commissioner Eileen O'Brien shared her frustration with the operator's negligence of posting a sportsbook without checking whether or not it complies with state laws.
Initially, the gambling regulator thought of transferring the case to the Investigations and Enforcement Bureau, but eventually, it decided to hold a public hearing. DraftKings is the first licensed sports betting operator in Massachusetts to undergo an adjudicatory hearing.
What Sports Can Massachusetts Residents Wager On?
Sports betting went live in Massachusetts on March 10. Despite the fact that the sports betting industry has been up and running for just several months now, DraftKings is not the only sportsbook fined for violating state laws. At the end of March, Barstool Sportsbook was fined for using the phrase "Can't Lose Parlay" in its advertisement, which is against Massachusetts' responsible marketing code.
In January this year, the Massachusetts Gaming Commission approved a sports wagering catalog that lays out the exact sporting events on which Massachusetts punters can wager. Betting on most major leagues like the National Football League (NFL), National Basketball Association (NBA), and Major League Baseball (MLB) is allowed.
Massachusetts residents can also wager on college sporting events as long as these are not non-tournament games in which Massachusetts teams participate. Betting on league drafts, subjective awards, and entertainment awards is also allowed.
Under Massachusetts law, bettors can place different types of wagers, including single-game bets, teasers, parlays, totals, moneyline bets, in-play bets, exchange wagering, and props. Licensed betting platforms are also allowed to offer point-spread wagering, futures, cashouts, and each-way wagering.