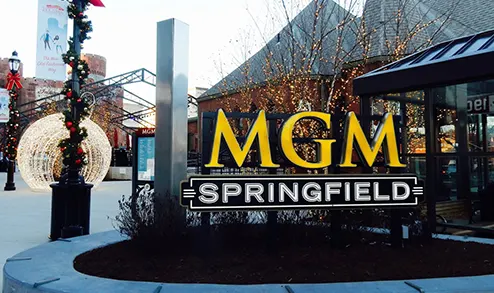 On Monday, the Massachusetts Gaming Commission handed a $45k fine to MGM Springfield after the gambling venue admitted that it failed to prevent underage individuals from accessing the gaming floor. The casino has already taken steps to make individuals below 21 stay away from MGM Springfield's gambling area. The company is busy installing more railings and a security station close to its South End Market food court.
MGM Springfield Self-Reported Many of the Incidents
Yesterday, the Massachusetts gambling watchdog fined MGM Springfield $45k for failing to block underage individuals' access to the gaming floor multiple times between June and December 2022. To prevent similar incidents in the future, MGM Springfield is installing a security station and additional railings, which are expected to be ready until next week.
MGM Springfield agreed to pay the $45k administrative penalty after admitting that multiple incidents of underage people accessing the gaming floor happened recently. Kathleen Kramer, senior enforcement counsel at the Massachusetts Gaming Commission, said that the company self-reported many of the incidents, which is commendable.
Ms. Kramer added that the commission appreciates the gambling company's cooperation and that the Investigations and Enforcement Bureau will keep MGM Springfield under observation.
MGM Springfield features an inside-out design, which explains why the casino has multiple entries. The venue also offers non-gambling amenities open to underage individuals, including a movie theater, restaurants, and bowling.
Casino Security Caught 127 Underage Individuals on the Gaming Floor in the First Three Months of the Year
According to a report submitted by MGM Springfield to the commission on Monday, security at the gambling venue found 127 underage individuals gambling or drinking from January to March this year. Of all underage individuals caught on the gaming floor, 115 were prevented from gambling, while 12 managed to place a wager.
A 19-year-old was on the gaming floor for almost an hour and a half before she tried to cash out her father's winning ticket, which is against state laws. Another case shows that casino security intercepted an underage individual after 8 seconds on the gaming floor.
According to the report, 57 underage individuals were prevented from gambling, and four managed to place a bet before being intercepted in January this year. In February, the casino found 31 underage individuals on the gaming floor and prevented 28 from gambling. In March, 35 underage individuals were caught on the gaming floor, of which 30 were prevented from gambling.
Commissioner Bradford R. Hill said that these numbers are alarming. Gus Kim, vice president and legal counsel at MGM, responded that the company aims to reduce the number of underage individuals accessing the casino floor to zero. He added that families with children often cut across the casino when they come from the parking deck and want to reach the arena. Hills reminded that underage individuals should stay away from the carpeted gambling floor.