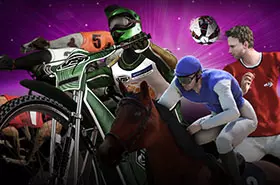 Titanbet is a synonym for safe and secure betting. You will gain extraordinary sportsbook and racebook betting experience, because the online bookmaker is among the best in the industry. Moreover, the expert team is doing everything in its power to provide a bug-free, easy-to-use and clean website. Titanbet is incomparable to any other online platform.
The web-based bookmaker offers a great range of sports such as football, tennis, basketball, volleyball, MMA, motor racing, boxing, horse racing and many others. In order to add extra thrill in your betting experience, you will be able to place different bet types and to benefit from the best odds.
Get a £10 Free Bet on Virtual Sports
Titanbet offers you virtual sports, which are available at any time on the clock. The graphics are breathtaking, the events are unpredictable and you have no limit of availability. Virtual sports are among the most favourite events to place bets on. This is why the online bookmaker offers you the Get a £10 Free Bet on Virtual Sports promotion.
You need to place five bets of at least £10 of any Virtual Sport and the web-based bookmaker will reward you with a £10 bonus as a free bet tokens.
The promotion is available only for customers from the UK only. In order to take advantage of the offer, you must place 5 bets of £10 minimum on any virtual sports event at odds of at least 1.50. After the settlement of your 5th qualifying bet, you will be awarded with free bet tokens in the amount of £10. You can use the tokens to place bets on every Virtual Sports markets with odds equal or less than 8.00.
The free bets are valid for seven days.
Qualifying bets made for the promotion cannot be used towards other offerings at Titanbet.
You are limited to seven Virtual Sports Bonuses per one calendar month. When the calendar month comes to its end, the qualifying bets from it will no longer be counted towards the promotional offering.
Titanbets holds full rights to require additional personal information, e.g. a digital photograph of you, holding your ID close to your face, so that the details of the ID card can be easily visible. This sort of documentation may be needed in order to determine whether a customer is eligible for the promotion. If a punter does not meet the requirement, the client will not have the opportunity to continue the participation in Get a £10 Free Bet on Virtual Sports.
Related Bonuses
Ladbrokes £50 Free Bet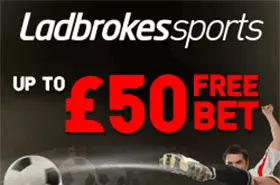 Ladbrokes is among the largest and most respected online sports bookmakers, not only in the UK, but in the world in gene...
Read more