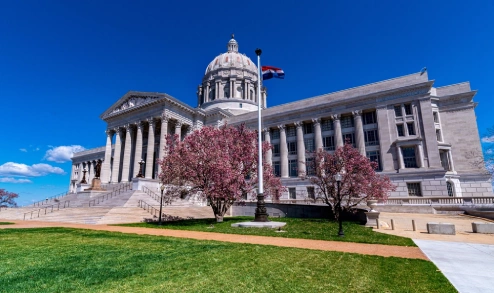 This Monday, the Missouri House gave preliminary approval of a bill that seeks to legalize sports betting in the state. Casino companies will receive support from the Republicans in an effort to turn down amendments proposed by Democrats to impose higher taxes and remove deductions for promotional expenses. Later this week, members of the Missouri House are expected to officially approve the bill and send it to the Senate.
Important Provisions Included in the Bill
The bill, which is sponsored by Rep. Dan Houx, R-Warrensburg would allow licensed casinos to feature up to three betting platforms or six skins. Besides, major league sports teams would be allowed to offer branded sports wagering if they enter into a partnership agreement with a sports betting platform. If the Senate approves the measure, every Missourian over 21 can download and install a sports betting app on their phone or computer and place a wager anytime.
Sports betting platforms, on the other hand, would be taxed at 10% based on their net winnings, which would not include promotional costs. Democrats' efforts to raise the tax and remove deductions for promotion expenses did not succeed. They argued that casinos pay a 21% tax on their winnings and do not benefit from such reliefs. Rep. Dan Houx explained that the House needs to unanimously support the proposed legislation to increase the chances of the Senate passing it.
Why Missouri Failed to Legalize Sports Betting Thus Far?
Last year, the House approved a sports betting bill, but the Senate blocked the legislation because Sen. Denny Hoskins hoped to see provisions that would legalize video gaming terminals, too. As a result, he introduced a new sports betting bill seeking to legalize video lottery terminals and sports betting. But his proposal did not receive support from legislators in the Senate Appropriations Committee. They said that it is better to address the two issues separately.
Sen. Hoskins has always been a proponent of the VLTs and sports betting legalization, but he insists on combining the two into a single bill. The bill's sponsor Rep. Dan Houx said that Missouri's neighboring states have already legalized sports betting and locals regularly cross the border to wager on major sporting events. He added that by allowing deductions for promotional costs, betting platforms will offer more generous promotions and attract sports fans from other states.
Rep. Phil Christofanelli explained that by approving the proposed sports betting expansion, Missourians will stop spending their money at offshore sportsbooks. Revenue generated from sports betting would go to support education. Figures show that the state could receive up to $29 million in revenue if the sports betting bill becomes law.