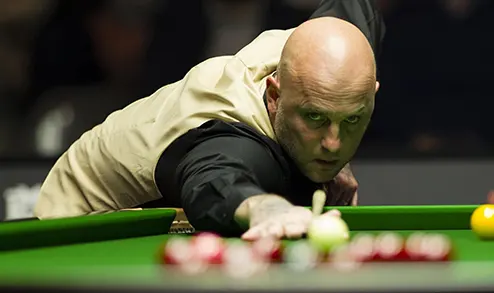 Mark King is the first British snooker player suspended from the World Snooker Tour (WST) over match-fixing allegations concerning his 4-0 defeat to Joe Perry at the Welsh Open held on February 13. Jason Ferguson, the chairman of the World Professional Billiards and Snooker Association (WPBSA), confirmed his decision to strike off King in an official statement.
Mark King had to play in the first round of the WST Classic in Leicester on Saturday against Muhammad Asif. But his opponent was handed a walkover after it became clear that King had been suspended amid an investigation into "irregular betting patterns". King will remain suspended until the investigation comes to an end.
Mark King Will Not Participate in the World Snooker Tour
Mark King's professional career started in 1991 and now, he is one of the best British snooker players. But at the Welsh Open that took place last month, he lost 4-0 to Joe Perry, which made the WST think that King is involved in match-fixing schemes.
King's suspension comes after the WPBSA suspected 10 Chinese snooker players of corrupt activity. The 16th-ranked Yan Bingtao and the ninth-ranked Zhao Xintong are two of the Chinese players who were forced to miss the World Championships after being suspended by the world's governing body for snooker. Allegations include manipulating the outcomes of games, convincing players to cheat, and failing to report concerns to authorities. Their hearing is scheduled to begin on April 24.
Joe Perry shared that King most likely had a bad day at the table and that is why he lost. He explained that every player has good and bad days and shared that sometimes it is hard to recover from a losing streak. Perry said that King was fond of gambling but he could control his habits. The snooker player also expressed his hopes that King will come out clean from the situation.
Match-Fixing Scandal Threatens Snooker's Popularity
According to experts, this match-fixing scandal significantly threatens snooker's rising popularity. People have started rising questions regarding the influence of betting syndicates on well-liked sports. Industry insiders believe this scandal may also lead to a decrease in the number of people who bet on this sport.
Snooker enjoys great popularity in Asia, particularly in China. That is why the suspension of the 10 Chinese players shook snooker fans to the core. But that is not the first case of the WPBSA suspending Chinese snooker players. In 2022, Liang Wenbo was suspended after being convicted of assaulting a woman. He was fined £1,380 and given a 12-month community order.