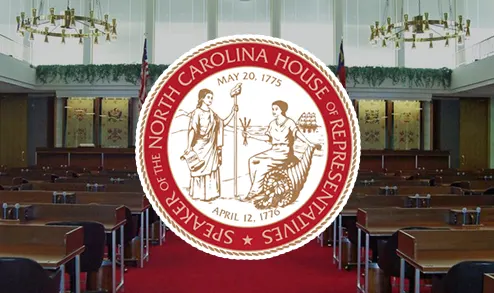 This Wednesday, a bill seeking to legalize sports betting in North Carolina was swiftly approved by the House Finance Committee. The legislative effort must receive approval from the House Rules Committee before it advances to the House for consideration. If the bill becomes law, the first sports betting platforms are expected to enter North Carolina's market on January 1, 2024.
Proposed Amendments to the Bill Collapsed During Committee Meetings
The House Commerce Committee voted 17-10 for the measure this Tuesday, sending it to the House Finance Committee, where the proposed legislation was also approved without much debate. Now, the sports betting bill heads to the House Rules Committee. Should the legislation succeed there, it will move on to the Senate. In 2022, efforts to legalize sports betting in the state failed due to raising concerns about the potential risks of gambling. The House voted 51-50 to reject to proposed measure that would legalize sports betting in North Carolina.
With over 50 sponsors from both parties, the current legislation has a bright future. However, several amendments were proposed during the last committee meeting. Rep. Tim Longest was among the lawmakers who tried and failed to remove promotional tax deductions and increase the tax rate from 14% to 51%. Rep. Jason Saine, one of the bill's sponsors, explained that such a steep tax rate would prevent major operators such as BetMGM and DraftKings from entering the market.
During the House Judiciary Committee meeting, where the bill passed by a 7-3 vote, Rep. Pricey Harrison proposed an amendment to the bill that would have raised the penalties imposed on operators who breach the state's gambling law from $10,000 to $1 million. She also suggested an increase in licensing fees from $1 million to $10 million and attempted to remove amateur and Olympic sports betting from the bill. But the committee members rejected all proposed amendments.
Key Provisions of the Sports Betting Legislation
The latest version of House Bill 347 would authorize 10 to 12 operators to offer mobile sports betting services in North Carolina. Besides, it would impose a tax of 14% on operators, who would be allowed to benefit from deductions for promotional costs.
Besides, no limits would be imposed on deductions until January 1, 2025. After that, a cap of 2.5% of gross wagering revenue would be introduced. Under the proposed legislation, people physically located in North Carolina would be able to wager on Olympic, professional, college, and electronic sports. Currently, only the three tribal casinos in North Carolina provide residents of the state with the opportunity to wager on sports.
According to a fiscal analysis of House Bill 347, North Carolina would collect less than $3 million in tax revenue in the first six months because operators would be able to deduct an unlimited amount of promotional costs. Under the legislation, $300,000 of the revenue generated from sports betting would go to fund athletic departments of small universities.