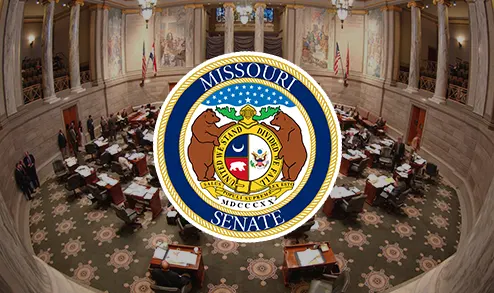 This Wednesday, the Missouri House voted 118-35 in favor of a sports betting bill, which would impose a 10% tax on operators' net winnings. Now, the legislation moves on to the Senate, but its future remains uncertain. Before the sports betting bill becomes law, it must receive approval from the House, the Senate, and the governor. Previous attempts to legalize sports betting in the state have failed due to disagreements among legislators.
Why Legislative Efforts Were Rejected?
Last year, Rep. Dan Houx (R-Warrensburg) introduced a bill, seeking to legalize sports betting and allocate 33 skins for the casinos located in Missouri and six more skins for the professional sports teams in the state. The bill passed on a 115-33 vote and moved on to the Senate, where Sen. Denny Hoskins (R-Warrensburg) filibustered it because it did not include legalizing video gaming terminals (VLGs).
As a result, Hoskins crafted his own bill, combining regulation on sports betting and video lottery terminals. However, his legislative attempt did not receive approval from the committee. Hoskins argued that video gaming terminals could generate even more revenue for the state.
Although legislators tried to find the middle ground, the state's legislative session closed without passing the sports betting bill. Last year, lawmakers tried to bring back the issue during a special legislative session focused on tax cuts, but the governor blocked the attempt, saying that it is not relevant to the topic. But the future of the sports betting bill is still unclear.
The Future of Sports Betting in Missouri
Last month Houx said that Missouri must legalize sports betting to catch up with neighboring states, which have already regulated the industry. He explained that many Missourians cross the border to place bets on major sporting events or use illegal betting sites. As a result, the state misses out on revenue that would go to fund public education if the proposed legislation becomes law.
Under the provisions of the bill, sports betting operators will be taxed at 10% based on their net winnings, which is on par with the tax rates adopted by surrounding states. Attempts on behalf of the Democrats to raise the tax and remove deductions for promotional costs failed. However, the Democrats pointed out that casinos are taxed at 21%, which puts them in an unfavorable situation.
If the sports betting bill passes the Senate, Missourians above 21 will be able to download and install a sports betting app on their devices and place a wager from anywhere within the state. Industry insiders believe that the sports betting industry could generate over $15 in tax revenues for the state.