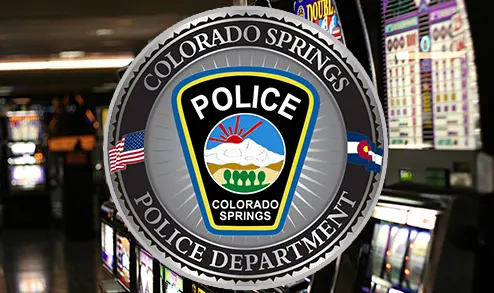 The Colorado Springs Police Department (CSPD) issued notices to at least 32 businesses, warning them that the gaming machines they host are illegal as they offer a monetary return. Lieutenant Mark Chacon with the Colorado Springs Police Department said that most of these businesses were not aware of the fact that these gaming devices are illegal in Colorado, and that is why the agency only issued warnings instead of strictly enforcing the law.
Arcade Games with a Monetary Prize are Illegal in Colorado?
Earlier this week, the police cracked down on machines that are very similar to the games offered at Dave and Busters – a 68,000-square-foot dining and entertainment facility. But unlike the gaming devices at Dave and Busters that provide players with the opportunity to win tickets, the illegal gambling machines feature a monetary prize.
Lieutenant Mark Chacon with the Colorado Springs Police Department explained that players put real money into these video arcade games and hope to win a monetary prize. And in the eyes of the law, such gaming machines are illegal.
These games are widely known as fish table games. According to the police, locations that host illegal gambling devices are often associated with more serious crimes such as drug trafficking and violence. Officers even revealed that they detained armed fugitives at some of the locations.
On Wednesday and Thursday, detectives from the police Metro Division visited the affected locations to inform business owners of the current laws on illegal gambling machines and what penalties they could face for non-compliance.
CSPD warned that if the business owners continue operating illegal gambling devices even after the educational campaign, they will face hefty fines of up to $100,000 and potential prison time. The charges for wrongdoers range from a class two misdemeanor to a class six felony.
The Police Launches an Educational Campaign
Business owners thought that these machines were in compliance with the law due to a loophole that was closed in 2018. Such gaming machines have been illegal since 2016. But the law was amended in 2018, explicitly banning all kinds of gambling machines outside Cripple Creek and Black Hawk. The law stipulates that everyone who "knowingly" operates gambling premises is committing a crime.
Charlie Chedda's, one of the arcade businesses that received a notice, explained that it does not violate the law because it hosts arcade contests and tournaments that feature a monetary prize and not individual monetary gambling machines.
Peggi O'Keefe, the Executive Director of the Colorado Gaming Association, explained that there are many illegal gambling machines throughout the state their prevalence is a public safety concern. She added that such games are not taxed and have a negative effect on Colorado's gaming revenue.
After the educational campaign ends, the police will start investigating these locations, penalizing business owners who violate the law.