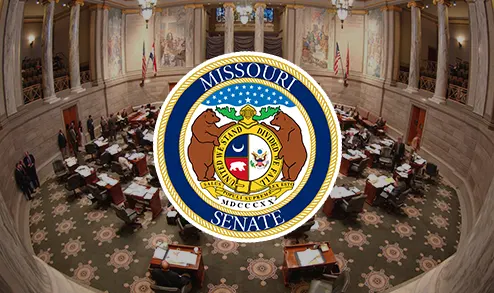 This Wednesday, the Missouri Senate discussed the latest effort to legalize sports betting in the state until adjourning just before 8 pm. Lawmakers voted against allowing video lottery terminals, and the sports betting bill got stuck in the Senate.
Although some lawmakers and gambling industry lobbyists pushed to legalize sports betting in the state, the issue remains unresolved because the sports betting legislation included provisions to legalize legal sports betting and video lottery terminals.
Sports Betting Bill Spurs Heated Debates in the Senate
The Wednesday debate commenced with Gov. Mike Parson holding meetings with Kansas City Royals officials who stand firmly behind the legislative effort. Under the latest proposal sponsored by Sen. Lauren Arthur, D-Kansas City, bets would be taxed at 15%. For reference, the tax proposed in the original Senate version of the bill endorsed by Sen. Tony Luetkemeyer was 10%.
With this taxing scheme, the state could generate $30 million in tax revenues from sports betting during the first full year of operation. The latest legislation also stipulates that $1 million would be set aside to fund responsible gambling programs. Sen. Denny Hoskins, R-Warrensburg, however, noted that other states invest more in such programs. He added that the tax rate should be higher.
Senate President Caleb Rowden, R-Columbia, called the Senate's inability to reach an agreement "embarrassing". Rowden and Senate Minority Leader John Rizzo, D-Independence, backed a proposal suggested by a coalition of casinos and the state's professional sports teams to allow betting on handheld devices at casinos and locations close to pro sports venues.
Lawmakers Must Settle on an Agreement Soon
Sen. Karla May, D-St. Louis, said that she supports the idea of legalizing sports betting in the state and expressed her frustration with the debate. May and Hoskins have been supporting the legalization of video slot machines for a long time. Hoskins suggested that some of the taxes from the gambling expansion could benefit military veterans. He explained that the legalization of video lottery terminals would generate more revenue for the state.
But Rep. Nick Schroer, R-Defiance, expressed his concern about the proliferation of video slot machines in his district and said that kids have access to these machines, too. Lawmakers who support the legalization of sports betting in the state claim that sports betting and slot machines must be addressed separately.
The controversial slot-like gaming machines in Missouri have resulted in the filing of a federal racketeering lawsuit against Torch Electronics. Earlier this year, TNT Amusements took Torch Electronics to court, claiming that the latter offers illegal gaming machines in gas stations and truck stops in the state.
Although sports betting is still illegal in Missouri, many residents of the state travel to neighboring states to wager money on various sporting events. According to figures presented by GeoComply, 8.7 million attempts to place wagers from within the state were blocked during the most recent National Football League season.