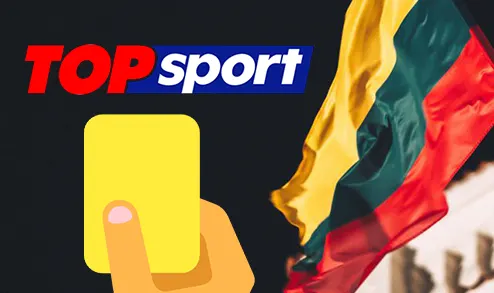 Top Sport, a Lithuania-based gambling operator, has been slapped with a €15k fine by Lithuania's gambling regulator for allowing a player to deposit nearly €15k into their account using a debit card owned by someone else. This goes against Lithuania's gambling law, which only allows users to make deposits using payment accounts registered in their name.
Lithuania's Gambling Regulator Imposes a Financial Penalty on Top Sport
Top Sport will have to pay a fine of €15k for accepting a deposit of €14,965 from an account holder who used someone else's debit card to make the payment. The regulator added that the ruling is subject to appeal. The gambling authority said that the company violated Article 205, paragraph 1 of the Lithuanian Gambling Act, according to which a customer is allowed to make a deposit from their own payment account.
But this is not the first time that Top Sport has been in trouble with the Lithuanian Gambling Supervisory Authority. In May 2022, Top Sport and Amber Gaming were fined by the country's gambling regulator for breaching the promotion restrictions enacted in 2021. A fine of €25,000 was imposed on Top Sport, whereas Amber Gaming, the brand that owns the 7Bet casino, was ordered to pay a fine of €6,000.
The Lithuanian Gaming Control Authority introduced the ban in an effort to protect players and limit the use of advertisements to promote gambling activity in the country. Promoting free games, promotions, giveaways, free spins, and other special events that encourage gambling is not permitted under the ban.
But the tight restrictions on gambling advertising did not yield the desired effect. Gambling revenue in Lithuania reached €43.4m in the first quarter of 2022, representing a 90% growth compared to 2021.
Top Sport's Other Breaches
Top Sport faced another €15k fine in September for failing to comply with rules related to CCTV installation at land-based gambling facilities. Under Article 15(3) of the Lithuanian gambling law, betting shops must record everyone who comes in and the money paid by the bookmaker and the punter. In November 2022, Lithuania's watchdog slapped Top Sport with a €15k fine for allowing someone located outside of Lithuania to use its services.
The fines must serve as a reminder that gambling operators who violate the country's gambling law will face financial penalties. Lithuanians must use the services of licensed betting sites and online casinos to ensure that their best interests are protected.