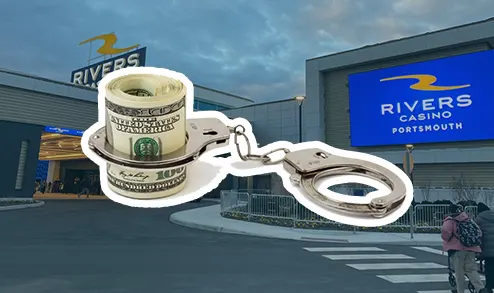 Rivers Casino Portsmouth has become the first gambling venue to be fined by the Virginia Lottery Board. At the end of last week, Rivers Casino Portsmouth, owned and operated by Chicago's Rush Street Gaming, was fined $275k for alleged gambling violations in January and February. Rivers Casino agreed to pay the fine, avoiding a public hearing on the matter that could reveal other infractions.
Rivers Casino Portsmouth Handed a Hefty Fine for Breaching Gambling Regulations
According to the settlement agreement, the Virginia Lottery Board found several regulatory violations, and that is why the regulator has issued a fine of $275k against Rivers Casino Portsmouth. The penalty is for three infractions that occurred during the first two months of this year. The gambling establishment allegedly allowed underage individuals to engage in gambling activities, hosted incorrectly licensed slot machines, and allowed a self-excluded player to access the casino floor.
According to a Lottery Board statement, the casino has taken corrective measures to ensure future regulatory compliance. Rivers, which also operates other gambling venues in Pennsylvania, New York, and Illinois, has not commented on the matter yet.
Rivers Portsmouth Gaming LLC Chief Executive Officer Tim Drehkoff signed the settlement agreement on March 22. Six days later, Gina Smith, Virginia Lottery's Deputy Executive Director of Gaming Compliance, also signed the resolution.
The Settlement Agreement is the Best Solution for Both Parties
The settlement has been reached by both parties in a bid to avoid a formal hearing and any potential costs associated with it. According to the terms and conditions of the settlement, it does not include an allegation, admission, or denial that regulatory breaches have occurred. Instead, it only outlines the infractions and the period they have occurred.
The lottery's executive director, Kelly Gee, who proposed the settlement amount, explained that the agreement will remain effective as long as no other violations occur. During the Lottery Board's April meeting, Ms. Gee did not reveal how the board learned about the casino's violations because she could not discuss the matter in an open session. In her vision, the matter is closed, and the fine will go into the state's general fund.
Rivers Casino obtained its operating license on November 16, 2022. During the first week and a half of operation, the gambling venue raked in over $9 million in total revenue, while the city of Portsmouth collected more than $540k in taxes. The casino made $7,451,244.83 from slots, while $1,588,044.95 came from table games. For the remaining period in January, Rivers Casino Portsmouth generated over $1.6 million. According to the Virginia Lottery's monthly report, the casino generated $24.7 million in February and $23.6 million in March in revenue.