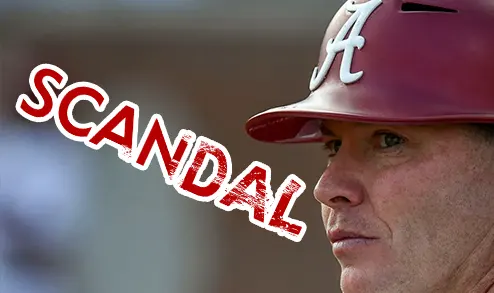 Alabama baseball coach Brad Bohannon was fired on Thursday following an ESPN report about suspicious wagering activity on the team's games. Alabama athletic director Greg Bryne said the school decided to part ways with Bohannon, who allegedly violated the standards and responsibilities that every University employee should respect. While the investigation is underway, New Jersey, Ohio, and Pennsylvania prohibit bookmakers from taking wagers on the Crimson Tide's games.
Suspicious Betting Activity Scandal Leads to Baseball Coach Brad Bohannon's Dismissal
ESPN reported that during Friday's Alabama/Louisiana game, the independent Las Vegas company US Integrity detected some suspicious bets. Ronnie Johns, chairman of the Louisiana Gaming Control Board, told NOLA.com that in addition to a parlay bet involving Alabama/LSU, there was also a bet on LSU to win. According to the Ohio Casino Control Commission, the bets were placed at the BetMGM sportsbook at Great American Ballpark in Cincinnati.
A surveillance video proved that the wager was placed over the phone, which means that the bettor was most likely communicating with Bohannon at that time. The fact that Alabama pitcher Luke Holman, who had to start the contest, was replaced by reliever Hagan Banks just before the beginning of the game is also quite dubious. All facts combined prompted the Ohio Casino Control Commission to launch an investigation into the suspicious betting activity and prohibit betting on Alabama baseball games.
The school said that Jason Jackson will serve as Alabama's interim coach. However, no further information can be revealed at this point due to the ongoing investigation. The good news is that The Crimson Tide have already won their first game under Jackson.
Coach Brad Bohannon's Reputation Tarnished by Another Scandal Involving Former Pitcher
A source familiar with the investigation confirmed that Bohannon is connected to the suspicious bets, which took place on Friday last week. However, there is no evidence that any players are involved in the suspicious bets. The Ohio Casino Control Commission alerted gambling regulators in New Jersey and Pennsylvania, which suspended betting on Alabama baseball games.
On Thursday, Southeastern Conference (SEC) commissioner Greg Sankey released a statement, explaining that they have zero tolerance for scandals that threaten the integrity of sports competitions. He added that SEC has joined forces with US Integrity to monitor gambling activity and ensure that everything happens in an honest way.
In April this year, former pitcher Johnny Blake Bennett filed a lawsuit against three members of the Alabama Crimson Tide baseball coaching staff for alleged mistreatment. Documents filed in Tuscaloosa County Circuit Court revealed that coach Brad Bohannon, pitching coach Jason Jackson, and athletic trainer Sean Stryker have been sued for alleged negligence and breach of an agreement for their handling of Johnny Blake Bennett's arm injury. A hearing is scheduled for June 20.