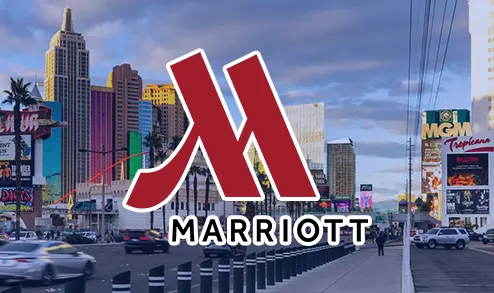 This Wednesday, the Nevada Gaming Control Board unanimously recommended approval of a temporary gaming license for a pop-up casino located at the former site of The Beach, at Paradise Road and Convention Center Drive. The gambling venue will host 16 slot machines and will exist only for eight hours, starting from 6 a.m. on May 23.
Marriott Aims to Maintain Its Gaming License by Establishing a Temporary Casino
Yesterday, The Las Vegas Review-Journal reported that Century Gaming Technologies' subsidiary United Coin Machine Co., which specializes in setting up temporary gaming facilities, has been granted permission by the Nevada Gaming Control Board to set up a temporary gambling venue on behalf of Marriott. The gambling watchdog is expected to give the company final approval on May 18.
Under Clark County law, licensees must offer commercial gaming at least once every 18 months for no less than eight hours to preserve their gaming permission. The land on which the gambling venue will pop up is owned by Marriott International. The company wants to maintain its gaming license, planning to build a resort on it, sell it, or lease it to a developer.
Debbie Cornine, director of compliance for Century, told board members that Century Gaming Technologies will use a tent for the temporary gambling venue, which will offer 16 slot machines for eight hours, beginning at 6 a.m. on May 23. She explained that her company is setting up the gambling venue on behalf of Marriott, which wants to maintain its gaming license.
Why Marriott Does Not Build a Permanent Fully-Fledged Casino Instead of Temporary Gambling Venues Every 18 Months?
Dennis Neilander, an attorney representing Marriott, explained that the company has never come up with a final proposal due to the Covid-19 pandemic and poor economic conditions. He said that Marriott owns five hotels with 1,000 rooms, which the company hopes to consolidate into a larger resort.
Neilander added that the company had to maintain its gaming license, or else the land would lose some of its value. He acknowledged that setting up a temporary gambling establishment in order to preserve its gambling license is a process that cannot last forever. Neilander said the company had maintained its gaming license since 2006, when the Beach (a famous nightclub) stopped working by opening temporary gambling venues every 18 months.
At Wednesday's Control Board meeting, a series of licensing and findings of suitability was recommended for several gaming companies, including MGM Resorts International, Konami Australia, International Game Technology, Leisure Gaming, Full House Resorts Inc., and several more.