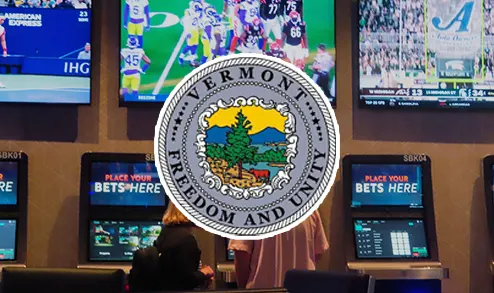 Many Vermonters expressed their opinion regarding a recent legislative effort, which would legalize sports betting in the state if approved. It seems that the majority of the residents of the Green Mountain State embrace the idea of regulating the market as it would add excitement to sporting events, generate more tax revenues for the state, and curb illegal gambling activities.
Why Vermonters Push for Sports Betting Legalization?
Sports betting may soon become legal in Vermont as a bill seeking to regulate the industry has recently advanced in the Senate after amendments to the legislation were introduced. The measure is currently pending final approval from the House. After that, Governor Phil Scott, R-Vermont, has to sign the bill before it becomes law. And it seems that many Vermonters enjoy the idea of being able to wager on their favorite sporting events.
Rick Ouellette of Williston said that betting on sports add extra excitement to the event. He admitted that he had been betting on sports despite the ban. He added that sports fans often drive to the border of New Hampshire in order to place a wager, which means the state is losing money.
Michael Cheeseman of Burlington said that if sports betting is properly regulated, it can be fun and beneficial for the state. Besides, such a move would ensure a high customer protection level. According to data from GeoComply, 16,000 Vermonters tried to access online betting sites in the past six years.
Wendy Knight, Vermont's Liquor and Lottery Commissioner, said that the neighboring states, including New Hampshire, Massachusetts, and New York, have already regulated sports betting and thousands of Vermonters cross the border to place bets.
Sports Betting Projected to Pump Up to $10 Million into the State's Coffers
Knight estimated that the state could generate between $2 to $10 million from online sports betting. He explained that a portion of the revenue would fund responsible gambling programs. Mr. Knight confirmed that the bill includes provisions to ensure that sports betting commercials do not target individuals below 21.
Robert Linnehan, a sports gambling expert, said that the state could benefit from a fresh revenue stream and help people with gambling problems if lawmakers legalize sports betting. Knight expressed hopes that sports betting would go live by January next year. Governor Scott has pledged to sign the bill once it gets the needed approval by the House.
If the bill becomes law, there will be a bidding process, during which the Liquor and Lottery Department will select two to six companies to operate an online betting platform in Vermont. The fees imposed on operators will depend on the number of companies that will get the nod to enter the market. Additionally, each sportsbook will be required to share at least 20% of its revenue with the state. Under the provisions of the amended legislation, punters are not allowed to use credit cards to place wagers, and gambling on in-state college teams is prohibited.