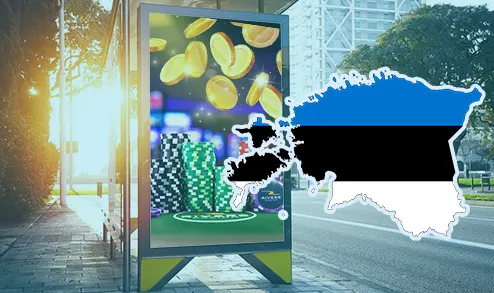 The incoming Reform-Eesti 200-SDE coalition urged Estonian lawmakers to introduce a ban on gambling ads, explaining that such a move would help people with a gambling addiction. Minister of the Interior Lauri Läänemets supported the proposal, explaining that gambling problems ruin people's lives and break up families. The new coalition also hopes to improve gambling addiction counseling. Ad experts warn that such a ban would affect tax revenues from advertising.
The Removal of Betting Ads to Reduce Gambling-Related Harm
The new Reform-Eesti 200-SDE coalition suggests that the country should impose a ban on gambling commercials in a bid to protect people from developing gambling problems. The coalition also asks for strengthening gambling addiction counseling and providing gambling addicts with proper treatment.
Returning Interior Minister Lauri Läänemets explained that although some types of gambling commercials are prohibited under the Estonian Advertising Act, people are bombarded by sports betting ads "from morning to night". He added that such commercials have a negative influence on people who struggle with problem gambling and expressed hopes that gambling commercials will soon be removed from the streets in Estonia.
On January 1, 2023, the Saku Suurhall, a multi-purpose venue in Tallinn, was rebranded to the Unibet Arena to show appreciation to its new sponsor – the Swedish-based gambling company Unibet. Diana Lints, a lawyer with the consumer authority in Estonia, explained that the rebranding does not violate the Advertising Act because the restrictions mostly apply to the proper use of trademarks and brands.
Läänemets said that if the country implements a gambling advertising ban, it is unclear whether Unibet Arena will have to change its name.
What Would be the Results of a Gambling Advertising Ban?
Joel Volkov, Creative Director at Tank in Tallinn, said that a gambling advertising ban might divert advertisers' attention to social media, which cannot be fully monitored. Besides, such a ban would result in a significant decrease in advertising revenue.
Tõnis Rüütel, director of the Estonian Gaming Operator Association, explained that the measure would lead to strained ties with Estonian sports leagues and clubs because most of them have sponsorship deals with big gambling companies. For example, Coolbet sponsors the Estonian ice hockey league, while the Finnish casino Paf is the name sponsor of the country's basketball and hockey leagues.
Rüütel admitted that the proposal to ban gambling advertising surprised him because the current regulation is already quite stringent. He revealed that in recent years, the Association has been discussing a potential update of the advertising rules with the Consumer Protection and Technical Regulatory Authority (TTJA) and the Ministry of Economic Affairs and Communication.