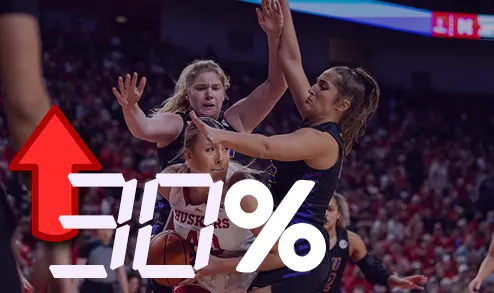 Last week, BetMGM in Pennsylvania released statistics, announcing that it experienced a significant increase in women's basketball betting. The company reported that its betting handle for the women's NCAA Tournament increased by 30%. According to a report released by Play Pennsylvania, many betting companies observed a significant increase in betting on women's basketball during the NCAA Tournament, which is not surprising considering the rising popularity of the sport.
Women's Basketball Continues to Gain Momentum Among Sports Fans
Women's basketball has garnered a great deal of attention, which means that a growing number of people have started wagering money on it. Boardroom revealed that Louisiana's victory over Iowa attracted 9.9 million viewers, which peaked at 12.6 million by the end of the game. It was estimated that the popularity of the game increased by 103% year-over-year million.
Front Office Sports added that the event attracted more viewers than any Major League Soccer game, any Stanley Cup game since 1973, 2023 Sugar Bowl, and other sporting events. This is a promising trend for women's sports, which demonstrates the growing recognition of the skills of women athletes and, at the same time, promotes gender equality in sports.
According to experts, the feud between Iowa's Caitlin Clark and Louisiana's Angel Reese was the most exciting part of the game. The two women are among the best college basketball players. The current NCAA champion, Angel Reese, averaged 23.2 points per game and 15.4 rebounds, while Caitlin Clark averaged 27.8 points, 8.6 assists and 7.1 rebounds per contest this season. And namely the strong personalities of the players contributed to the growing popularity of women's basketball.
Christian Cipollini, Sports Trader at BetMGM, stated that this year's tournament was the first time the betting action on women's basketball was comparable to an NFL game.
The Rise of Sports Betting in the United States
The popularity of sports betting has been growing in the United States ever since 2018 when the Professional and Amateur Sports Protection Act of 1992 was declared unconstitutional and overturned. From then on, states were allowed to decide whether and how to regulate the sports betting industry. At the moment, over 30 states have already legalized sports betting, with Pennsylvania being among the first to do so.
Last year, the state reported a record-high sports wagering handle of $7.25 billion, which represents a 10.67% increase when compared to the previous year's handle of $6.55 billion. Many states in which sports betting is still illegal eye the opportunity to regulate the industry and attract fresh money flow to their coffers. Only a handful of states oppose the idea of legalizing sports betting.