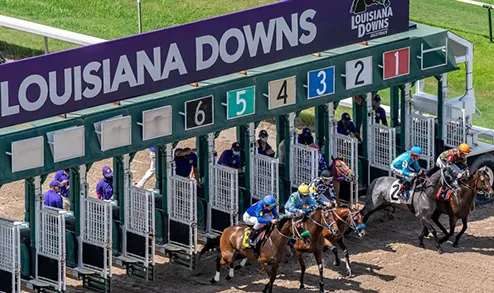 On Monday, Louisiana's legislative committee moved House Bill 564, sponsored by House Speaker Clay Schexnayder, R-Gonzales, that would allow local casinos to take fixed-odds bets on horse racing. Currently, the state's casinos can offer pari-mutuel betting only, which is typical for racetracks. The bill also seeks to cut down the share of fixed-odds profits casinos contribute to the state's licensed racing association from 25% to 15%.
The Legislative Effort to Benefit the Racing Association and Casinos
If the bill becomes law, it will bring the range of horse racing wagers types on par with most other bets at sportsbooks. The proposal did not face opposition in the House Commerce Committee. The executive director of the Louisiana Horsemen's Benevolent and Protective Association, Ed Fenasci, supported the legislative effort and explained that it would encourage more people to wager on horse racing, which, on the other hand, would boost revenues for casinos and the racing association.
If approved, the bill would also decrease the share of fixed-odds profits that casinos forward to the state's licensed racing association from 25% to 15%. Fenasci told the committee that the casinos would not be able to make a profit if they have to give 25% of their revenue generated from fixed-odds betting to the racing association.
Pari-mutuel betting works in a very different way from fixed-odds wagering. The biggest advantage of fixed-odds betting is that it allows punters to place a wager at certain odds. This way, bettors can calculate the risk/return ratio and plan their betting strategy. Pari-mutuel wagering is also known as pool betting and allows sports fans to place wagers against other bettors rather than a bookmaker.
Louisiana Generates Over $26 Million Tax Revenue During the First Year of Legal Sports Betting
Sports betting is a thriving industry in Louisiana, and figures come to prove this. In January, the Louisiana Gaming Control Board reported that the state collected $26.5 million in tax revenue from the first 12 months of legalized sports betting.
Last December, the Louisiana sports betting industry generated a record-breaking revenue of $37 million. The majority of the revenue, and more precisely $30.5 million, came from mobile sports betting, while retail sports betting generated $6.4 million. Statistics show that football contributed the most to the total revenue generated by online and retail sportsbooks.
The December revenue marked the fourth time Louisiana sportsbooks generated over $30 million in a month. In November, the state's sportsbooks reported a massive revenue loss of $25.3 million after Jim McIngvale, a furniture store magnate known as "Mattress Mack," won $75 million by betting on the Houston Astros to win the World Series.