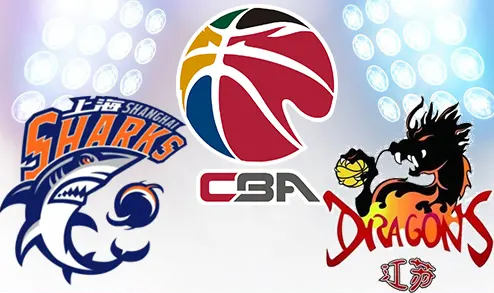 Two Chinese top-flight basketball teams, the Shanghai Sharks and Jiangsu Dragons, have both been disqualified from the playoffs and fined 5 million yuan (US$727,135) each for alleged match-fixing. On Monday, the league announced that both teams had been found guilty of deliberately losing Games 2 and 3 of their quarterfinal playoff series. Team coaches and general managers were restricted from participating in basketball activities for three to five years.
What Punishments are Imposed on the Two Teams?
Another match-fixing scandal shook Chinese sports to the core. This Monday, the Chinese Basketball Association (CBA) announced that the Shanghai Sharks and Jiangsu Dragons were disqualified from the 2022-23 season for "being passive in competition" during a CBA playoff game that took place on Friday. Besides, the two teams will have to pay a fine of 5 million yuan each. Li Nan, Jiangsu Dragons' head coach, has been banned from coaching for three years, while Shanghai Sharks' head coach Li Chunjiang is not allowed to coach for five years.
Shi Linjie, the general manager of the Jiangsu team, has been prohibited from participating in basketball activities for five years, while the Shanghai team's general manager Jiang Yusheng was banned for three years. The punishments imposed on the two teams are the harshest in the league's history.
In a Monday briefing, Yao Ming, president of the CBA, told reporters that both teams have a long history and are associated with some great players. He added that credibility is even more important than ability in sports and something must be changed to eliminate such incidents. Yao did not use the term "match-fixing" but "passive playing" to describe the incident.
Why the Game Raised Match-Fixing Suspicions?
The suspicious game flagged for match-fixing took place on Friday night when the Shanghai Sharks overtook the Jiangsu Dragons in the last minutes after the Dragons lost possession of the ball several times. The Sharks won the game 108-104, which unleashed a hail of negative comments on Chinese social media.
Many basketball fans even raised suspicions of match-fixing mainly due to the Jiangsu players' inactivity on the court, which resulted in a 10-0 run for Shanghai in the last minutes of the game. But what was even more suspicious was that Jiangsu's coach Li Nan did not even call for a timeout to change tactics. On Saturday, the CBA announced that it will investigate the case.
Following Shanghai's disqualification, their CBA playoff quarterfinals opponents Shenzhen qualify for the semifinals automatically. Shanghai Sharks accepted the punishment and announced that it will carry out internal investigations and focus on the team's discipline. The Jiangsu team announced it will hire a new coach and manager as fast as possible.