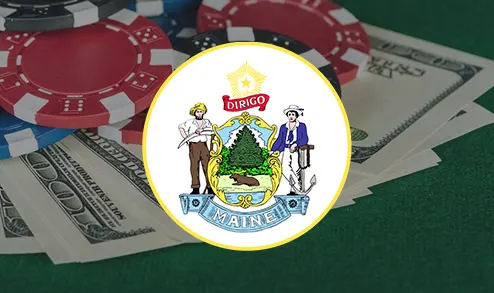 Rep. Ben Collings rolled out a new casino bill that aims to keep the door open for a tribal casino proposal. The legislation is introduced just a few weeks before state lawmakers are expected to act on a bill that would recognize the sovereignty of Maine's tribes.
Collings' proposal, LD 1944, would require the state to negotiate a gaming compact with the tribes that want to open gambling venues on their territories. If the legislation becomes law, the state would also need to negotiate with all federally recognized tribes in Maine for a casino on non-tribal land.
The Tribal Sovereignty Bill is More Important Than the Casino Legislation
Rep. Ben Collings, who has worked as a tribal consultant for years, introduced a casino bill seeking to authorize the state's recognized tribes, the Passamaquoddy, Penobscot Nation, and Houlton Band of Maliseet Indians, to build and operate casinos on their land. LD 1944 would urge the state to negotiate a gaming compact with Maine's federally recognized tribes.
Additionally, the legislation seeks to convince the state to allow the tribes to open one casino on non-tribal land as long as it is not situated in Penobscot or Oxford counties, where Maine's two privately operated casinos are located.
Collings explained that gambling could generate more money for the tribes, but the state should recognize their sovereignty first. Last year, the Legislature adjourned without acting on the proposed tribal sovereignty bill. In a letter to legislative and tribal leaders, Governor Janet Mills explained that she does not support the tribal sovereignty legislation because it could lead to tension and division in the state.
Why Maine Lawmakers Have Not Recognized the Tribes' Sovereignty So Far?
Last year, Maine legalized sports betting, giving the three federally recognized tribes exclusive rights to launch online or mobile sports betting platforms. But the state gambling watchdog is still working on the rules that will govern the industry. On May 3, Maine's three tribes announced that they entered into a partnership with Caesars Digital to offer online sports betting services.
In a letter to tribal members, Penobscot Nation Chief Kirk E. Francis said that the agreement ensures the tribes would receive mandatory minimum payments every year once the commission allows them to commence operations. On Tuesday, a spokesman for the Wabanaki Alliance said that the tribes have no particular casino plans yet. At the start of the current legislative session, tribal chiefs told lawmakers that sovereignty is their priority.
In 2021, Collings submitted a tribal gaming bill, also known as LD 554, seeking to grant the same level of sovereignty over gambling as most other tribes across the country have. Collings' legislative effort was approved by the Senate and the House but could not receive the two-thirds majority required to override Governor Mills' veto.