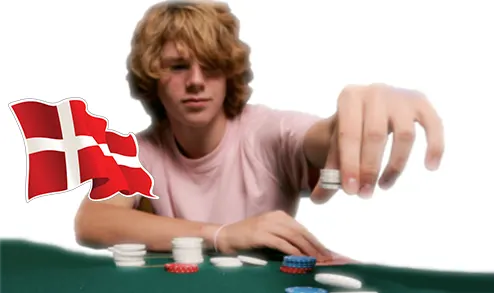 StopSpillet revealed disturbing information that 88% of the people who contacted the helpline started gambling before they were 25 years old. Data shows that 50% of the callers placed their first bet when they were 17 years old or younger, while the minimum age at which Danes are allowed to gamble is 18. Since 2019, when StopSpillet was launched, over 2,500 people contacted the helpline via phone or chat.
Statistics about the People Who Contacted Denmark's StopSpillet Helpline?
Those who contact Denmark's StopSpillet helpline are usually asked when they placed their first bet. Based on that information, Denmark's gambling regulator, the Spillemyndigheden, has published a report, revealing that 88% of the people who contacted its helpline placed their first bet when they were before the age of 25. What is even more alarming is that 50% of the players started gambling before they were 18.
The helpline has received nearly 2,500 calls since its launch in 2019. Of all people who contacted StopSpillet, 39% sought help for their relatives with gambling problems. As much as 17% of the calls came from partners, while another 17% came from the players' children or other relatives. Data from the StopSpillet helpline revealed that the callers experienced gambling problems for approximately two years and seven months before contacting the helpline.
In a bid to spread problem gambling awareness, the Danish gambling regulator promotes its StopSpellt helpline on different channels such as TV and social media. Besides, StopSpellt advertisements can be seen at bus stops and train stations.
What Responsible Gambling Measures are in Effect in Denmark?
A week ago, the Danish gambling authority announced it would focus on conducting responsible gambling research. The research will be led by a new Danish Gambling Committee, which will partner with industry experts in the problem gambling field.
Funding for the research was contributed by licensed and reputable operators such as Danske Spil, Mr Green, Kindred Group, and others. The country is expected to introduce new responsible gambling measures based on the data resulting from the research.
The Danish gambling market continues to surge despite the tough restrictions imposed on operators and players. Denmark has upped the ante in the fight against problem gambling. Last year, the Danish gambling regulator prohibited operators from offering reactivation bonuses to lapsed players as part of its responsible gambling policy.
As of January 2020, all players must set monthly, weekly, or daily deposit limits before being allowed to gamble. Moreover, Danish lawmakers capped the size of a casino bonus to DKK 1,000. As of October this year, land-based casinos will be required to register their players to ensure customer protection and combat money laundering processes.