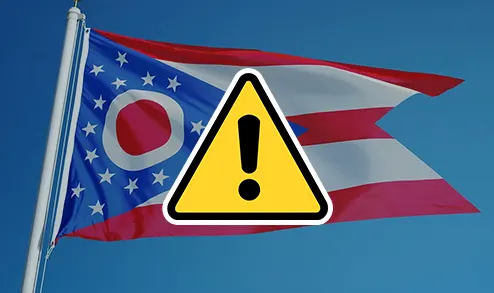 On Wednesday, the Ohio Casino Control Commission (OCCC) sent a letter to all sportsbook operators, announcing that they must stop all promotions aimed at retail customers by 5 pm on July 7. The regulator explained that providing sports betting rewards to people making non-gaming purchases significantly increases the risk of problem gambling among young people. The move comes shortly after Fanatics was ordered to stop offering sports betting promotions to merchandise buyers due to rising responsible gambling concerns.
All operators have to prove they have removed sports betting promotions targeting people who make non-gaming purchases by 5 pm on July 7, as per the OCCC letter sent to stakeholders on Wednesday. The regulator is open for comments on the new rules until July 12. Fanatics is a vivid example of a sportsbook trying to lure in new bettors by offering bonus bets to customers purchasing non-gaming products online. But Fanatics is not the only operator that uses this marketing strategy.
According to the regulator, BetMGM is another operator using this tactic. The company offers $50 in bonus bets to customers who deposit $5, and this advertisement pops up on a food delivery app. In an email to the media agency Sports Handle, OCCC Director of Communication Jessica Franks explained that many other companies target merchandise consumers by offering them bonus bets to try out the sportsbook.
Offering Sports Betting Promotions to People Who Make Non-Gaming Purchases May Lead to Increased Problem Gambling Rates
According to the regulator, such promotions would lead to the normalization of gambling activities because they target consumers who make non-gaming transactions. Usually, affiliate non-gaming companies offer sports betting bonuses to their customers following a transaction. In some cases, consumers may receive sports betting deals via email or another communication channel. The gambling watchdog also claims that such ads may exacerbate gambling problems.
According to the OCCC, sports betting promotions must be aimed at a specific group of consumers. That is why even if it did not prohibit operators from offering such bonus offers, it would regulate this marketing strategy to make it compliant with the existing advertising rules. For example, sportsbooks in Ohio must not advertise their services to individuals under the legal gambling age of 18.
Besides, operators are not allowed to send marketing materials to punters registered in the self-exclusion program. However, restaurants, delivery services, merchandise retailers, and all other affiliate non-gaming businesses cannot identify people who have opted out of gambling and sports betting because they do not have access to Ohio's self-exclusion register.
Ohio's gambling authority has invested a lot of effort to enhance player protection and fight against problem gambling. Since the beginning of the year, the OCCC has issued fines to prominent sportsbooks, such as BetMGM, Caesars, and DrafKings, for violating the state's gambling advertising standards. Before sports betting went live in Ohio, Barstool Sportsbook appeared on the regulator's radar because it allegedly targeted college students.