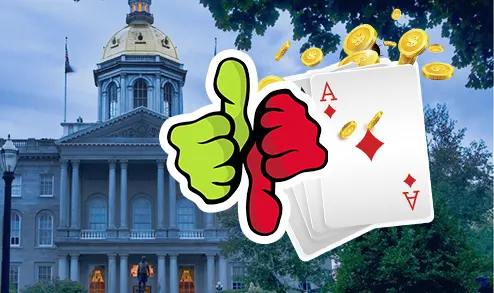 On Wednesday, the New Hampshire House Ways and Means Committee unanimously voted against Senate Bill 104, seeking to legalize online table games. The decision came just one day after the Senate's first hearing on the matter.
The committee members believe that legalizing online gambling would have a negative impact on the revenue generated by the state's charitable gaming organizations. But The New Hampshire Bulletin reported that the legislation will move to the House although it remains uncertain whether or not legislators will discuss it.
Why the House Committee is against the Legalization of Online Table Games?
On Wednesday, the New Hampshire House Ways and Means Committee met in an executive session to discuss Sen. Timothy Lang's bill, which aims to legalize online table games and direct funding to higher education. All 20 members of the committee unanimously voted against the legislative effort, calling the bill "inexpedient to legislate". They recommend legislators kill the bill as online casinos will put revenues generated from charitable gaming operations in jeopardy.
During the meeting, Rep. Fred Doucette, a Salem Republican, said that there is still a lot of work on the bill. He explained that legislators can consider the matter in the future but should not make hasty decisions. The committee's unanimous recommendation will be brought up for a vote on the House floor during its next session.
Over 70 charitable organizations in New Hampshire offer games at 14 different locations. These non-profit organizations receive 35% of the profits generated from table games and 75% from historical horse racing machines. The state lottery gets a 10% cut, which goes to fund education.
The Objective of the Legislative Measure
As BonusInsider previously reported, the measure passed the Senate on a second vote on March 30. This Tuesday, the New Hampshire Senate held its first hearing on the bill, during which opponents and proponents of the gambling expansion could present their arguments.
Advocates of the legislation clarified that the funds generated through online gambling would fund higher education, which would also address the state's workforce problem to some extent. But opponents of the bill said that online gambling would cause a significant decline in the revenue that charitable gambling organizations generate.
Under the provisions of the bill, operators will be allowed to offer online table games such as roulette, blackjack, and poker. New Hampshire residents must be at least 18 years old to engage in online gambling activities. Online casinos will be required to pay a 35% tax, and the New Hampshire Lottery will be given the authority to regulate the market.
DraftKings is among the proponents of the bill. The company entered the New Hampshire market in 2019 when the state legalized sports betting. Although the bill allowed for up to 10 retail and five online sportsbooks, DraftKings agreed to pay a 51% tax in exchange for being the only sportsbook operating in the state.