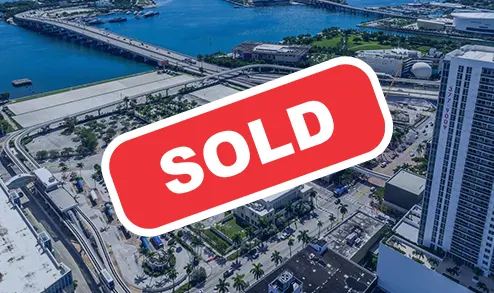 The Malaysian gambling company Genting Bhd sold 15.5 acres of land in downtown Miami's largest chunk of underdeveloped waterfront for $1.2 billion after failing to build a planned casino resort. According to a statement, a Miami-based company called Smart City Miami, led by developer David Martin, bought the plot of land. Mr. Martin said that the company does not have plans for the property at this moment and will focus on examining the potential of the land. The transaction is expected to close later this year.
Genting Will Keep Its Property to the North
One of the largest undeveloped waterfront parcels in downtown Miami, which Genting planned to use for building a casino resort, was sold to a local real estate owner for $1.2 billion. In a post on Twitter, Miami Mayor Francis Suarez said that he is proud that David Martin purchased one of the nicest plots of land in America.
According to a regulatory disclosure form, Smart City Miami is the official purchaser of the parcel. The company was established earlier this month by David Martin and his father Pedro Martin, who is also the co-founder of Terra Group – a highly-acclaimed Miami-based real estate development company. The filing also revealed that Smart City has 60 days to conduct research on the property and 60 more days to close the deal.
Under the sale and purchase agreement, Terra is to take over the development lease of a site close to the Omni Metromover station, where Genting had been planning to build a hotel complex under a deal with Miami-Dade sealed in 2017. However, the Omni parking garage and office complex, and the Hilton Miami Downtown Hotel are still owned by the gambling company.
The Official Purchaser of Genting's Parcel in Downtown Miami Yet to Unveil Development Plans
Although the company did not reveal its plans for the land, it announced that the location has great potential for something breathtaking. David Martin, the chief executive officer of Terra, said that the company would work on a project to modernize downtown Miami and improve access to the waterfront.
But according to Peter Zalewski, founder of the consultancy firm Condo Vultures, buying a plot of undeveloped waterfront in downtown Miami is a risky investment due to rising interest rates and shrinking financial markets. In his opinion, Genting had a good development vision for the site but failed to convince authorities to approve its project. Mr. Zalewski also said that the location is perfect for a development combining residential, office, hospitality, and retail space.
In 2011, Genting announced that it will buy the 15.5-acre bayfront site of the former newspaper offices and printing presses for $236 million. The deal was closed three years later, but the land remained undeveloped because the company could not obtain a casino license from the state. Genting revealed that the company will now focus on its development plans in Florida and New York.